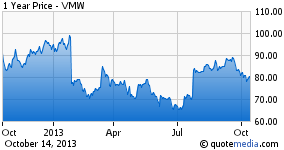 VMware (NYSE:VMW) is currently positioned as the best of the cloud equipment suppliers, but does that make it a good investment?
It hasn't been this year. The stock is down almost 16% year to date. This despite top-line growth of 10%, year over year, and similar improvements in profit. The balance sheet remains clean and operating cash flow should exceed $1.5 billion when it reports results on October 21.
The problem for VMware is more secular. That is, attention is moving from the "arms suppliers" in the cloud space to the clouds themselves.
Enterprise managers have finished their experiments, and are now ready to deploy cloud in a big way. What they want is hybrid cloud , a system that combines public cloud with a compatible private cloud. The private system will hold crucial data and applications, while the public system will offer scale and superior pricing. Especially for companies outside the U.S., a private cloud keeps corporate and customer data far from prying spy eyes, and may become a legal requirement, as is happening in Brazil.
Hybrid cloud has been slow to catch on, and Amazon.Com (NASDAQ:AMZN) has been making hay as a result, growing its public cloud business by pushing prices to the floor. But with hybrid cloud, price is no longer the only driver. Enterprise customers also expect security, compatibility, and guarantees of up-time through Service Level Agreements. They expect to have all the tools necessary to turn a cloud platform into a set of applications they can migrate their operations to over time, sunsetting the present client-server architecture by the end of the decade.
VMware has done a lot of good work this year. Its Cloud Foundry has become a competitive platform. The Pivotal Initiative, of which VMware owns 28% and 80% parent EMC (EMC) owns 69%, has the cash to scale into an Internet of Things monster thanks to $105 million in cash from GE (NYSE:GE). It has become a technology of choice for carriers like Verizon (NYSE:VZ).
The problem is that as all this evolves, more and more of the benefits accrue to the company's parent, EMC. Half of EMC's $53 billion in equity is now tied up with its stakes in VMware and Pivotal - with its stock you get the biggest piece of both. Thus EMC stock is just about level on the year while that of VMware is down.
In the end, cloud is about service, not the hardware and software needed to create it. Google (NASDAQ:GOOG) and Facebook (NASDAQ:FB) are worth far more than the companies supplying them. It will be the same in hybrid cloud. The applications, and those who own them, will be where you want to play.
The problem for investors is we don't yet know who will be the winners in hybrid clouds. IBM (NYSE:IBM) has a big stake in this. Hewlett-Packard (NYSE:HPQ) has a big stake in this. Microsoft (NASDAQ:MSFT) has a big stake in this. So do the carriers - AT&T (NYSE:T), Verizon and CenturyLink (NYSE:CTL). Amazon and Google still have the opportunity to adapt themselves to this new world.
What we do know is that VMware itself has little play here. Its own public cloud project, Project Zephyr, should be announcing initial results on October 21, but it's still a virtual start-up, and analysts are still divided on whether it should be taken seriously. If VMware is serious about getting into cloud infrastructure, it will have to invest heavily in Zephyr, and that will weigh down results going forward.
All of which leaves a cloud investor in a quandary. Should you buy one of the unproven clouds, a proven cloud, or sit this revolution out? For those who do like VMware, my advice is to pick up some EMC. But until we get more clarity on this market move, it is wise to just dabble, not go whole hog. We know what should happen, we just don't yet know how it will happen, or who specifically will benefit.
Disclosure: I am long IBM, GE, GOOG. I wrote this article myself, and it expresses my own opinions. I am not receiving compensation for it (other than from Seeking Alpha). I have no business relationship with any company whose stock is mentioned in this article.