In the second quarter ending June this year, VMware (VMW) posted great results in terms of revenue and net margin. The revenue grew by 11%, while the net margins increased from 14.58% to 19.68% quarter over quarter. The company has a market share of 76% in virtualization, and 20.5% in cloud management systems. This reflects the level of dominance it has in both these markets, but it also faces strong competition from industry giants - Microsoft (MSFT) and Hewlett-Packard (HPQ).
Lack of support, lack of competitiveness
The present situation doesn't seem to be helping the company to sustain its No.1 position in both markets. During the Oracle OpenWorld event in the last week of September, in an informal survey, it was found that most of the enterprise database analysts and data center managers are reluctant to use Oracle RDBMS on VMware's hypervisor. Hypervisor is a host computer that allows multiple operating systems to operate in a single device, which is also known as hardware virtualization.
The problem faced by in hybrid cloud environment, is that Oracle (NASDAQ:ORCL) does not support its apps on VMware's hypervisor, and doing that can be risky for the data centers. Since most of these are used under critical-mission environments, any loss of data due to any kind of failure could pose a huge risk, according to informal survey.

Oracle has a higher market share when it comes to the database market. With Oracle's 48.3% revenue market share in the database market, it provides a huge market opportunity for VMware's hypervisors. If these issues aren't resolved, enterprises might opt for other options like Microsoft's Hyper-V, which has 14% market share and second position in the virtualization market. Due to this, we also believe VMware can face a significant headwind situation.
Valuation insight
Free cash flow yield: In the technology industry, it is important that companies have enough free cash flow to make hefty investments in product R&D in order to stay competitive. A company's existing free cash flow shows how investor friendly a company can be. So, we will consider the free cash flow yield metric to find out how well VMware performs along with its peer companies like Oracle and HP.
The free cash flow yield of VMware, HP, and Oracle are 1.7%, 49% and 36.55% respectively. This shows that VMware underperformed comparatively. Additionally we noted that VMware hasn't announced dividends in the past five years. Still, it has repurchased shares worth around $600 million in the past two years.
Meanwhile, HP and Oracle have both distributed cash through dividends and share buybacks on a large scale. Up to 2011, HP had a record of offering dividends to its investors of around $800 million every year. Last year, it increased this figure to $1 billion, which it repeated in its July-ending fiscal year 2013. Along with this, the company also conducted a share repurchase of $1.17 billion in its trailing 12-month period.
Oracle has the most impressive story of these companies. It has been offering dividends worth over $1 billion to its investors for the past four years. Additionally, it has been increasing this figure by approximately $200 million every year since 2010. Given the historic pattern of HP and Oracle, we believe both companies will continue paying dividends and offer share repurchase programs to investors in the coming quarters also.
VMware hasn't been impressive enough when it comes to cash distribution to its investors, not favoring income investors. Also, we don't find any fundamentals in the near future that will help the company to push its free cash flow levels higher.
R&D intensity: In this metric, R&D spending is divided with the revenue of the company in order to find the effect of spending on the upcoming year's revenue. Let's find out how well these companies have managed their R&D spending to boost their sales.
Among the three companies, VMware has the best growth rate, in terms of revenue in the past three years. Since 2010, its revenue has grown by nearly 61%. It has also increased its R&D spending every year. Overall, the R&D intensity of VMware is set at an average of 21.68%, providing a boost to the company's revenue every year.
HP didn't perform well last year in terms of sales figures. It experienced a 6.19% decline in total revenue last year. This is mainly due to its too low R&D spending. In the past three years, the company has managed to increase its R&D spending only 15%. Henceforth, it posted a decline in revenue of 4.57% in the past three years. Overall, HP has set its R&D intensity at an average of 2.57%.
Unlike HP, Oracle has managed to showcase a good level of growth in the past three years. Its revenue increased by over 38% in the same period. Oracle has set its R&D spending around $4.5 billion in the past two years, not increasing it further due to lack of revenue growth in the past four quarters. Oracle has set its R&D intensity at an average of 12.32% in the past three years.
Holding will be viable right now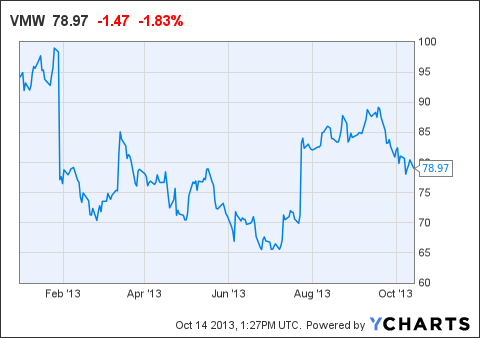 VMW data by YCharts
VMware has been quite impressive when it comes to the sales figures. Still, its stock price hasn't been that supportive comparatively. On the year-to-date basis, VMware's stock price has declined by around 14%. This was due to its news of headcount reduction during the end of January, which led to a fall of over 21%. Since then, the stock price is slowly recovering, through its improved booking numbers and the buyback program it announced three months back. With not much support from the fundamentals, we don't see any major tailwind situation for VMware in the coming quarters, and recommend a hold on the stock for now.
Disclosure: I have no positions in any stocks mentioned, and no plans to initiate any positions within the next 72 hours. I wrote this article myself, and it expresses my own opinions. I am not receiving compensation for it (other than from Seeking Alpha). I have no business relationship with any company whose stock is mentioned in this article.
Additional disclosure: Fusion Research is a team of equity analysts. This article was written by Rohit Gupta, one of our research analysts. We did not receive compensation for this article (other than from Seeking Alpha), and we have no business relationship with any company whose stock is mentioned in this article.