Linn Energy (LINE) is primarily an oil and natural gas company, and engages in the acquisition and development of oil and natural gas properties. I have been in and out of the stock, most recently in late 2012. I still follow the headlines and read an occasional article. I recently wrote an article that gave a unique perspective in LINE's merger with Berry Petroleum (BRY) as well as the expansion of its Permian Basin properties. That article sparked a lot of discussion. I noted that there were readers clearly in the bullish camp, while others are in the bearish camp. Ultimately, I believe the company is taking the correct steps to ensure long-term stability and profitability. In the short run, there could be more pain ahead. Jim Cramer recently opined that LINE is simply too low to sell now. I couldn't disagree more with this overly simplistic view of any stock. Stocks can always go lower, even after large drops. In the case of LINE it is down 28% year-to-date, currently trading at $26.45 (figure 1). While this is a large drop, there is no reason it can't go lower. I reiterate that I think the company is trying to turn things around for the long term, but in the short term, there are several reasons why I believe Cramer is incorrect in this call and that the stock can go lower before going higher.
Figure 1. Share Price of Linn Energy, 2013.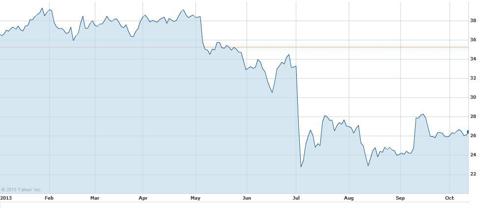 LINE Has Impressive Reserves But Needs To Acquire To Grow
LINE is a master limited partnership that pays a hefty monthly dividend from its oil and gas operations. LINE's properties are located in the Mid-Continent, the Hugoton basin, the Green River basin, the Permian basin, Michigan, Illinois, the Williston/Powder River basin, California, and East Texas in the United States. At the end of 2012, LINE boasted an impressive proven reserve of 4,796 billion cubic feet equivalent oil, natural gas, and natural gas liquids; and operated 15,804 gross productive wells. I believe that to maintain distributions reserves and production will have to grow. These reserves are set to expand with the merger with BRY. BRY is a publicly traded independent oil and natural gas production and exploitation company with operations in California, Texas, Utah, and Colorado. The deal is important for LINE's long-term path in my opinion and will cost LINE about $4.4 billion and LINE will assume all of BRY's debts. BRY has over 3,000 producing wells covering more than 202,000 acres of land. Further these assets have relatively low-decline in quality/quantity and long life, which makes it a great fit for LINE's master limited partnership structure. The deal will help LINE expand its growth into markets in California, the Permian Basin, Texas and the Uinta Basin. With the annual production that occurs in BRY's properties, LINE could see its production increase anywhere from 20%-40%. Further, a good portion (about three quarters) of BRY's reserves are in oil, which will increase LINE's liquid oil exposure by approximately 17% on a relative scale. So in the longer term, this could translate to the potential for higher dividends.
A Few Reasons The Stock Could Be Sold, Sending Shares Lower
First, there is the current macro economic climate. In this time of uncertainty, I suspect LINE, along with most other stocks, could be under severe pressure this month from the continued stalemate in Washington and the debt ceiling cutoff approaching. That is a strong reason to take some money off the table. Looking more specifically at LINE, at its most basic level, the company seeks to purchase mature oil and gas wells, then hedges the production out a few years, and sends its investors the income from this process each month in the form of dividends. It is clear to most shareholders the process has had some roadblocks in recent quarters, and the company continues to bleed cash. Furthermore, the hedging that the company hedging engages in has recently become the subject of inquiries, first by an independent research company and more recently by the Securities and Exchange Commission. It is important to note the Securities and Exchange Commission is conducting an informal inquiry and not a formal investigation. However, this scrutiny of their business and accounting practices, the overall hedging strategy, and the large merger with BRY was cause for Cramer to initially recommend a sell on LINE back in the summer of this year.
Why not stick with this call? Shareholders of LINE have been waiting for a resolution on this merger and investigation into the company's practices since late spring. Furthermore, the LINE has offered few statements or updates on the process, relatively, and this has kept investors on edge. There was hope that the shareholder meeting could being some clarity, but alas, there was nothing really new offered up. While LINE and BRY are working diligently to get the deal closed, and I would argue, it critical to LINE's long-term growth, it is unclear if the deal will close. From the looks of things, the best-case scenario is that regulatory bodies approve the merger with a number of terms and conditions that must be met before the deal closes. This could delay the ultimate merger several quarters if not years depending on the extent of said conditions. With each day there is no clarity on whether there will be a resolution, shareholders are growing more antsy. One financial manager that follows my work recently contacted me after my bullish LINE article to inform me he had released 60% of a position in LINE held since 2009 at $15, and planned to release the remaining shares on the next pop. This was a prime reason I reconsidered reasons to sell in the short term. If this deal falls through, shares will plummet. Cramer thinks it is too low to sell, but I think shares can easily see $20.00 before they see $30.00, in the short term, because aside from the regulatory risk and the poor macro environment, the company has had its own operational issues.
On August 8th, LINE reported its Q2 2013 results. For the quarter, LINE posted revenues of $838.8M, up 5% from the $800.6M last year. Adjusted EBITDA, which is a non-GAAP metric often used in the MLP sector, came in at $362M, up 14% from $319.0 last year. This seemed like a good start to the report. However, distributable cash flow, which is simply adjusted EBITDA minus interest expense and maintenance capital expenditures, came in at $152M, up from $139.5M last year. On a per unit basis, DCF declined to only $0.65, down from $0.70 per unit last year. Thus, LINE's DCF coverage ratio was only 0.89X in the quarter. This resulted in distributions paid to shareholders exceeding DCF by over $18M in the quarter, compared to a $5M shortfall last year. In 2013, Linn Energy's coverage ratio has now averaged about 0.88X. This is clearly not a sustainable trend. In dollar terms, this means LINE has paid out nearly $50M more in distributions than it has received in DCF. For the past six quarters, LINE's coverage ratio has been all over the map but has definitely trended downwards in the last few quarters. Simply put, the company cannot afford to keep paying out in excess of its cash flow for distribution purchases. Much of the issues impacting the ability to pay dividends (because revenues/earnings impacted) are operational in nature.
Several operational issues led to poor results in Q2, which must be overcome in order for the company to be a clear buy once again. In fact, until the operational issues are resolved, LINE remains a short-term sell. In the second quarter LINE reported production volumes of ~780 MMCFE/D, up 24% from 630 MMCFE/D during the comparable quarter last year. However, this reported production was well below guidance and even below Q1 2013 levels. Furthermore, LINE discussed that several of its capital projects, especially its Jonah Field, were impacted by ethane rejection, due to the bottom barrel prices of ethane. In fact, this ethane rejection resulted in a 1% decline in quarterly production. While I have highlighted that LINE is attempting to expand in the Permian Basin, there were infrastructure issues here in Q2 as well as poor performance in one of its larger Texas oil fields. Do note that Linn Energy mentioned that its current production levels have improved. If ethane prices trend lower, ethane rejection will have a serious impact on Linn Energy's Q3 and Q4 2013 production levels.
Speaking about the issues, Mark E. Ellis, Chairman, President and Chief Executive Officer said:
"LINN has experienced a challenging start to the year as lower than expected returns from our capital program coupled with historically low NGL prices have weighed on year-to-date results"
Clearly, management is aware of the problems, so that is a plus. Looking at the overall situation, the stock will remain under pressure until these issues are resolved. Thus, the share prices could be heading lower. I strongly disagree with Cramer. Shares aren't too low to sell. They can always go lower, and in the case of LINE, there are a lot of catalysts that could send shares lower. However, these same catalysts could send shares higher. They are not simply a "hold." I believe shares are a short-term sell, long-term buy, provided we get favorable answers to the following key questions.
The key questions looking ahead are 1) can the company improve production numbers for the remainder of 2013? 2) What will the results of the informal inquiries reveal? 3) Will the merger with BRY be approved and if so what will the required terms and condition be in order for final approval? The answers to these pivotal questions will determine the movement of LINE's shares. For now, I think taking some cash off the table is warranted, and look to redeploy funds at a more favorable time for the stock.
Disclosure: I have no positions in any stocks mentioned, and no plans to initiate any positions within the next 72 hours. I wrote this article myself, and it expresses my own opinions. I am not receiving compensation for it (other than from Seeking Alpha). I have no business relationship with any company whose stock is mentioned in this article.