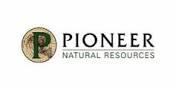 While companies like EOG Resources (NYSE:EOG) and Continental Resources (NYSE:CLR) get most of the headlines, Pioneer Natural Resources (NYSE:PXD) could well be the best long-term investment in the entire US shale space. The stock could easily double over the next 3 years as drilling results in the massive Spraberry/Wolfcamp play unlock the value of the company's 800,000+ acreage position.
In an October presentation you can find here, Pioneer reported the Spraberry/Wolfcamp is the biggest oil field in the US and the second largest in the world after the Ghawar field in Saudi Arabia.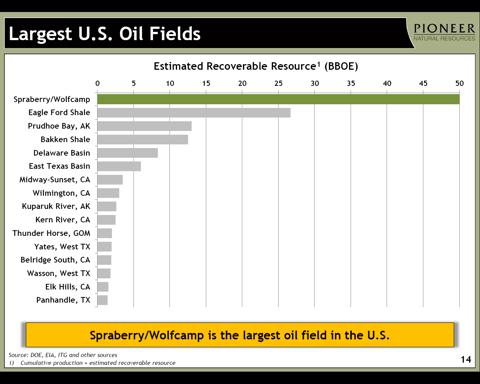 While it is still early, Q2 results reported PXD's DL Hutt #2H and #1H wells came in with very positive stats: the DL Hutt C #2H, drilled in the A interval, produced at 1,712 boe/d over the initial 24 hours with 74% being oil. The 30-day average production rate was 1,107 boe/d. This compares favorably with the DL Hutt C #1H, a B interval well, which had a 24-hour IP rate of 1,693 Boe/d, and an average 30-day rate of 1,402 boe/d. The two wells were drilled approximately 700 feet apart and virtually parallel to one another. The performance of these wells is substantially above the 650 MBOE estimated ultimate recovery ("EUR") type curve: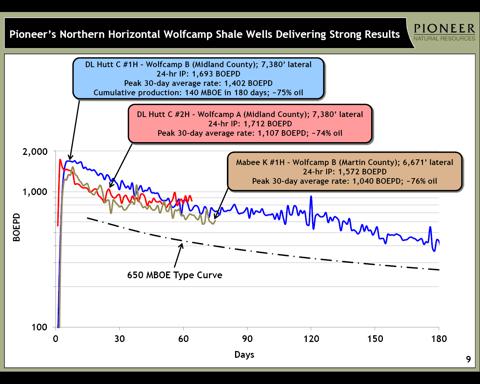 There is the potential for up to 6 zones in the stacked Midland Basin play. PXD's 800,000+ acreage position is a resource base that could support a meaningful horizontal drilling program for decades. These wells have excellent economics. The horizontal Wolfcamp wells are performing toward a 1 MMBoe type-EUR, which could generate ~60% return assuming an $8.5 million well cost (assuming a $95/barrel oil price). PXD estimates the resource potential at 23 billion barrels for the A bench and 22 billion for the B bench and compares this to 27 billion barrels for the Eagle Ford.
Summary and Conclusion
Pioneer Natural Resources has grown production from:
120,000 boe/d in 2011
156,000 boe/d in 2012
177-181,000 boe/d in 2013 (company guidance as of October)
While this strong production growth is certainly notable, the real story for PXD is that the company has the largest acreage position in what is likely the biggest shale play in the US and possibly the world. The wells are very economical and it has a drilling inventory (>40,000 drilling locations) that will last for decades. As the October presentation shows, the company has a net debt-to-book of 22% and is nicely hedged going forward. While its current valuation is quite high, the P/E=53, the total market cap is only $26.6 billion. This appears to be cheap to me in relation to its asset base. Besides, EOG has a P/E=48 and a market cap of $48.5 billion. PXD has outperformed both EOG and CLR over the past 5 years. I suspect this outperformance will continue as the company exploits its Spraberry/Wolfcamp acreage.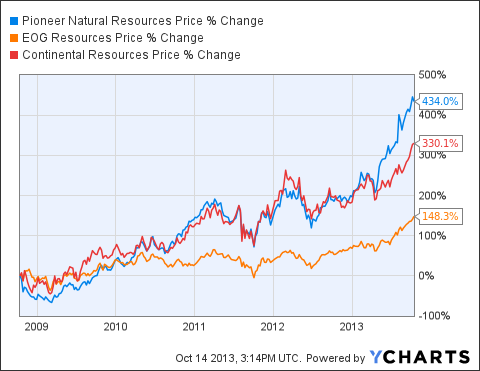 At year end 2012, Pioneer reported proved reserves of 1.1 billion boe. Considering the company has a resource base potential of an additional 8 billion boe, it is conceivable the company could triple its proved reserves over the next 3-5 years. I believe the stock could double in that time. PXD is a BUY.
NOTES:
- Pioneer Natural Resources will announce Q3 2013 earnings after the close on November 4. The conference call will be at 9am CST on November 5. You can access the presentation here.
- S&P estimates Q3 earnings will be $1.21/share and full year will come in at $4.60. Current Yahoo finance estimates are for $1.24 in the quarter and $4.82 for full year 2013.
Disclosure: I have no positions in any stocks mentioned, but may initiate a long position in PXD over the next 72 hours. I wrote this article myself, and it expresses my own opinions. I am not receiving compensation for it (other than from Seeking Alpha). I have no business relationship with any company whose stock is mentioned in this article.
Additional disclosure: I am an engineer, not a CFA. The information and data presented in this article was obtained from company documents and/or sources believed to be reliable, but has not been independently verified. Therefore, the author cannot guarantee its accuracy. Please do your own research and contact a qualified investment advisor. I am not responsible for investment decisions you make. Thanks for reading and good luck!