The Federal Reserve's policy of low interest rates has been tough on retirement investing. But that period is winding down. Last month, the Federal Reserve maintained its $85 billion a month bond buying program. It is widely expected that even with a slow economic recovery (which will slow further with the government shutdown), the bond buying program will be reduced over the near term. However just the thought of reducing that program has caused yields on almost all yield securities to rise.
Yields on Treasuries, MLPs, REITs, junk bond funds and even munis have shot up as falling security prices bring higher yields. At 443, the Alerian MLP Index is down a relatively mild 25 (5%) from the peak in May. The Dow Jones Equity REIT Index has declined 40 (13%) since its peak of 315 in May. The chart below from Morgan Stanley shows the sharp rise in yields for the 10 year Treasury bond and AAA munis. Timeline of 10-Yr UST & 10-Yr AAA MMD Yield Timeline of 10-Yr UST & 10-Yr AAA MMD Yield Timeline of 10-Yr UST & 10-Yr AAA MMD Yield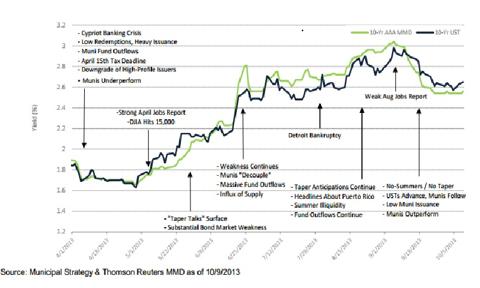 Higher yields bring rising income, welcomed by retirement investors. Expenses keep rising (especially for health care). And expenses in the later years can balloon if extra care may is needed. With retirees living longer, income has to last a lot longer in the past.
Previously, it was easy to earn 5% on investment grade bonds and they were popular in retirement accounts. That income was more valuable because of the safety associated with bonds. There were also several quality stocks yielding 4-5% with expectations of rising dividends. Because of the low yield environment, some investors accepted more risk in the search for higher yields.
Attractive yields are still available from stocks and the best for retirement investors are Dividend Aristocrats (with track records of increasing dividends for at least 25 consecutive years). They provide yields of at least 2½% with annual income increases. In recent months, their yields have been rising while the Dow has set a new record above 15,600 last month and still remain near that record.
Retirement investing has different meanings for different investors. Some are saving for retirement years which could be decades ahead. Others are close to retirement and older people have already retired. Make Way for Tomorrow, a 1937 movie, told a story about a retired couple. They were 70 and had been married for 50 years. But they had little to do and were largely waiting for the end of life. Today many retirees are older and lead active lives. It is common for retirees to live 20-30 years and more during retirement. Retirees and future retirees share a common interest in earning income that is growing. Investment objectives are not that different, money has to last longer and grow.
14 Dividend Aristocrats with generous yields above 2.5% are shown below. They have streaks of raising annual dividends for 3, 4 or 5 decades. In addition 2 companies which just joined this elite group are included. These stocks have done well in the rising stock market, but have generally pulled back 5-10% from their peaks earlier this year, resulting in higher yields. The table shows their prices, yields, current dividends and length of the streaks (in years) paying higher dividends:
14 Dividend Aristocrats for Retirement Investing
| | | | | |
| --- | --- | --- | --- | --- |
| | Price | Yield | Dividend | Streak |
| Leggett & Platt (NYSE:LEG) | $29.70 | 4.0% | $1.20 | 42 |
| AbbVie (NYSE:ABBV) | $45.65 | 3.5% | $1.60 | 25 |
| Clorox (NYSE:CLX) | $84.31 | 3.4% | $2.84 | 36 |
| McDonald's (NYSE:MCD) | $94.74 | 3.4% | $3.24 | 37 |
| Chevron (NYSE:CVX) | $117.67 | 3.4% | $4.00 | 25 |
| Kimberly-Clark (NYSE:KMB) | $96.95 | 3.3% | $3.24 | 41 |
| Procter & Gamble (NYSE:PG) | $78.48 | 3.1% | $2.41 | 57 |
| Johnson & Johnson (NYSE:JNJ) | $89.45 | 3.0% | $2.64 | 51 |
| Coca-Cola (NYSE:KO) | $37.77 | 3.0% | $1.12 | 51 |
| Exxon Mobil (NYSE:XOM) | $86.95 | 2.9% | $2.52 | 31 |
| Pepsico (NYSE:PEP) | $80.83 | 2.8% | $2.27 | 41 |
| Genuine Parts (NYSE:GPC) | $80.61 | 2.7% | $2.15 | 57 |
| Air Products (NYSE:APD) | $108.72 | 2.6% | $2.84 | 31 |
| Emerson Electric (NYSE:EMR) | $65.35 | 2.5% | $1.64 | 57 |
Only a little over 50 companies (out of a universe of thousands) qualify as Dividend Aristocrats. They have financial strength so they could extend streaks of raising dividends through challenging times, critical in retirement investing. The 2009 recession was particularly difficult which forced some prestigious Dividend Aristocrats to end long steaks of raising dividends. But these companies delivered increased annual income for shareholders. My 3 favorite are described below.
(1) Leggett-Platt is a leading supplier of products and components for the home, including: mattress springs, pocketed coils, power foundations, bed frames, ornamental beds, bedding accessories and carpet cushion. Western Pneumatic Tube was acquired for $188 million at the start of last year (the only significant acquisition in recent years) and is expected to double revenue growth over the next 3-4 years.
LEG management measures success using Total Shareholder Return (TSR) with a goal to be in the top 1/3 of S&P 500 companies. For the 3 year period ended December 31, 2012, TSR averaged 16% per year placing LEG in the top 37% of the S&P 500. That ranking is expected be similar at the end of this year.
The company is currently guiding sales growth of 1%-4% in 2013. Sales would be about $3.8 billion and EPS is guided at $1.55-$1.70 (including the tax-related benefit in discontinued operations). Analysts are forecasting $1.80 next year, giving a P/E of 16X. LEG is targeting 4-5% annual revenue growth going forward. The dividend was jumped to $1 in Q4 2007 and then LEG was hit hard by the recession. Since then, annual dividend increases have been limited to 4¢.
(2) Abbott Labs (NYSE:ABT), a Dividend Aristocrat with a 125 year history and 40 years of increasing annual dividends, split into 2 businesses at the start of 2013. It spun off AbbVie , a global research-based biopharmaceutical company with $18 billion in revenue. ABBV provides medicines for advanced therapies products of complex and serious diseases such as rheumatoid arthritis, psoriasis, Crohn's disease, HIV and cystic fibrosis.
HURIMA is the #1 product, accounting for about half of total sales. HUMIRA treats: rheumatoid arthritis, psoriatic arthritis, ankylosing spondylitis, Crohn's disease, Plaque psoriasis, juvenile idiopathic arthritis, ulcerative colitis, Axial spondyloarthritis and pediatric Crohn's disease. The company is expanding use for HUMIRA in rheumatology, gastroenterology, dermatology, ophthalmology and it is being introduced in additional countries. US patent protection is due to expire in 2016 and 2018 in the EU.
After a successful H1-2013, management raised full year guidance for adjusted EPS of $3.07-$3.13 and analysts are projecting $3.22 next year. The 15X P/E easily covers this year's dividend and an increase next year.
(3) Chevron, like Exxon Mobil, can track its origins back to Standard Oil Company founded by John D. Rockefeller. Today it has become the second largest energy company in the US (XOM is #1). The business is divided between upstream and downstream with almost 90% of income coming from upstream (extracting gas and oil). This worldwide company has 80% of income coming from outside the US.
Last year CVX produced 2.6 million barrels per day and about 75% of the volume comes from more than 20 countries. Major projects are in Nigeria, the Gulf of Mexico, the Caspian pipeline in Kazakhstan and Russia, the Gorgon Project in Australia, Angola, the Angola-Republic of the Congo, Bangladesh and Canada.
The company's financial strength can be described as immense. Capital expenditures this year will be $36.7 billion, 7% higher than last year. In Q2, it purchased $1.25 billion in treasury shares and last year treasury stock purchases were $5 billion. CVX just extended its streak of raising dividends to 25 years and is proud of the average dividend increase of 11% since 2004 (including an 11% increase this year). Analysts project EPS above $12 this year and next, a little below $13 in the last 2 years. These figures are above $11.74 in 2008 when oil prices peaked. CVX is positioned to grow earnings from increased global demand for energy.
The remaining companies have similar characteristics. Rising earnings have brought dividend growth. Trends that brought these trends in the past will continue. Expansion in the global market can result in higher income and dividends going forward, important for paying for rising expenses in retirement.
Currently investors are watching the dispute in DC over the federal budget and raising the debt ceiling. This is an ugly mess and nobody knows what the result will be. Prospects are for a continuation of short term fixes to solve complicated financial problems. High drama has not prevented from the Dow Jones Industrials reaching a new record high a month ago. Implications of how this uncertainty will affect the economic recovery (which is still plodding along) are worrisome because the outcome can have far reaching effects on the economy and business world. Meanwhile retirement investing decisions are being made.
My focus for retirement investing is on the importance of increasing income needed to enjoy later years and fund higher expenses. These stocks have attractive yields which have increased since May. Popular thinking focuses on building wealth from capital appreciation. But that has less value in retirement planning when stocks may be sold to increase investment income. Taxes reduce proceeds for reinvestment. It is easier to begin with stocks that have superb records of raising dividends. The age of 70 no longer signals the end of life with little enjoyment. Higher investment income is valuable to improve the quality of life in retirement.
Disclosure: I am long KO. I wrote this article myself, and it expresses my own opinions. I am not receiving compensation for it (other than from Seeking Alpha). I have no business relationship with any company whose stock is mentioned in this article.