U.S. oil production has grown from 7.3 million b/d (includes oil and NGLs) in 2009 to 9.7 million b/d in the first half of 2013. That is a 34% increase, according to Economist numbers, from a report on shrinking US oil dependence. Texas' oil production represents about 25% of U.S. oil production, with the Permian housing 57% of Texas' oil production.
The scale of energy production in the Permian Basin is enormous. The Permian Basin produced more than 270 million barrels of oil in 2010, over 280 million barrels in 2011, and 312 million in 2012. In percentages, production increased 10% in 2011 and 35% in 2012. In total, says the Texas Railroad Commission, over 29 billion barrels of oil and 75 trillion cubic feet of gas have been produced in the Permian Basin. Industry experts estimate recoverable oil and natural gas resources remaining in the Permian exceed the 29 billion barrels produced over the last 90 years. Firms estimating the capacity of the Permian's Spraberry/Wolfcamp play expect potential reserves at 50 billion (boe).
According to a Moody's September 10 press release, "larger E&P companies such as ConocoPhillips (NYSE:COP), Occidental Petroleum (NYSE:OXY) and Apache (NYSE:APA) appear to have good acreage in the Permian, but their scale and asset diversity means their investment will have little impact on their ratings." That being said, the Permian Basin is responsible for a considerable amount of Apache's liquids growth going forward. The combination of the Permian and Central regions quadruples Apache's proved reserves as it refocuses on North American assets.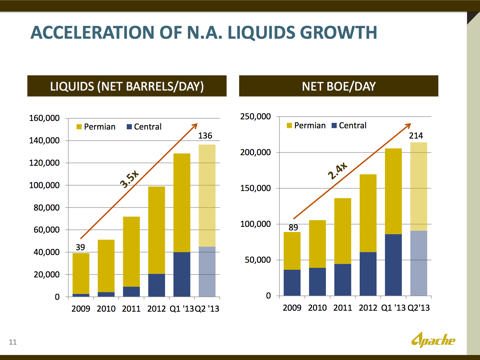 Click to enlarge
Note Apache's Texas oil production.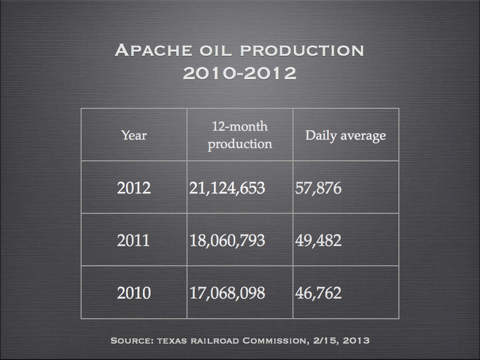 Click to enlarge
Apache was the third largest oil producer in the Permian in 2012, just behind Pioneer (NYSE:PXD) and Occidental Petroleum. Apache estimates production to reach 160,000 boe/d by the middle of 2015. In the second quarter 2013, production was 123,200 boe/d. Its liquids growth is 25% yoy at end of 2012; net production is up 18% yoy, at 108 mboe/d.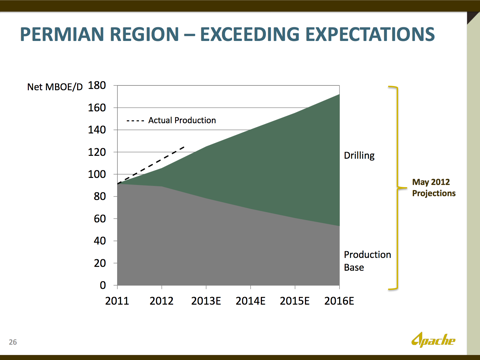 Click to enlarge
With a market capitalization of $34 billion (10/13), Apache states that it has the most rigs in Permian Basin: 44, of which 20 are horizontal, as of Sept 27, 2013. It plans to accelerate its North America focus, which other independents are doing. The firm recently sold $7 billion in international assets to refocus on North American assets, after a $16 billion buying spree that began in 2010 and ended last year.
One way Apache intends to improve profitability is through reducing drilling and completion costs, with the expectations in the Wolfcamp Shale of $1 million of reductions. Remember well costs for horizontals can be $7-8 million (see my previous article).
Additionally, Apache has other noteworthy assets in the Central region of the U.S. and internationally. Its Egypt assets have not experienced any upheavals in spite of the summer's crises - the ousting of the Muslim Brotherhood's Morsi and rounds of bloody protest. It is also testing the use of horizontals in Egypt. In the Central region, Apache is ramping up activity, including using LNG and CNG in its production activities. Using abundant gas is smart. It also has water recycling facilities, which is very important with heavy water use in fracking and often in areas with water stress. This type of behavior bodes well as a positive industry practice in the ESG (environmental, social, governance) space, seeking to use resources more responsibly and sustainably.
Of interest, Apache will spend $1.2 billion in 2013 for long-term mega LNG projects. Apache is partnering with Chevron (NYSE:CVX) for two major projects, one in Australia the other Canada. The Canadian Kitimat LNG project will monetizing approximately 50 tcf, with 50% going to Apache. The Australian Wheatstone project estimates monetizing approximately 11 tcf, with a 13% share to Apache. A new 20-year contract to supply a Japanese utility has concluded.
From Apache's October 1 press release:
The Wheatstone partners have agreed to supply Tohoku Electric with 0.9 million metric tons per annum (mtpa) of LNG for up to 20 years....With completion of this agreement with Tohoku Electric, Apache has now sold approximately 85 percent of its available LNG supplies from the Wheatstone Project," said Janine McArdle, Apache's senior vice president of gas monetization.
Lastly, Apache plans a stock buyback of 30 million shares, intends to pay down debt, and expects dividend growth of 18% in 2013.
Given the fundamental trend of further development of U.S. oil and gas shale assets, particularly the liquids focus, Apache is a firm that warrants a deeper look. The U.S. uses one out of five barrels produced in the world. In a U.S.-barrels-first environment, ie., displacing imports, large Permian-Texas-focused producers are promising.
Disclosure: I have no positions in any stocks mentioned, and no plans to initiate any positions within the next 72 hours. I wrote this article myself, and it expresses my own opinions. I am not receiving compensation for it (other than from Seeking Alpha). I have no business relationship with any company whose stock is mentioned in this article.