There are two Israeli stocks in my portfolio tracked by Globes that I include in the "ideas for investments in small companies" club. Both published excellent results last week, both are growing strongly despite the crisis, both are very profitable, and both are loaded with cash and pay nice dividends despite being in the technology sector.
Apparently both are also not understood by investors, which is why their share prices languish at ridiculous levels, in my opinion.
I am referring to IncrediMail Ltd. (Nasdaq:MAIL) and RRsat Global Communications Network Ltd. (Nasdaq:RRST).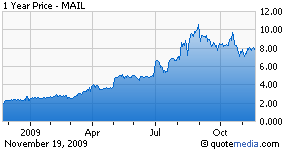 I don't know of another technology company in the Internet industry with growth as strong as Incredimail's. The company reported earnings per share of $0.63 over the first nine months of 2009, compared with breakeven in the corresponding period. Despite this, it trades at about $8 per share - of which about $3 is net cash per share.
That means there is a price to earnings ratio of only 9 for 2009, because it is already clear that it will earn at least $0.25 per share in the fourth quarter.
As far as 2010, it can easily be inferred that if Google grows, so will Incredimail. Even as it constantly diversifies the platforms it offers to users, in the end it generates most of its revenue through Google.
The low price and general great nervousness around Incredimail's share are apparently connected to this fact that most of its sales and profits come through Google. But Incredimail CEO Ofer Adler took pains to emphasize in a conversation the good relationship the company has with Google executives in Israel, England, and the US. He said that the current agreement will only end in the summer of 2011, and with both sides satisfied, there is no reason that it will not be renewed. Renewal talks will only begin toward the end of the current deal.
It seems that soon the dependence will be less significant, because in a post-results conversation, management spoke about plans to acquire a company that will diversify its revenue sources, a company that is based on a business model similar to that of Incredimail's today.
In contrast to Incredimail, at RRsat there is no worry of overdependence on one major customer. The company is a transmission services subcontractor for tens of networks around the world, and currently has a varied orders backlog of $171 million.
Of its current orders backlog, $22 million is set to be realized in the fourth quarter, and I don't know of many companies that begin the quarter with 85% of their guidance figures already in hand. For 2010, too, it has about $73 million in hand, which is apparently two-thirds of the full-year guidance that will be supplied in the beginning of the year.
In the third quarter RRsat signed 18 new contracts, of which 12 were with new broadcasting channels, apparently HD (high definition) ones, which are becoming a growth engine for the company. The move to HD broadcasting is gaining momentum, and is taking place in parallel with regular broadcasts, so that it provides additional revenue to RRsat.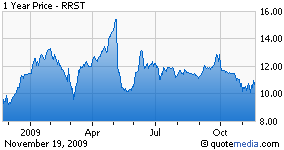 Most networks are not interested in investing in HD infrastructure, and therefore prefer to outsource the actual broadcast to contractors such as RRsat. Because of the high band needed, RRsat charges RRsat charges double the price as for regular transmission.
Disclosure: The author holds both MAIL and RRST in his portfolio
Published by Globes [online], Israel business news - www.globes-online.com - on November 17, 2009; Reprinted on Seeking Alpha with permission
© Copyright of Globes Publisher Itonut (1983) Ltd. 2009