For those who read my previous article published in September, I would like to present a follow-up containing information and perspective gained from my observation of Kandi Technologies' operations in Hangzhou, Jinhua, and Changxing cities of Zhejiang Province, China. For those who are unfamiliar with my previous work, please visit the link below:
Kandi Technologies: Exceptional Strategy for China From An Urban Planning View
A Brief Re-introduction-
For the past several years, I have been an urban planning research associate of the Urban Futures Lab at the University of Colorado. During the past three years, I have focused on studying urban growth in China and the US with special attention to sustainable development and multi-modal transportation. Recently, I gained a personal interest in a visionary new urban transport model utilizing pure electric vehicles and disruptive quick battery exchange technology.
Nasdaq-listed Kandi Technologies (NASDAQ:KNDI) is currently the topic of a rather heated debate, attracting a variety of perspectives on its legitimacy and potential for growth in China. As a relatively young company with proprietary technology and a disruptive business model, professional research has been limited and most information about the company has been left to the interpretation and presentation of select individuals on both sides of the argument. With limited information available and passionate arguments on both sides, it can be difficult for the average investor or trader to understand what is really going on. My personal solution to this problem was to perform a bit of research on the company from an urban planning perspective. This led me to believe that the only way to understand what is really going on was to visit the company itself and observe its operation in Zhejiang Province. Fortunately, the company welcomed a group of investors and analysts, including myself, to visit two of their manufacturing facilities in Jinhua and Changxing and tour their offices and operational facilities in Hangzhou. Upon review of these operations, I would like to share my experience with the readership of Seeking Alpha.
A Bit of Background-
Without being too repetitive, I will review a current situation in China. The PRC has been undergoing a significant transitional phase with special economic zones opening foreign trade to many cities including Shenzhen, Tianjin, Hainan Island and most recently the Waigaoqiao free trade zone in western Shanghai. This change in economic structure has sparked massive development and urbanization of Chinese cities. It is expected that over 70% of the population in China will live in major cities by the year 2035, compared to about 25% in 1990. This rapid urban development has been followed by a list of social and environmental issues.

Most cities have been formed around the development of massive automobile infrastructure which puts heavy demand on scarce petroleum resources, creates congestion issues, and results in severe degradation of environmental air quality. In order to prepare for continued growth and work toward the resolution of some of these emerging issues, government policies and business models are taking aim at creating sustainable vehicle transport models that utilize existing infrastructure. It is my personal opinion that Chairman Xiaoming Hu and Kandi Technologies have developed precisely such a model. The fact that Kandi is able to benefit from collaboration with such a large business as Geely Automotive, support from the massive utility State Grid Corp. of China, and promotional government policy at the State Council level, gives Kandi an opportunity to significantly modify the existing transportation paradigm in China.
A Narrative of My Visit to Zhejiang Province-
Though I have spent significant time in Beijing and taught an intensive spatial planning studio in Kunming, I had not visited Zhejiang Province before this trip. While our party assembled in Hangzhou, the existing concerns of traffic congestion in that particular city became evident. Hangzhou is notorious for its traffic issues and I've heard residents describe vehicle trips through the medium sized city taking 3-4 hours. It seems to be an ideal place for the implementation of Kandi's new energy vehicle sharing pilot program. Chairman Hu mentioned in one of our meetings that he is developing the electric vehicle sharing and leasing model to help four primary environmental crises; fossil fuel energy demand, pollution, traffic congestion and parking. He is realistic in understanding that his business model will not completely solve these issues but has the opportunity to incrementally contribute to their resolution over time.
Our tour formally began with a visit to Kandi's recently acquired manufacturing facility in Changxing. Together, we were led by Chairman Hu through two very large buildings and observed the process of manufacturing Kandi's JN6290EV model from scrap metal through safety inspection to completion. Our entire group was surprised by the number of vehicles either in production or completed. I did not count cars and I hesitate to project actual numbers, but I would make a conservative estimate of several hundred to almost a thousand vehicles present in the facility in various stages of production.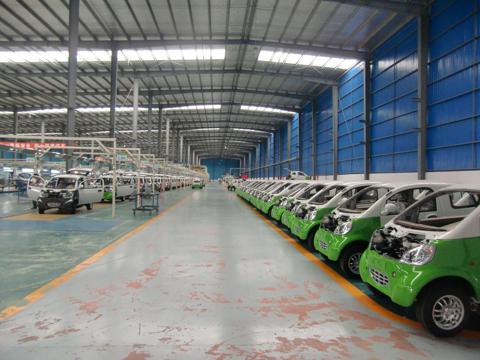 JNJ6290EV in Production in Changxing
The completed vehicles bore the paint design of car share vehicles to be used by Zuo Zhong You (hereafter ZZY). The facility is currently equipped only with the molding for this JN6290EV model but can but retrofitted for the production of other models in the future. This led me to believe that the Changxing facility has been designated primarily to the development of 5,000-10,000 vehicles for the pilot program in Hangzhou. I asked how many people were currently employed at the facility and found that 500 of a potential 1,000 people are producing vehicles in Changxing. From this information, I deduce that the facility is operating at 50% of its 100,000 vehicle per year capacity. After touring the facility, our group was offered a real treat. We had the opportunity to test drive the JN6290EV in a large outdoor area. I was able to ride in the passenger seat for several trips and drove the vehicle myself for about five minutes. The vehicle does not offer the amenities of a luxury vehicle, though it does have heat, AC, CD and a USB port. The ride was rather smooth and very easy to control. The rapid acceleration offered by the electric motor was a surprise to me and given the vehicle's compact size, it was extremely maneuverable. The u-turn radius was just about 2.5x the width of the vehicle itself. In my opinion, the compact maneuverability and acceleration should offer a decent and safe ride through the dense urban corridors of Chinese cities.
From Changxing we took the trip to Jinhua, an industrial third-tier city located west of Hangzhou. This city is very impressionable and represents the production-based economy that allowed China to stake its claim as the world's second largest economy. Jinhua is Kandi's central headquarters and is home to its legacy recreational vehicle business. During this trip we were exposed to a massive facility with several large buildings, all busy manufacturing, painting, testing and storing Kandi vehicles. Of the six large buildings we visited, only one was dedicated to the successful legacy business. We also got our first glimpse of the JL7001BEV model, which is the purely electric revision of Geely's popular Panda car.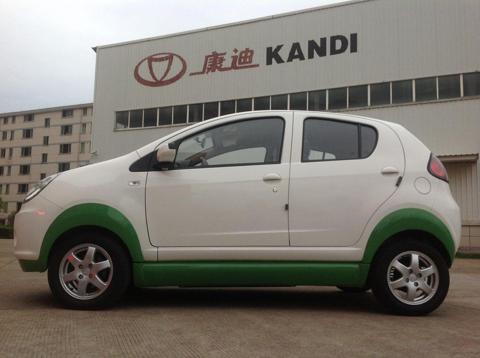 JL7001BEV Panda outside the Jinhua Facility
Again we were told that this facility is currently employing 500 out of a potential 1,000 people, so again I assume it is also operating at 50% of its maximum capacity of 100,000 vehicles annually. I was surprised at the scale of manufacturing taking place. Five large warehouses are dedicated to Kandi EV production, with hundreds of completed vehicles stored in and around the buildings. I would venture to say there were over 1,000 vehicles either complete or in production. We even witnessed a massive vehicle transport truck in the driveway between buildings. The tour through the Jinhua facility ended with a visit to the HQ office on the compound. We could all sense that Chairman Hu and the engineering/management staff were proud of their operation.
The third and final day of our formal tour began with a visit to Kandi's first operational car share garage and charging station. The garage is built to store 30 vehicles and appeared to be about half full. We had to assume that the remaining vehicles were rented and on the road. Chairman Hu and the employees of the garage demonstrated the car swap in action. One of the members of our group recorded the time it took to lift a car into its designated slot in the garage and bring a different one into the rental parking lot. The entire process took roughly a minute and a half. The garages themselves are impressive as cars are swapped and automatically charged while idle in their slot. The garage also contained several State Grid battery banks, in case renter demand increases beyond the garage's capacity to charge and supply vehicles. The Chairman confirmed that the State Grid supported quick battery exchange option will be included in all garages in the future.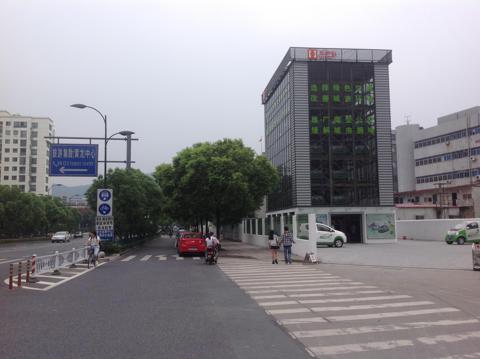 Operational car share garage in Hangzhou
During a lunch break at the JV Company's main office, Chairman Hu described some basic operational details and development plans for the car share service. He remains confident that 30 garages will be complete in the Westlake District of Hangzhou by the end of year 2013 and at that time, the service will be able to demonstrate its true utility. Additionally, I was able to page through a development plan which described over 100 garage designs and locations to eventually be completed in the city of Hangzhou. It was an impressive display of future planning and forethought. This meeting was our last opportunity to meet with Chairman Hu and he was speaking very confidently about the upcoming success of Kandi's long-term leasing and car sharing business models. Chairman Hu mentioned that the successful establishment of this electric vehicle sharing system represents his life's work and he is completely dedicated to ensure that it functions successfully for residents of Hangzhou and eventually throughout China. Hearing this type of commitment was very moving for me and I suspect that other visitors in our group were also positively affected by Chairman Hu's determination. The passionate interest demonstrated by Chairman Hu was precisely the type of confidence builder that investors wish to observe in the leader of their company. The impression I received left absolutely no room for suspicion of foul play or any of the maligned interests that Kandi's management has been accused of by investors.
Our remaining time was spent visiting a few garage construction sites in various stages of completion. One location near the operational garage was nearly complete and I believe it will become operational very soon. This garage has a capacity of 38 electric vehicles. We were led by the JV Company's Executive Assistant while Chairman Hu attended a meeting with the Hangzhou city government. The garages we observed follow a standard form but are adaptable to fit their specific surroundings. This dynamic architecture supports Kandi's compact transport theme. Garages of various capacities will be built to appropriately respond to land availability. The range of garage capacities that we viewed ranged from 30 - 120 vehicles, including a large underground parking/charging station near the massive Huanglong Stadium. I was told that several additional garages are currently under construction in the Westlake District but we did not visit them due to time constraint. At this point our formal tour of Kandi facilities and operations had concluded and much of our group split up, heading to various destinations.
A film maker named Aaron Rockett and I opted to stay in Hangzhou an extra day and perform some additional research. Aaron is preparing a short documentary on some of the opportunities and issues involved with investing in the "green economy". He has chosen Kandi as the subject to represent one sustainable, micro-cap company's growth and experience trading on Nasdaq. He hopes to complete the documentary in the coming several weeks; please visit his YouTube site for his previous work, Kandi bonus footage and more info about the video release. Our research goal was to pay unannounced visits to some of the garage locations and see what was going on. After a long walk through Hangzhou, we arrived back at the 38 vehicle garage that is near completion and noticed that further construction had even occurred overnight. It was great to see progress in such a short time.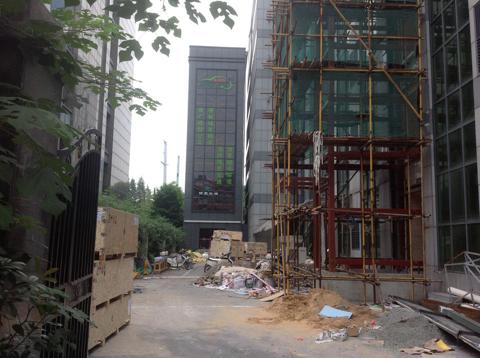 38 vehicle capacity garage making progress
After a bit of filming, we made our way to the operational garage, hoping that we could speak with some customers and watch the rental process in action. As we walked the long city blocks I noticed a Kandi car share vehicle in traffic, driving toward the garage. It was very noticeable with the ZZY paint job and I was able to record a bit of it in action. It was just one of the 10+ Kandi vehicles we witnessed parked or driving in Jinhua and Hangzhou.
We arrived at the garage just as a young family of three pulled in to drop off their rental vehicle. Luckily, Aaron was able to perform a video interview with them since the mother and father spoke English. I will save the bulk of the interview results for Aaron's video, but will say they were happy with the vehicle and car share model. During this time I spoke with the manager of the garage, he spoke some English and I did my best with Mandarin. Through our communication, he noted that the garage was busy that morning and had over 15 customers (this number may have been 50, but I will stick to a conservative estimate here). While we spoke, another small family of three arrived on a single scooter and began to inquire about the service. They became interested and thoroughly checked the vehicles before taking off, three on one scooter. It is obvious they are a prime consumer demographic for this service.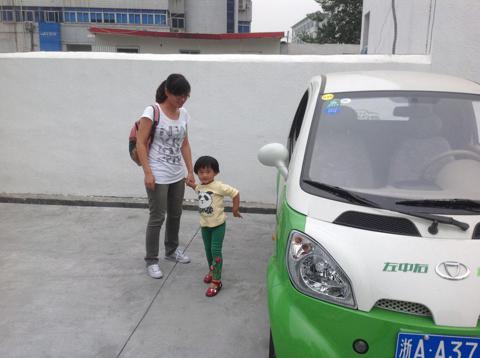 Prospective car share customers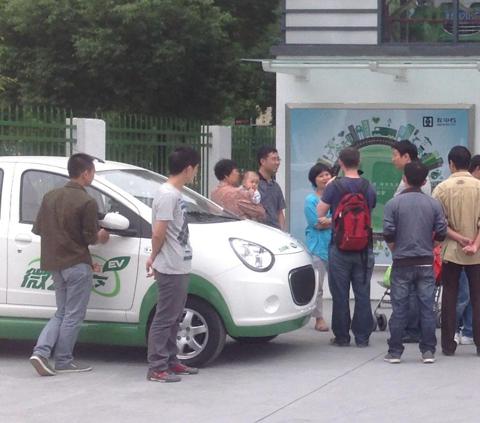 Customer interviews were positive
Our impromptu visit to the garage provided more than we had hoped for or expected. It was very reassuring to see people using the vehicles and providing positive feedback. This was precisely the type of opportunity we had hoped to catch in Hangzhou and the full results can be viewed later in Aaron Rockett's short film.
A Planner's Review-
Upon reviewing the information gathered during the visit, I have prepared a brief diagnostic of Kandi's operation and its implications to the urban transportation situation in China. As Chairman Hu is personally aware, Kandi itself will not eradicate traffic congestion or single-handedly remove dangerous particulate matter from the air. However, with a large scale implementation of this operation, individual vehicle demands will be encouraged to slow down significantly. I would like to provide Beijing as an example. The population has grown exponentially to nearly 21 million people, on record. During the year 2010, the number of cars in Beijing increased from 4 million to 5 million. That rate of about 1 million new cars on the road per year has continued until present day. This shows that just about 25% of people own cars in Beijing. With congestion and air quality already at problematic levels, imagine the situation if vehicle ownership increases to 50% percent of the population. How about 75%? I can't imagine trying to commute in Beijing with 2x-3x the volume of traffic that currently exists. The central government recognizes this issue as China's emerging middle class is submitting over 15,000 applications for license plates each week.

In many cities, including Beijing and Hangzhou, governments have been enforcing driving restrictions in an attempt to keep 20% of existing vehicles off the road each week. In my opinion, Kandi is not directly going to take people off of roads, but it will provide some valuable services for those who are not allowed to drive their own vehicles or can't afford a full time vehicle. If there are 5 million registered cars in Beijing and 20% of them are not allowed to drive on any given week, that leaves 1 million drivers without vehicles on any given work day. Imagine if only 10% of these people opt to utilize a car share service such as Kandi's. The population of Hangzhou is approaching 10 million and similar growth and traffic circumstances exist. In fact, Hangzhou is also known as one of China's wealthiest cities with a GDP in the top echelon of provincial capitals. Another important point is the process of attaining a vehicle license plate in the first place. This leaves a lot of people waiting for an expensive lottery process that really has no guaranteed return. I believe that this will lead people to avoid risking thousands on a selective license lottery system and opt for regular usage of Kandi's car sharing service. Since Kandi's car share vehicles are purely electric and considered "public-private transport", they are not subject to driving restrictions and become that much more accessible. State Council policy further supports the EV business model by offering up to a revised 60% subsidy on purely electric vehicles. The subsidy policy also requires a 30% market share for companies that come from other provinces. This market sharing policy should allow Kandi to gain footing in other major cities. This combination of demand and supply side management policies are a major step in the right direction for transportation in China, and Kandi seems to be positioned as one of the leading players, if not the most visionary of the group.
In Summary-
While I have been in Beijing and Hangzhou these past few weeks, I experienced several days of extremely bad air quality. Just last week the US Embassy in Beijing recorded a high PM2.5 level of 438 out of a total 500 point scale. Days like that are not just uncomfortable, they are scary. There are many nice days in Beijing and I greatly appreciate the spirit of growth and prosperity in this city, but I know the government recognizes the need to implement sustainable energy strategies and modify the existing paradigm of energy and transportation throughout China. The visit to Hangzhou offered more than I expected and we were able to gain a comprehensive understanding of Kandi's current operation and plans for the future. It is difficult to explain the impression made on myself and others in just a few pages. Perhaps, Aaron's short film documentary will shed additional light for those interested in Kandi Technologies from now into the next several years. I made the decision to make a long-term investment in Kandi last spring and I am grateful to have the opportunity to position myself at the base of this visionary operation. It is important to note that the future development and expansion of this company is dependent on a few things, including renewal of the subsidy policies and receiving land allocation from the government for the construction of garages. To be fair, I personally believe that this company may not achieve the radical growth in such a short time period as some investors may project. It may take a year at least to fully expand the 100+ garage network in Hangzhou and potentially enter other cities. However, from my observation, the operation in Zhejiang Province is making legitimate headway and short term projections should be met without significant emerging obstacles. Long term, massive expansion of Kandi's operation depends on local governments in Shanghai, Shandong and Hainan province to embrace the technology and provide land allocation support. Regarding subsidies, the car share model is funded in such a way that it can operate without a subsidy package and depends mainly on land availability. In that way, Kandi's unique business model provides a major advantage over other EV companies in China. Anyway, I believe that China as a whole will work to accomplish a new energy vehicle transportation shift. As this discussion continues to polarize and play on the emotions of many retail investors and traders, I am now very confident that I have made a great investment decision. My position on this is very long term and I look forward to observing the growth of this visionary transport model for a variety of reasons. It will be interesting to return to Hangzhou next spring and check-in on the operation. I personally believe that Chairman Hu's electric vehicle sharing and leasing business model is capable of and will incrementally improve traffic congestion and air quality in Chinese cities through decades to come.
Disclosure: I am long KNDI. I wrote this article myself, and it expresses my own opinions. I am not receiving compensation for it (other than from Seeking Alpha). I have no business relationship with any company whose stock is mentioned in this article.