We launched a new series of articles a few weeks ago with the premise of building a dividend portfolio from scratch by leveraging the collective knowledge and opinions of the Seeking Alpha community. In parts 1 and 2, we highlighted the investment plan and strategy for the portfolio and parts 3-11 will highlight each sector in the S&P 500, including high-rated stocks within each sector to consider for the portfolio. Readers can either vote on the stocks we suggested for the portfolio or "write in" their own stocks to vote on. Majority will rule.
Below is a schedule of the entire series. Please make sure to "follow" us so that you will be notified when each new article is published.
Consumer Discretionary
The Consumer Discretionary sector has been the best performing sector over the past 5 years (by far), with a total return of 185.1%. The sector is considered to be cyclical in nature and it has the 4th highest average beta (1.12) of all the sectors.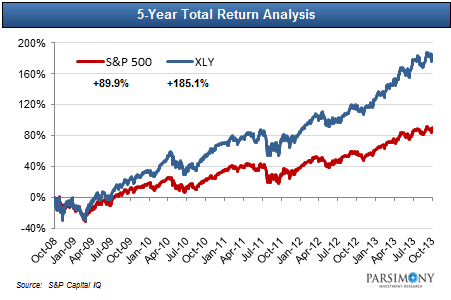 The sector is really made up of a mixed bag of industries, from restaurants and apparel to toys and home furnishings. That said, there are many stocks in the sector that you could argue are more of a "staple" than a true discretionary stock. As you will see below, many of our top rated stocks in the sector have a beta below 1.0 and are less cyclical than the sector as a whole.
Given the characteristics above (higher relative total return and average relative beta), the Consumer Discretionary sector is another sector that we suggest an "overweight" allocation in (10%-15% of total portfolio).
That said, below are several high-rated Consumer Discretionary stocks to consider. Please vote in the comment section below for your 3 or 4 favorites. Feel free to "write-in" your own votes... remember that this is a democracy!
Cracker Barrel (NASDAQ:CBRL)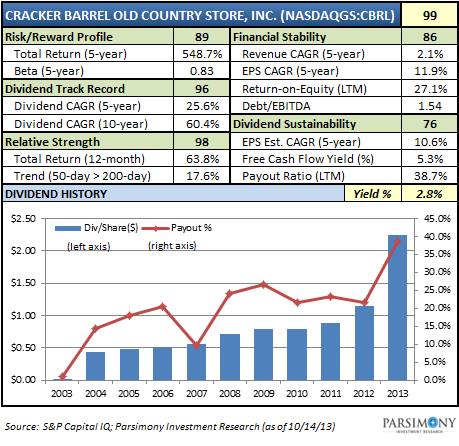 Cracker Barrel is one of only a handful of stocks in our universe that has a rating above 70 in all five sub-categories. To be completely honest, this stock wasn't even on our radar until we developed our rating system, but we are glad that we found it! The company has increased its dividend in 3 of the last 5 quarters, including a 50% increase last quarter. This stock should definitely be on your watch list if you are a dividend investor.
Tupperware Brands (NYSE:TUP)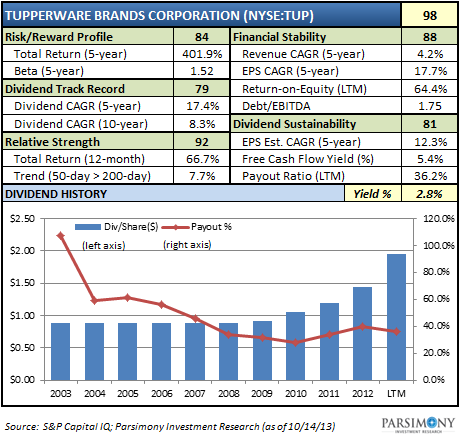 Tupperware is a another under-the-radar stock that has become a dividend machine recently. The company raised its dividend 72% this year and we expect TUP to offer another nice hike to shareholders next year. Tupperware's geographic diversity and focus on higher growth emerging economies will continue to help the company generate strong and stable cash flow in the years to come.
McDonald's Corp. (NYSE:MCD)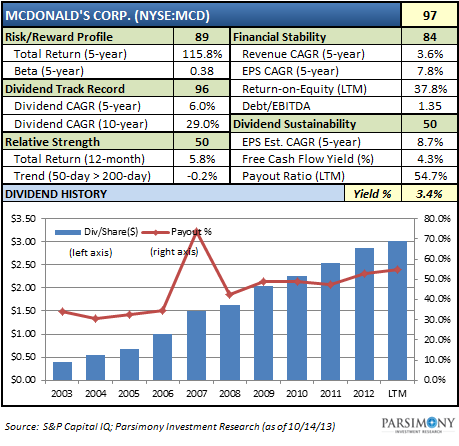 McDonald's carries a very high rating for Dividend Track Record (96) and we believe that it is a great long-term stock for a DIY Dividend Portfolio. MCD has produced a very respectable 5-year total return of 116%, with a very conservative maximum drawdown of 21%. Even more impressive is the fact that the company has increased its dividend at a compound annual rate of 29% over the past 10 years! MCD is probably one of the best dividend growth stocks of all time.
Mattel Inc. (NASDAQ:MAT)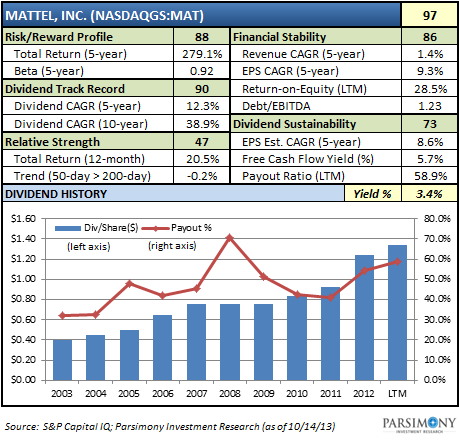 Mattel has increased its dividend to shareholders at a compound annual rate of 39% over the past 10 years, including a 35% increase in 2012 and a 16% increase in 2013. In addition, the company scores relatively well in all of our sub-rating categories (with a 70+ rating in 4 out of 5 sub-categories). If you were lucky enough to hold the stock over the past 5 years, you realized a 279% total return... not bad for a toy company!
Genuine Parts Co. (NYSE:GPC)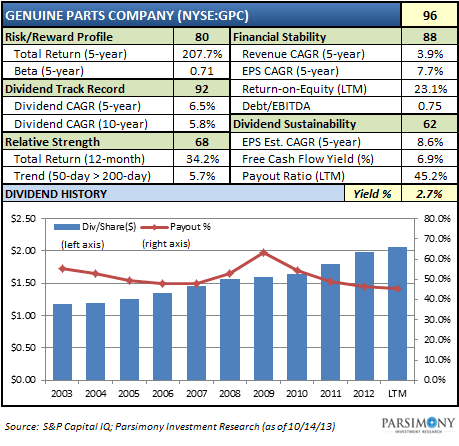 Genuine Parts has paid a dividend every year since going public in 1948. Over the past 5 years the company has delivered shareholders a total return of 207% and it has grown its dividend at a compound annual rate of 6.5%. In addition, GPC has a high Financial Stability Rating (88) and a strong balance sheet. The company has almost $200 million of cash on its books and a very low debt-to-EBITDA ratio (0.75x).
Summary
Any DIY Dividend Portfolio should include several stocks from the Consumer Discretionary sector. Stocks in this sector have offered investors great risk-adjusted returns.
FEEDBACK REQUEST: Please vote for your favorite Consumer Discretionary stocks in the comments section below. If you don't like any of the suggestions above, please feel free to "write-in" a vote of your own. Remember ... majority rules!
In Part 6b of this series, we will highlight our specific "Buy Zones" for each of these stocks, which will help us determine whether or not to pull the trigger on any of the stocks that we choose to put on our watch list. Please make sure to "follow" us so that you can participate in the entire process.
Disclosure: I am long MCD, TUP, MAT. I wrote this article myself, and it expresses my own opinions. I am not receiving compensation for it (other than from Seeking Alpha). I have no business relationship with any company whose stock is mentioned in this article.