For investors in Arena Pharmaceuticals (NASDAQ:ARNA), there are a few different stories to this equity. There is the story of expectations, the story of actual performance, the story of the near term, the story of the mid term, the story of the longer term, and the story of potential. Depending on how you look at these stories, there are reasons to be very bullish as well as reasons to be very bearish.
What has dominated this equity is the expectations vs. actual performance. The expectations were set high by analysts as well as Arena and Eisai. When comparing these high expectations to the actual performance to date, there is little that anyone can debate. Sales of the anti-obesity drug Belviq have come up short.
Now that Arena has corrected down to near 52-week lows, and the street has shifted expectations down, we can begin to see a shift in how the equity reacts to various aspects of the Arena story. Last week we saw sales growth remain pretty flat with the equity seeming to hold the line instead of sinking. Indeed, the story is shifting. It is perhaps shifting to a point where a bottom can be tempting to call. My caution in calling a bottom is that there are 4 holiday periods before the end of the year. We just celebrated Columbus Day, we have Veterans Day and Thanksgiving in November, and then Christmas in December. These four weeks carry a very real potential to be down weeks for sales. What we would like to see is growth despite these holidays, but simply stated, Belviq is not yet at the point where it can demonstrate retail traction strong enough to overcome a holiday within the week. That day may come, but in my opinion it will not be within the next four holidays.
That being said, the trick here is to assess how the equity will perform with the sales data that will come in the weeks ahead. We can accomplish some of this by looking at sales as a leading indicator. We can dig a bit deeper by looking at the refill data. That is what this series of articles (which will be published weekly) is all about.
I want to caution investors that they should leave their passion at the door. It is not whether we like the company or not, but rather how the equity will react to given data. The signal that flat week-over-week growth did not create a big sell-off demonstrates that the expectation level is getting closer to a point where a more modest growth pace is acceptable in the shorter term. Now we can analyze the refill data with fresh eyes as not whether we think the performance is good or bad, but instead whether or not the data is deemed as something that will move the equity.
This week raw refill growth as reported by IMS Health and Symphony Health showed a 10% increase. Investors need to bear in mind that the refill data discussed here is likely a minimal number for many reasons. Each time a new prescription is presented to a pharmacy it is counted as a new script even though it may actually be a returning patient whose previous refills have expired. There are other dynamics as well. With that being said, what I am analyzing is the data presented (as perfect or imperfect as it may be) over time. What we are seeking to identify is whether or not we are seeing improvement in these measures. In my opinion this 10% raw refill growth is a positive number. Increasing refills points to traction of the product with consumers. In other words, we are seeing repeat customers increasing.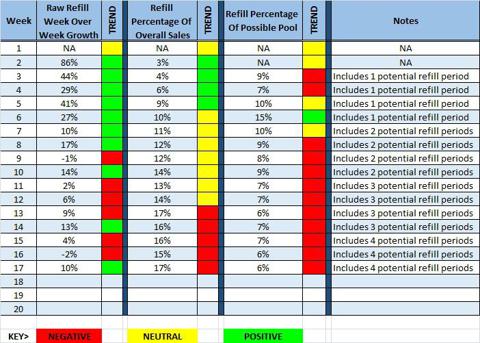 The Refill Rate as a percentage of overall sales is an interesting data point to track. While it may seem good to see a high percentage here, we need to consider what is being measured. If front end growth is very high (gaining new consumer traction), this percentage would be lower. That would be a good dynamic for the refill data in the weeks ahead. If front end growth is slow, a bad thing, then even though refills are a higher percentage, the impact ahead would point to flatter refill growth in the weeks ahead. This week refills made up 17% of overall sales. I consider this to be negative given that week-over-week new scripts were essentially flat.
The refill percentage of the possible pool measures this week's refills against the pool of patients that were eligible to continue the product. I arrive at this data point by taking this week's refill number and dividing it by the new scripts from 2 weeks ago (considering on average most people will take advantage of the two week free trial), and the total scripts from the previous three 4-week periods. I will stop at 4 potential refill periods by using the assumption that most doctors will write a script for three refills. This week the refills as a percentage of the possible pool came in at 6%. I consider this as negative. This is the second week of this metric being at the 6%. If we were to go out two decimal places, the data this week showed a very slight improvement over the previous week. If next week this number is 7%, it would still be a negative, but the trend would be improving. These are the nuances we would want to look for.
The perfect storm we are looking for is robust front end growth along with robust refill growth. If these happen in concert with each other, the weeks ahead carry more potential to be bullish. In my opinion the expectations are finally tempering down to acceptable levels. There remains an active traders' dynamic here, but much of that loses steam if expectations are framed properly. With the Q3 call pending, the volatility can still be high, but after the Q3 call, I look for this equity to gain stability. If you are on the sidelines looking to get in, I would say that you need to consider your goals near, mid, and long term. I see this equity as carrying good long-term potential, which would make a buy at these levels palatable. If you are a shorter term player, or are an investor that likes to catch the bottom, the situation could go either way. This gets back to street expectations. I am tempted to call a bottom, as a rug could get pulled out, but feel that the downside exposure has limitations at these levels. Stay tuned!
Disclosure: I am long ARNA. I wrote this article myself, and it expresses my own opinions. I am not receiving compensation for it (other than from Seeking Alpha). I have no business relationship with any company whose stock is mentioned in this article.