It's been a roller coaster ride this year for shares of technology giant Microsoft (NASDAQ:MSFT). Shares started the year with a slow but steady climb, then rising sharply from April into July. The stock then tanked after an earnings report, but recovered a large chunk of those losses after CEO Ballmer decided he was leaving. Then shares dropped again after the Nokia (NYSE:NOK) deal was announced, only to rebound yet again. Now that Microsoft shares are racing back towards the upper end of their yearly range, it's time to look at this name again. Today, I'll explain why Microsoft may be a short candidate at these levels.
Are revenues going to miss again?
Next Thursday afternoon, the 24th of October, Microsoft is scheduled to report its fiscal first quarter results after the bell. The following image shows the results of Microsoft's fiscal 2013 earnings reports, as taken from Seeking Alpha's Microsoft earnings current page.

Do you notice a pattern there? All four quarters showed revenue misses. Two of them weren't that large, about $70 million each. But you had two much larger misses as well. The last report, where Microsoft had the large miss and Surface inventory write-down, sent shares down by 11.4%, the largest drop in a number of years.
So the big question is will Microsoft beat this time around? Well, unfortunately for shorts, there is a big advantage here, and that's the fact that estimates have plunged since Microsoft's Q4 report. On July 18th, analysts were looking for $18.92 billion in fiscal Q1 revenues, which would represent growth of 18.2%. Current estimates call for revenues of $17.83 billion, or 11.4% growth. Obviously, it's much easier to beat when revenue estimates come down by roughly $1.1 billion, but that doesn't mean that Microsoft can't miss. They've missed four times in a row. Since that July date, earnings per share estimates have also come down from $0.68 to $0.55, and the prior year period figure was $0.53. Analysts have also taken down their fiscal year revenue estimate by roughly $2.7 billion since then, and their EPS figure by 33 cents. Even if Microsoft does beat next week, it will only be due to substantially lower estimates, not necessarily a sign of good business performance. There's a big difference there.
Balance sheet / dividend / buyback:
When I discussed Microsoft's big dividend raise and buyback announcement, I wondered if shareholders would be happy. The nickel a quarter raise to $0.28 per quarter was a rather large dividend increase. The company also announced a new $40 billion buyback plan, to replace the current one that was soon to end, without an expected end date. It could take 5 years, or it could take 50.
I asked if Microsoft investors were happy with the big dividend raise and new buyback. Well, today, I'm wondering the same question, but with a different twist. Which would you rather have if you could only have one? Why do I ask that? Well, according to Microsoft's annual 10-K filing, the company paid $7.455 billion in dividend payments, as per the cash flow statement. By increasing the dividend as much as they did, they will be paying an extra $1.6 billion or so in dividend payments this year. Now that doesn't seem outrageous, given a share count of more than 8 billion.
However, and I've discussed this plenty of times, Microsoft doesn't have a ton of cash in the US. Remember, they can only use US funds for the dividend and buyback. The following table shows some key balance sheet data at the end of the past three fiscal years, with dollar values in millions.

*Liabilities to assets ratio.
Microsoft ended with just $7.4 billion or so in US cash resources at the end of Q4. Yes, Microsoft generates a lot of cash, but if you notice in the table above, only the foreign balance is rising (went from $45 billion to about $70 billion in 2 years). Now, the foreign balance will dip a bit when they complete the Nokia acquisition. But back to the US funds. With them needing to spend roughly $400 million a quarter in extra dividend payments, how will they do it? There are a couple of potential sources:
Current cash flows.
More debt is added.
Foreign funds are repatriated but the company is taxed heavily.
Buyback is reduced.
I don't think they will add debt at this point. Realistically, they would only add debt if they will use the funds for a buyback where the after-tax interest rate would be less than the dividend yield. So if Microsoft's results struggle, something that has happened a bit in recent years, the only area that could be cut is the buyback. Microsoft's buyback hasn't been the greatest out there to begin with, so even a slowing of just $100 million a quarter could hurt its progress. Microsoft analysts are only looking for a 7 cent EPS rise this year to $2.72, meaning the buyback probably won't provide too much help. One thing is sure, and that is that Microsoft went big with the dividend. Will it come at the cost of the buyback? That remains to be seen, but Microsoft's results need to be strong.
Who's the next CEO?
It tells you a lot about a CEO when the stock jumps on his retirement announcement. Ballmer announced he was stepping aside, and Microsoft shares jumped, only to fall back down with the Nokia deal announcement. Microsoft now needs a new leader, and we have heard about many very different candidates, from Alan Mulally at Ford (NYSE:F) to Stephen Elop at Nokia.
While the board wants to get a new person named by the end of the year, it appears that they are very split. Will this in-fighting be a problem? Well, if it drags on too long, it might be. I don't think Microsoft will name someone new at next week's report, but if they haven't named anyone by the January report, I'd start to get worried. It's also important to think that maybe who is not chosen might just be as important as who is chosen. If there is an internal candidate, or someone like Elop coming over from Nokia, that isn't chosen, do they decide to leave? There will be a lot of debate over who will be the next CEO, but I'm sure many will be left disappointed.
An inflated valuation:
Microsoft recently raced back above $34, now shaking off two large declines in the past couple of months. The stock is less than $2 from its 52-week high, and is towards the upper end of its $29 to $36 rough range over the past six months. But should it be trading there given the large miss and reduced expectations? I would argue no, but the stock is being propped up with a lot of names thanks to QE. So I put together the following comparison table, showing Microsoft against other technology giants, including Apple (NASDAQ:AAPL), Intel (NASDAQ:INTC), Cisco Systems (NASDAQ:CSCO) and Google (NASDAQ:GOOG).

*non-GAAP estimates for EPS. P/E based on non-GAAP estimates.
Google offers a lot more growth potential, so even with no buyback or dividend, Google should deserve some sort of premium. I do believe that Google is overvalued, but that's a Google discussion, and it really doesn't pertain to Microsoft's value in my opinion. Cisco's non-GAAP earnings last year were about 9% higher than GAAP, so even if you use that as a conversion to GAAP for Cisco, Cisco's P/E would be slightly over 12, right around where Intel's is.
So Microsoft trades at a roughly 5% premium to Intel and Cisco, as well as a 10% premium to Apple. My question is, what does Microsoft do to deserve that premium? Microsoft's growth isn't too much better than Intel's, and Intel has a much higher dividend and a stronger buyback. Apple has more growth and a much larger buyback, which more than makes up for the smaller dividend. Cisco's growth is comparable, with a slightly lower dividend yield. I think Microsoft should be trading around that 12 P/E, which would mean a $32.50 to $32.75 range right now. I do think Microsoft could be considered a short candidate on valuation.
Analysts don't have a glowing endorsement for Microsoft either. The current average price target is a penny below Monday's close, and the median price target implies just 55 cents of upside. Overall, the average rating is a 2.7, implying a very slight buy and nearly a hold. Three months ago, 15 analysts had buy or strong buy ratings, 21 had holds, and 2 had underperform ratings. Today, just 10 have some sort of buy rating, with 22 holds and 3 underperforms. Microsoft analysts are not very confident in this stock, and neither am I.
One fall equals two? Technical trouble:
Microsoft's stock would be in better shape if it stayed at current levels or went higher. That statement sounds rather obvious, and it should be. Why do I say it then? Well, let's say Microsoft shares were to break down over the next month, whether it be due to earnings, the wrong CEO choice, etc. Microsoft could be hitting the death cross, a key technical level where a short-term moving average (generally the 50-day) crosses below a longer-term moving average (generally the 200-day). As you can see from the chart below, the spread between these two averages has come down. Should Microsoft shares push lower, they could hit this key technical level. It wasn't pretty when that level was hit last time.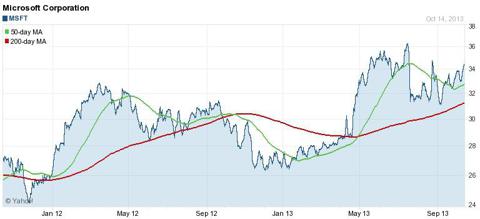 (Source: Yahoo! Finance)
Final thoughts:
Microsoft shares have rebounded from sizable falls twice now, and I think that could potentially provide a short opportunity. The company has missed revenue expectations four times in a row. Even though this quarter's expectations have come down tremendously, there's no guarantee that they will beat. The CEO search is ongoing, and a very divided board could mean a bunch of troublesome in-fighting. The company's balance sheet seems a bit constrained, so higher dividend payments could mean a reduced buyback. Also, the valuation seems a bit inflated when compared to other tech giants. Finally, a drop in shares could trigger a key technical event, which could lead to a longer-term downtrend. Microsoft appears to be a decent short candidate at these levels. However, I would most likely recommend some sort of hedge through earnings, just in case.
Disclosure: I have no positions in any stocks mentioned, and no plans to initiate any positions within the next 72 hours. I wrote this article myself, and it expresses my own opinions. I am not receiving compensation for it (other than from Seeking Alpha). I have no business relationship with any company whose stock is mentioned in this article.
Additional disclosure: Investors are always reminded that before making any investment, you should do your own proper due diligence on any name directly or indirectly mentioned in this article. Investors should also consider seeking advice from a broker or financial adviser before making any investment decisions. Any material in this article should be considered general information, and not relied on as a formal investment recommendation.