A few days ago after some surprise drama unfolded at HCP, Inc. (NYSE:HCP), notably the firing of the CEO, I decided to write an article announcing that I was selling my stake in the $18 billion health care REIT. In an article (I'm Dumping Shares In HCP And Hiring Debra Instead), I explained my decision to sit on the sidelines with HCP:
I have a rule. When someone gets fired, I want an answer. I believe that HCP's board should have provided investors with a better answer than "it was not stock performance or business performance. I think one of the things that struck us was that we think this platform right now is in very good shape." Give me a break.
It goes without saying that frankness enhances credibility and I was not convinced that HCP's board acted in complete transparency with regard to the firing of the former CEO. In my view, the higher uncertainty creates a risk premium and I felt as though the shares could become stunted until the new management team is "synergized". I have a high regard for the fundamentals of HCP; however, I also have a high regard for my favorite college football team (Clemson #3) and I know that there would be considerable risk if the coach (Dabo Swinney) was suddenly fired (with no communication with the loyal fans).
My decision to part ways with HCP, Inc. was also driven by the fact that I was already "won over" by HCP's peer, Ventas, Inc. (NYSE:VTR). Initially I decided to purchase shares in both Ventas and HCP since I consider both to be "blue chip" REITs with exceptional track records for income and growth; however, based upon the risk premium associated with HCP's new CEO, I intend to focus more on Ventas for the time being. Since HCP's board announced the firing (on October 3rd) shares have rebounded and closed at $41.45.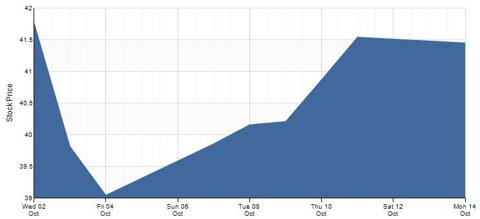 Ventas, Inc. Is My Team
Ventas and HCP are similar in that they are both large-cap health care REITs and along with the third big league team, Health Care REIT (NYSE:HCN), the trio of diversified REITs dominate the health care sector.

Ventas has a balanced and diversified portfolio of over 1,400 assets that produce over $1.6 Billion in Net Operating Income (or NOI). The Chicago-based REIT has a balanced business model that includes Hospitals (7%), Medical Office Buildings (17%), Skilled Nursing (21%), Senior Housing / Operating (28%), Senior Housing / Net Lease (24%), and Loan Investments (3%).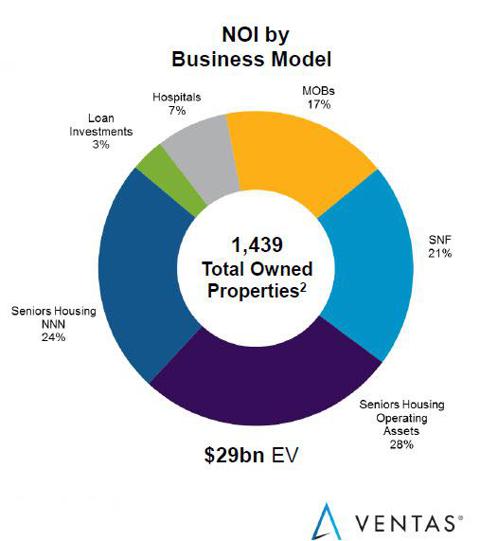 Ventas owns 682 Senior Housing Communities, 381 Skilled Nursing Facilities, 321 Medical Office Buildings, 47 Hospitals and 8 Other Properties.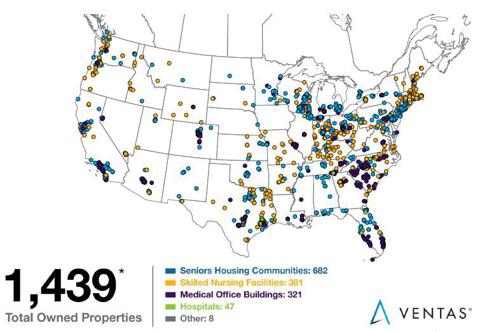 Ventas is the largest owner of senior housing and MOBs with a well-balanced portfolio that consists of 1,439 facilities in 47 states (including DC). The breakdown of the diverse model consists of senior housing operating assets (28%), skilled nursing (21%), MOBs (17%), hospitals (7%), senior housing net lease (24%), and loan investments (3%).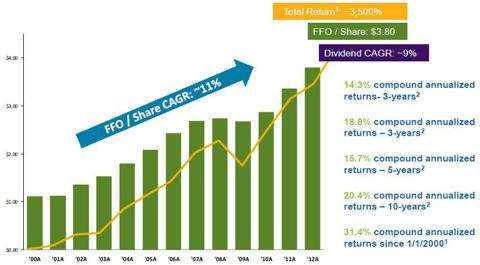 The operating model is simple and, in my opinion, well-balanced with a majority of exposure to the stable net lease sector (55% are net lease properties). In addition, the combined MOB exposure (17%) and the net lease exposure (55%) makes Ventas one of the most stable REITs in the overall REIT industry. Remember, growth and income are important for shareholders and Ventas has a well-aligned combination of both - contractual long-term leases (net lease) and annual rental increases (senior housing and MOBs).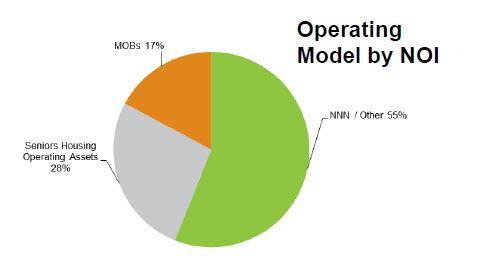 The healthcare industry is a $1 Trillion Real Estate Market that is comprised of Senior Housing (+/- $162 billion), MOB and Outpatient (+/- $415 billion), Hospitals (+/- $337 billion), Skilled Nursing (+/- $104 billion), and Life Science (+/- $55 billion). Accordingly, there are many ways that Ventas has been able to integrate its diverse model to deliver exceptional operating results.(Source: Stifel and VTR Investor Presentation). There is considerable "runway" for Ventas and the other Health Care REITs to consolidate within the fragmented health care sector.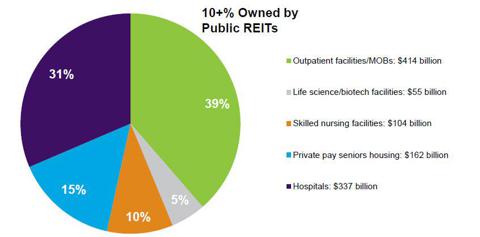 The Senior Housing business provides Ventas with the highest growth. As of the latest quarter (Q2-13) Ventas's Senior Housing Portfolio had net operating income of around $850 million with 682 properties. Around 54% of the Senior Housing portfolio are Senior Housing Operating Properties (referred to as SHOP) and 46% are net leases (referred to as NNN).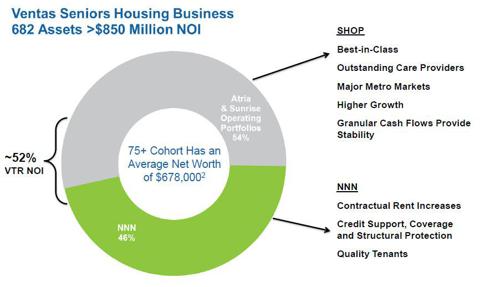 In my view, this is a very well-balanced composition as the SHOP portfolio provides higher growth with granular cash flows, while the NNN model (contractual rent increases) provides credit support and better coverage and structural (downside) protection. Here is a snapshot of the Ventas's well-balanced tenant/operator profile: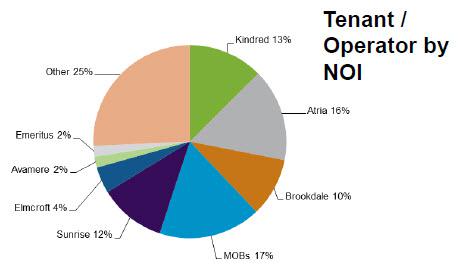 Keeping in mind that Senior Housing Operating assets provide a "lift" in an up economy and resiliency in the "down" economy. Most of Ventas's tenants are private pay (83%) and the company has exceptional contracts with many "best in class" operators (i.e. Atria is the 4th largest operator and Sunrise has the best global brand).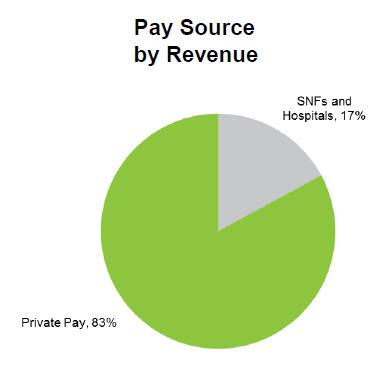 Ventas has 227 Private Pay Senior Housing Operating Properties and the company has a high-quality operator mix focused on assets in affluent markets around major Metropolitan areas, the REIT's performance has been exceptionally strong.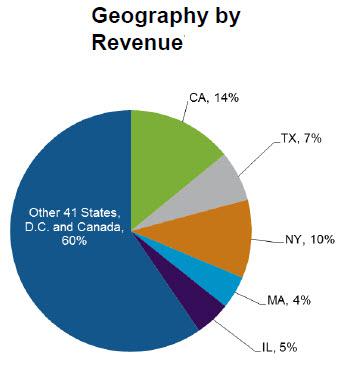 Ventas's MOB portfolio consists of 411 consolidated properties spanning 21 million square feet, which accounts for 17% of our annualized NOI. These well-occupied, on-campus properties affiliated with highly rated health systems have core-like characteristics, but provide above core returns. The MOB portfolio has exceptionally strong occupancy (92%) with around 96% of MOBs on-campus or affiliated.
Ventas's MOB brand, Lillibridge, has over 60 health system relationships and 7 out of the top 8 relationships have credit rating "A" or higher.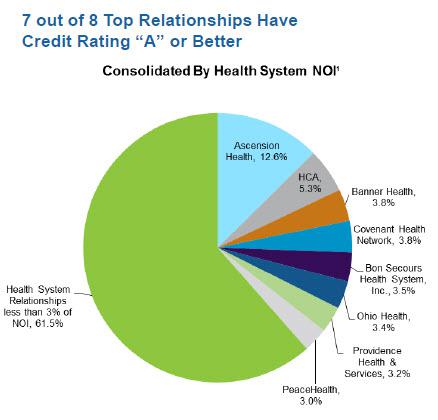 As evidenced below, Ventas has enjoyed solid growth in its MOB portfolio and profits: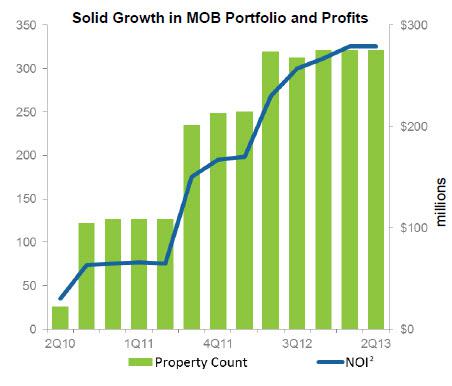 One key differentiator for Ventas is the focus on growing Private Pay Senior Housing as well as MOB investments. The combined strategy of investing in these diverse asset sub-sectors has given Ventas a competitive advantage whereby the company has successfully increased occupancy and outperformance - both internally and externally.
Ventas Has a Fortress Balance Sheet
Ventas's balance sheet is another clear differentiator. During the first quarter the company raised $758 million in debt capital (15-year fixed rate debt with a 3.6% blended interest rate) and paid down the revolver resulting in ample liquidity for investments. During the second quarter Ventas paid down $163 million of secured debt and the revolver balance at quarter end was $260 million - current unrestricted cash of $56 million and almost $1.7 billion in borrowing capacity available.
In second quarter Ventas generated cash flow from operations of around $1.1 billion (annualized), compared to annual dividends to shareholders of less than $800 million. The significant free cash flow is one of the company's most valuable attributes because it provides great flexibility for future external growth, reinvesting in assets, reduction in debt and/or increases in the dividend.
Ventas's credit metrics are excellent, at 29% debt to enterprise value at quarter end (Q2-13). Ventas has investment grade financial strength (S&P: BBB) with around $250 million in free cash flow. Here is a snapshot of the growth (in equity and debt):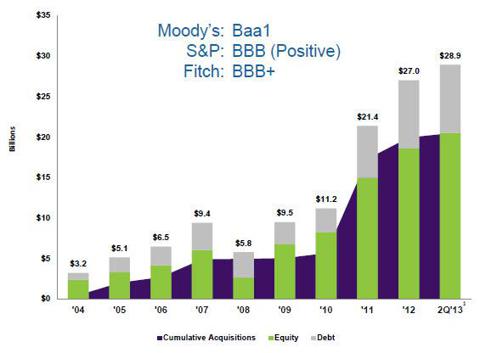 This Is the Primary Differentiator
OK. We all know that winning the game comes down to one simple thing: scoring points. Let's check out Ventas's scorecard…
In Q2-13 Normalized Funds from Operations (or FFO) was $1.01 per share. The results represent 9% per-share growth compared to the second quarter of last year excluding non-cash items. Drivers of performance were same-store portfolio growth of 3%, accretive investments and new developments. In the quarter (Q2-13), Ventas generated cash flow from operations at an annual rate of $1.1 billion, compared to its annual dividends to shareholders of less than $800 million. Here is a snapshot of the company's historical cash flow from operations: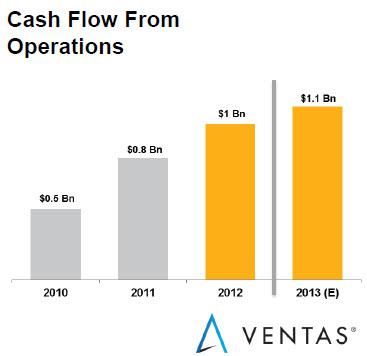 Here is a snapshot of the company's historical FFO and dividend growth: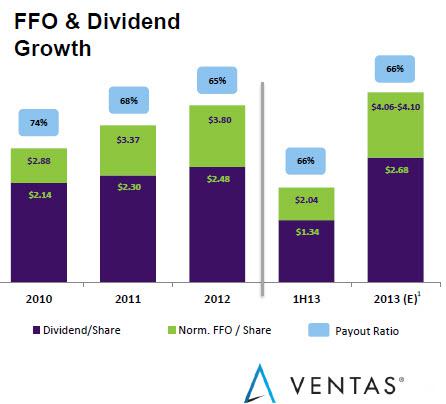 Now let's examine the 15-year historical earnings trends. As the FAST Graph chart below illustrates, Ventas has enjoyed healthy earnings (FFO) and dividend growth: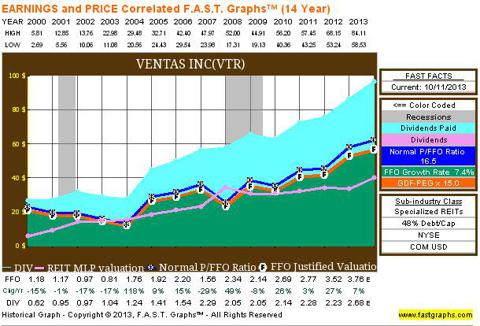 Now, let's take a look at the pricing (I added the black line to the graph). As you can see, Ventas shares had a wide "margin of safety" in January 2009 when shares dropped to $21.57 and since the shares have rebounded and trading at $63.62 today.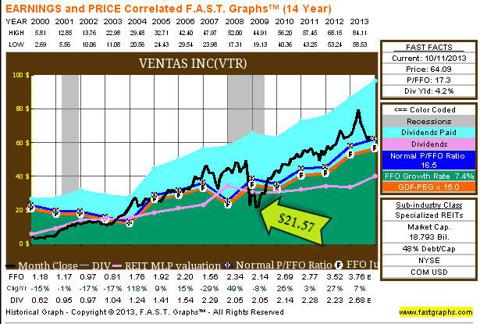 Ventas has Price to Funds from Operations (or P/FFO) multiple of 15.5x and based upon the peer group, the company appears to be trading at "sound" value.

By examining the most rent (4-year) history, we can see that Ventas is trading at the lowest value range since coming out of the Great Recession. The shares aren't cheap; however, there is some "cushion" to protect against future volatility.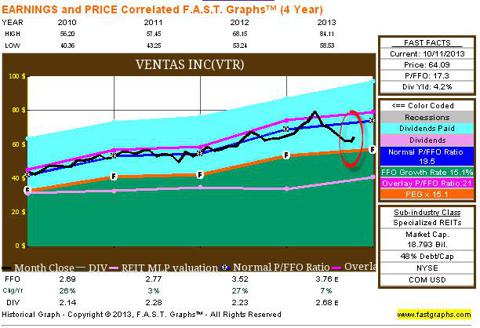 Now let's examine the dividend. Ventas has the lowest dividend yield (4.21%) in the Health Care sector:

However, Ventas has NEVER cut its dividend and with the exception of 2009 (where the dividend remained flat), the company increased every year.

Here is a snapshot that illustrates the company's dividend growth (over 12 years) and the average increase during that period is 9.5%.

Now let's compare the dividend growth with HCP, Inc. As you can see, the company did increase in all of these years; however, the annual dividend growth was less stellar, only 2.5%.

This chart below provides a better illustration of the dividend growth for Ventas and the two largest peers, HCP and HCN. Clearly, Ventas has done a much better job of growing earnings and putting points on the board.

On a recent (Q2-13) earnings call, Debra Cafaro, Ventas's CEO, explains why her company has been an outperformer:
Well, I think we've been, again, very consistent about our balance sheet strategy. I think we have been able to grow FFO per share at 10% compounded rates for a long period of time. And we've been able to do that with really strong balance sheet, lot of financial strength and flexibility. And so we would expect to, obviously, react to external conditions but we will maintain good financial strength and flexibility. So we can do both.
Indeed HCP has an equally impressive track record for paying sustainable dividends; however, I believe that growth is a key component and Ventas has shown that it can not only pay dividends, but grow them. That translates into superior performance and that is simply the reason that Debra Cafaro and her team have "won me over". The score card is impressive and there is little doubt that I will continue to hold onto the shares of the "blue chip" champion.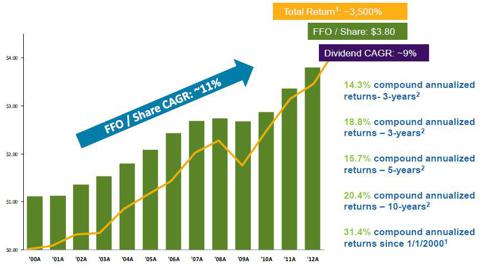 Finally, I wanted to recap the score card by comparing Ventas with a few mortgage REITs that I referenced in an article I wrote today. Over the previous 10 years Ventas returned a total of 466%. Comparatively, Annaly Capital (NYSE:NLY) returned 110%, American Capital Agency (NASDAQ:AGNC) returned 203%, HCP, Inc. returned 201%, and Health Care REIT 263%.
No question, Debra Cafaro is not only my fantasy CEO pick in REIT-dom, she is a veteran CEO who will guide my shares in "good times and bad" - with no boardroom drama (like HCP). Oh yes, winning investors over is critical and without a CEO who can score touchdowns, I stay up late worrying about dividends or a deflated shares. I believe Ventas (led by Cafaro) is one of the best teams in my portfolio and that's why I will "sleep well at night". Vince Lombardi explained that "leaders are made, they are not born. They are made by hard effort, which is the price which all of us must pay to achieve any goal that is worthwhile".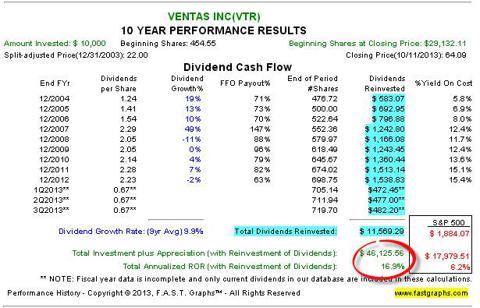 Ventas, Inc. is a REIT that I own and I also track in my SWAN ("sleep well at night") portfolio found in my monthly newsletter, The Intelligent REIT Investor.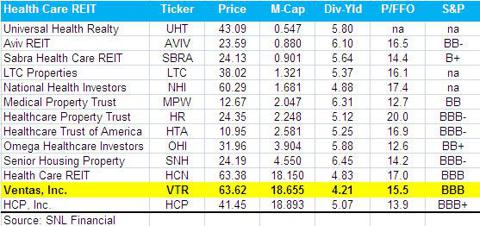 Source: SNL Financial, FAST Graphs, Ventas Investor Presentation
REITs mentioned: (NYSE:OHI), (NYSE:SNH), (NYSE:MPW), (NYSE:LTC), (NASDAQ:SBRA), (NYSE:HR), (NYSE:HTA), (NYSE:NHI), (NYSE:AVIV), and (NYSE:UHT).
Disclaimer: This article is intended to provide information to interested parties. As I have no knowledge of individual investor circumstances, goals, and/or portfolio concentration or diversification, readers are expected to complete their own due diligence before purchasing any stocks mentioned or recommended.
Disclosure: I am long O, ARCP, CSG, STAG, UMH, DLR, HTA, VTR, GPT, ROIC. I wrote this article myself, and it expresses my own opinions. I am not receiving compensation for it (other than from Seeking Alpha). I have no business relationship with any company whose stock is mentioned in this article.