Stratasys (NASDAQ:SSYS) did not manage to escape the volatility of the general market in the last couple of weeks, but the stock did not suffer major damage. Recent developments are very positive for the company's long-term prospects. Stratasys' expansion in China, as well as new MakerBot deals have not been reflected by the analysts, as their earnings and revenue estimates have trended sideways or down in the last couple of weeks. Recent events are not reflected in the forward estimates, which I believe are quite conservative.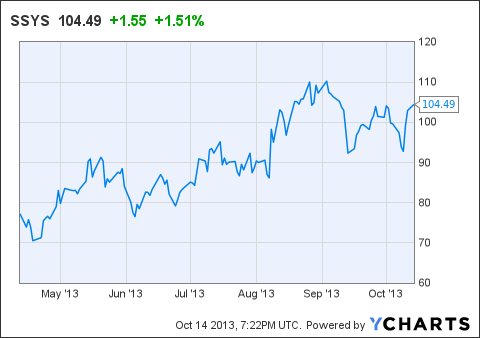 Expansion in China
In late September, Stratasys has signed an agreement with The Aurora Group, China's largest electronics and office supply retailer. Aurora will be the exclusive distributor of Stratasys' Idea Series of professional desktop 3D printers. The Idea line consists of its entry-level Mojo printer, its uPrint SE printer and the uPrint SE Plus model. Current prices range from $10,000 for a Mojo to $20,000 for an advanced uPrint SE variant. Aurora has over 500 locations throughout China, and gives Stratasys a major presence in the country. Aurora will also provide hands on training and handle regular maintenance for end users.
Although the market did not respond very positively, I believe that this is a big deal for Stratasys. China is expected to be one of the fastest growing 3D printing markets in the next couple of years. China accounted for $163.4 million of the estimated $2.1 billion 3D printing market in 2012, and is expected to exceed $1 billion in the next three years, and might become the World's largest 3D printing market by 2016. I do not expect substantial results from this initiative right away, but they should be visible in 2014 and beyond.
Stratasys' presence in Asia Pacific has been modest so far, with 16% of 2012 revenue coming from the region. Asia Pacific was the fastest growing geography in 2012, with a 64% increase in revenue over 2011, while North America and Europe delivered 38% and 26% revenue growth respectively in 2012. The new distribution deal with Aurora should bring faster penetration in China, and the Asia Pacific geography should remain the fastest growing geography in the next couple of years.
Stratasys is following the natural course of action, in an attempt to catch on with 3D Systems (NYSE:DDD), which is already present in China, and has recently expanded its presence, with a distribution deal with Tianjin Real Estate Development Management. Under the terms of the agreement, Tianjin will sell 3D Systems' complete portfolio of professional and personal 3D printers. The Asia Pacific region has also been the fastest growing region for 3D Systems, with revenue in the region growing 92% in 2012, compared to 78% revenue growth in the United States and 13% and 26% increases in Germany and other European countries respectively. Both 3D Systems and Stratasys have clearly recognized the growth opportunities in China and the broader Asia Pacific region.
MakerBot deals to boost the consumer initiative
In my previous article on Stratasys, I argued that the company is getting serious about the consumer segment with the recent MakerBot acquisition, which enabled the company to compete with 3D Systems and other 3D printing companies in the consumer market. And the initiative was expanded with the early August deal with Microsoft (NASDAQ:MSFT) and last week's national distribution agreement with Ingram Micro. The Microsoft partnership includes the "MakerBot Experience" in-store demos, which will be set up at 17 Microsoft Stores nationwide. Microsoft also announced in June that Windows 8.1 will include 3D printing APIs, with MakerBot being an initial supporter. Ingram Micro is now an authorized U.S. distribution partner for MakerBot, bringing MakerBot products to resellers throughout the United States.
This compares to 3D Systems' efforts on the consumer front, which include the exclusive agreement with Synnex Corporation (NYSE:SNY) and Staples (NASDAQ:SPLS), which will enable the company's Cube desktop printers to be readily available to a much broader customer base. However, as I stated in my latest article on 3D Systems, consumer adoption might not be going so well, and that the consumer initiative will have to be measured on a longer-term time-frame, as the adoption expands over the next couple of years.
Valuation and price target
Analysts have been mostly bullish on Stratasys, with one neutral, one buy initiation, and two upgrades to buy (or overweight). However, earnings estimates have been trending down, because of the reduced company guidance, which said that the MakerBot acquisition will be slightly dilutive to this year's earnings and accretive to 2014 earnings. The company also expects accelerated growth in the future, as it intends to leverage the Objet merger and the MakerBot acquisition. Cost synergies from the Objet merger are expected to ramp up, with the combined sales and marketing organization driving the faster growth. I believe that the company will deliver at the top of its full-year earnings and revenue guidance, or to slightly exceed its own estimates. Analyst estimates for next year are far too conservative, given the Objet cost synergies, fast growth of MakerBot, expansion in China, as well as the overall long-term industry growth. My revenue growth projections for next year are between 35% and 40%, as opposed to analyst estimates for 32% growth. Based on a 2014 EPS of $2.80 to $3.00, my short-term price target is $112. The target is based on a forward P/E of 40, and the low end of my EPS projection. These projections are similar to my estimates for 3D Systems which are stated in my previous article on 3D Systems.
Stratasys also has a strong balance sheet and no debt. The balance sheet was further strengthened with the secondary offering in September, which the company might use for more acquisitions.
Conclusion
Stratasys is executing its long-term strategy very well. Expansion in China, new distribution deals for MakerBot, successful Objet merger integration, and the overall industry growth will help drive long-term value for shareholders. The consumer initiative will bring long-term results, while the most of the short-term growth will be from the professional business segment. Both Stratasys and 3D Systems are growing fastest in the Asia-Pacific region, and both seem to be focusing more on that particular market, in order to capitalize the opportunity.
Additional sources: Stratasys SEC filings, Stratasys press releases, 3D Systems SEC filings
Disclosure: I have no positions in any stocks mentioned, and no plans to initiate any positions within the next 72 hours. I wrote this article myself, and it expresses my own opinions. I am not receiving compensation for it (other than from Seeking Alpha). I have no business relationship with any company whose stock is mentioned in this article.