How many times must a ticker show up on the most up list before it garners serious attention? For one of my readers "shorthgsh", apparently not very long. I received a message this past weekend asking about VisionChina Media (NASDAQ:VISN), and after reading the Instablog here, I agree that the company is something that needs to looked into further.
Introduction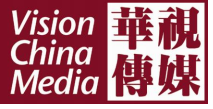 VisionChinia Media operates "out-of-home" media networks in mainland China providing real time news and advertising on the countries mass transportation systems. Their network covers major metropolitan areas such as Beijing, Guangzhou, and Shenzhen.
Revenues have been mixed the past few years, and the company has been engaged in ongoing litigation held over from prior corporate actions and a merger. Recently, the stock price has soared on little news, making one question the rational behind the market's perception.
This article will discuss recent results both operationally and legally, the lack of due diligence displayed by market participants, and raise questions about the current price/volume activity of the stock. We will look at two possible options available to the company to continue operations with a going concern, and the potential damaging results on long shareholders.
Company Overview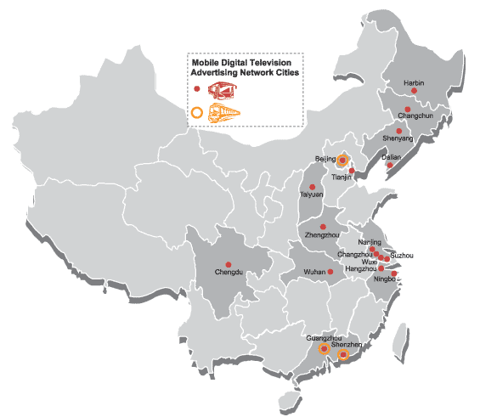 The premise behind the company's business model is to penetrate the world's largest consumer commuter markets and generate revenues from advertising. VisionChina Media uses three distinct contractual models to secure agreements with advertisers.
Exclusive Agency Model - where VisionChina contracts with a local mobile digital television company for the exclusive right to sell advertising time on a city's existing mobile network.
Direct Investment Model - where VisionChina forms a joint venture with a local television station, or affiliate, holding a non-controlling equity interest.
Outreach Agency Model - where VisionChina purchases advertising time from an existing mobile digital television company outside the network, either directly or through an agent at the request of clients.
Results have been inconsistent over the past few quarters, and although the company reported a serious jump in quarterly revenues during their latest quarter, the company has been losing money for years now.

During the last conference call, Chairman and CEO Limin Li did disclose that the company had achieved a gross profit through cost cutting measure and increased sales. He also mentioned the company's mobile strategy and discussed the growth of China's commuter segment. However, it is what he briefly mentioned in between those two topics that should most interest longs, and raise questions about the run up in price.
As we recently announced via press release, a judgment regarding the litigation with the selling shareholders of DMG by the Supreme Court of the State of New York was issued recently. We expect the judgment and we are now in the process of settlement discussions with the selling shareholders.
What is most curious is the markets recent action in light of the current situation. One would think that the entire judgment was already priced in, and that going forward, a negative outlook has been resolved. The reality is far removed. The stock barely budged when the release came out.
But, fast foreword one month.
Recent Market Action
(Chart courtesy of StockCharts.com - click to enlarge)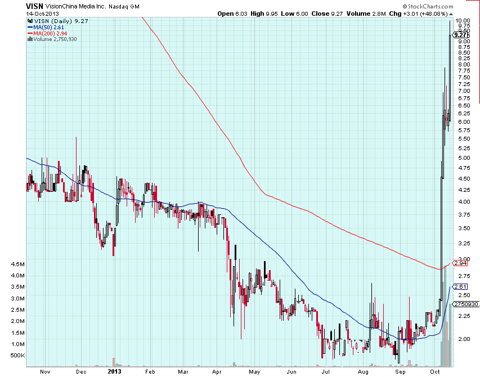 Beginning October 7th, VisionChina ADS broke its long term down trend on high volume. Initial gut reaction is that it is the beginning of a short squeeze, since we are nearly a month past earning, and no other catalysts have come to light that would drive prices northward. But, according to NASDAQ, short interest sat at less than 10,000 shares at then end of September. Therefore, no short squeeze here.
There is also a curious lack of promotion. Trolling my usual sources, I have been unable to uncover a single promotional piece sent by email or newsletter. So, where is this interest coming from and why? Perhaps the answer lies with the recent court judgment against VisionChina Media and this website.
Summary of Legal Proceedings
Going back to December 2010, VisionChina Media has been in an ongoing legal battle with Gobi Partners, Inc. and the former Digital Media Group shareholders. The final ruling had just been issued prior to the last quarterly release, and is exactly what Chairman Li was referring to during the call.
Granted, the executives of VisionChina did not go into any detail during the conference call, but neither did any listeners raise any questions. The company had released a separate press release (K-6) updating shareholders of the decision, and provided a detailed historical timeline in their last annual report (20-F), and the news is not good.
In summary, the company has lost its appeals, and is now on the hook to former Digital Media Group shareholders for 71 million dollars. A quick glance at the balance sheet reveals just how dire the situation now is.
Outlook for Long Shareholders
With cash and cash equivalents of less than 40 million, and only 21 million in shareholder equity, this ruling essentially bankrupts VisionChina Media. Plus, since the company admits that it only has 24 million in revolving credit available to it, there is very little chance the company can comply with the courts decision and still have needed capital to continue operations. Therefore, one of two things needs to occur.
1) The company must be granted an additional short term line of credit to meet the legal judgment, and fund operations and expansion. Since the current interest rate is 160% the PRC benchmark, additional borrowings would most certainly be at higher rates, further impairing VisionChina's ability to attain profitability and significantly increasing the company's interest expense.
2) The company must raise additional capital through a secondary offering. Since ADS correspond to 20 ordinary shares, any attempt to raise funds through an equity offering would have significant dilutive effects on long shareholders. Even at 10$ per ADS, the company would have to float an additional 100 million common shares just to raise $50 million, effectively doubling the number of shares issued and outstanding.
Conclusion
Either way, the current outlook for long shareholders is, to put it lightly, not good. There is absolutely no reason for the run up in price over the past week. Given the current fundamentals, the stock was seriously overpriced at $2 per share, so $10 per share is complete insanity. Recent price/volume activity is beyond reason, and someone is blinding momentum traders to the real dire fundamentals of the company.
Open your eyes longs! VISN is worth less than $1
Disclosure: I have no positions in any stocks mentioned, and no plans to initiate any positions within the next 72 hours. I wrote this article myself, and it expresses my own opinions. I am not receiving compensation for it (other than from Seeking Alpha). I have no business relationship with any company whose stock is mentioned in this article.