We've covered a number of factors in the past that are showing that there may be some serious stress in the physical gold markets. A new one that has caught our attention is the very large premiums that are facing buyers in the Indian gold market - one of the two largest gold markets in the world.
According to the most recent data from the Indian market (courtesy of Nick Laird), the current premiums are running at around 18% over the spot price of gold in the Indian market.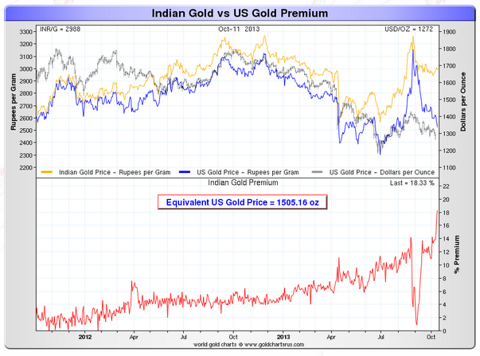 As investors can see, that premium has been steadily rising over the last two years with it accelerating since April of this year. The interesting thing is that this price does not even include the customs taxes that the Indian government has been increasing since the beginning of 2013, when that is included the cost of gold in India skyrockets as can be seen in the chart below.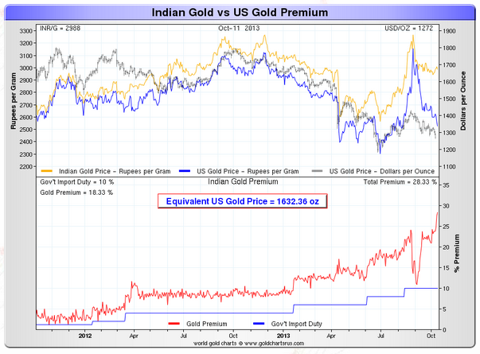 That means that when premiums and customs taxes are included, the cost of gold in India is over $1600 per ounce or a cumulative 28.33% premium - a stunningly expensive price to pay for gold.
Conclusion for Investors
Now we won't really get into the government's strategy of raising gold customs taxes to discourage gold ownership (which we think is actually encouraging ownership amongst Indian citizens since it simply raises the price of their gold holdings), but our interest lies in what high premiums signify.
Investors should remember that high premiums usually signify bottlenecks in the supply chain or a general shortage in the physical market - with a shortage being extremely bullish for the gold market. This is important because the Indian gold market is so large and very dependent on physical metal, and any shortages in this market will require large amounts of gold from the rest of the world to satiate this demand.
The Asian press is starting to pick up on this story and dealers are complaining that physical gold is in short supply:
"There is no official gold available. People are not willing to sell their old jewellery either, at these prices," said Sudheesh Nambiath, an analyst with metals consultancy Thomson Reuters GFMS.
"There has been demand for a week now but our supply line has dried up," said Harshad Ajmera, proprietor of JJ Gold House, a wholesaler in Kolkata. "The suppliers are making huge money on the stock they have now."
This is even though India probably has the world's largest physical supply of gold - which clearly signals that Indians who own gold are not willing to part with it at current gold prices.
But maybe more importantly for investors in physical gold and SPDR Gold Shares (NYSEARCA:GLD), it may be showing a growing bifurcation between the paper gold market and the actual physical market. As was clearly seen last Friday, the paper gold market trades massive amounts of gold with the equivalent of worldwide gold production trading in the span of a few days. The vast majority of these trades are never settled in physical gold, and in fact it wouldn't be possible to settle them in physical gold since the entities trading the gold don't have the physical stocks to back up the trades. Many of these trades are made by hedge funds and traders that are following gold chart patterns and that fully expect their counterparties to settle in cash - they don't have much knowledge about the physical market because they have never had to acquire the physical gold in the past.
That's why it is crucial for gold investors to monitor what's going on in the physical market, because it is our belief that there is some severe stress in the physical market that just hasn't reached the paper market yet. When it does we think it will be a fast and furious jump in gold prices that will stun almost all the participants in the gold market as a scramble is made for physical gold.
As we've done in the past we continue to recommend investors accumulate physical gold and the gold ETFs (SPDR Gold Shares, PHYS, CEF) while the physical gold supply continues to drop - with physical gold taking precedence over the ETFs (if you do not own physical gold buy that first). For investors looking for higher leverage to the gold price, they may want to consider miners such as Goldcorp (NYSE:GG), Yamana Gold (NYSE:AUY), Agnico-Eagle (NYSE:AEM), or even some of the explorers and silver miners such as First Majestic (NYSE:AG), though miners come with significant additional risks.
The Indian gold market's all-time high premiums are reinforcing the opinion that there is significant stress in the physical gold markets. Remember the Indian market has the most gold reserves in private hands than any other country on Earth, and if their premiums are sky-high then that is just another sign of instability in the physical gold market. We believe that this will be a "bang moment" as the gold market's psychology does a 180 degree turn - investors would be wise to accumulate before the bang because it will be too late afterwards.
Disclosure: I am long SGOL, GG, GOLD, AG. I wrote this article myself, and it expresses my own opinions. I am not receiving compensation for it (other than from Seeking Alpha). I have no business relationship with any company whose stock is mentioned in this article.