Alcoa (NYSE:AA) reported Q3 earnings that beat estimates and the stock price rallied on the news. The positive results were driven by success in the downstream business (that makes aluminum parts for cars, planes, etc.) and productivity enhancements. However, Alcoa's results should be viewed in the context of aluminum prices, which were stable for Q3 and did not provide a headwind like in previous quarters. Going forward, aluminum prices will continue to drive the stock price. Aluminum prices are trading near multi-year lows and face headwinds, but have held a key level, so far. In this article, I will analyze the dynamics of aluminum prices and the impact on Alcoa. Although I am still cautious about aluminum, there are a few positives to watch.
Basic Thesis On Alcoa
The following is my basic thesis about Alcoa from my previous article:
"Alcoa is a well run company with an attractive downstream business that produces components for several growing end-markets, especially automobile and aviation. However, its upstream business has been pressured from very weak aluminum prices. Alcoa has a lot of debt and is marginally cash flow positive, so the price of aluminum is the key driver of Alcoa's overall profitability and the stock price. The drop in aluminum prices below $1,800 could lead to a sharp move lower. The more time it takes for aluminum to recover this level, the greater the downside risks. Alcoa faces continued short term pressure with these low aluminum prices. Eventually, low aluminum prices will lead to more supply cuts, but it is unclear when that will happen and if they will be successful in reversing the downward move."
My recent articles on Alcoa can be found here:
LME Aluminum Prices
The price for aluminum on the London Metal Exchange (LME) is $1,875 m/t (3 month buyer). Aluminum prices have been weak for a couple of years: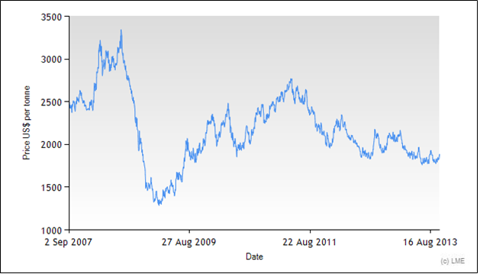 (Source: LME.com)
However, in Q3, the price of aluminum was fairly stable.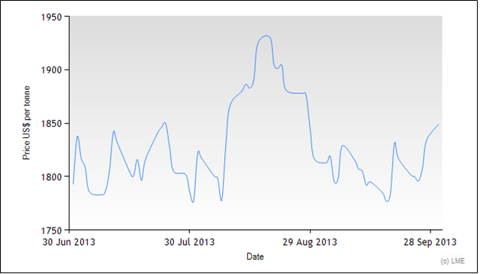 (Source: LME.com)
As a result, aluminum prices did not act as a significant headwind for Alcoa like in previous quarters. Just because Alcoa generated good results in Q3, does not mean that aluminum prices are no longer a key driver of the company or the stock.
Alcoa's management estimates that a $100 m/t swing in aluminum prices has a $240 million impact on annual net income (source: Alcoa's Q3 2013 earnings presentation)
Alcoa can counter the negative effect of lower aluminum prices with productivity improvements and other actions. However, the headwind still exists.
Premiums
The price that Alcoa gets for the aluminum that it produces is based on the LME price, plus regional premiums (plus any value-added impact).
Regional premiums have started to show some weakness: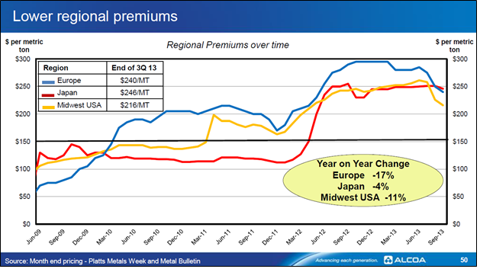 (Source: Alcoa Q3 2013 earnings presentation)
Proposed changes to LME rules may be dragging down regional premiums: LME changes hurt aluminum premiums - Alcoa executives.
Supply / Demand
Alcoa updated its supply/demand outlook for aluminum and projects a 400,000 m/t deficit in 2013, a slightly larger deficit than projected at the end of the last quarter.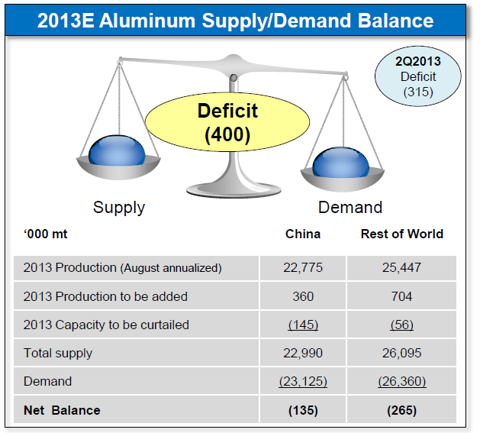 (Source: Alcoa Q3 2013 earnings presentation)
Despite the projections for a deficit, aluminum prices have been weak.
Rusal, another large aluminum producer, seems more concerned about the supply/demand balance. Rusal's management recently stated:
"Our industry remains in a crisis of its own making with over supply leading to excess of stock overhanging the market. This status quo cannot be allowed to continue and the sector as a whole needs to take action to optimize capacity...

Whilst demand remains strong for aluminum, the sustainability of our industry relies on industry players to taking a uniformed and disciplined approach towards inefficient and unprofitable production, with a focus on the customer at the forefront. RUSAL is taking the lead in confronting the current negative market environment and will continue to do more to further improve business efficiency." (Source: Rusal Q2 earnings release)
For more about production cuts, please see my previous article.
Other Metals
The trend in aluminum is similar to the trends in copper, gold and silver. It will be interesting to see if the broad weakness across the metals continues or if divergences emerge.
In the meantime, weakness in gold/silver could continue to be a negative catalyst for aluminum.
Aluminum (3 month buyer):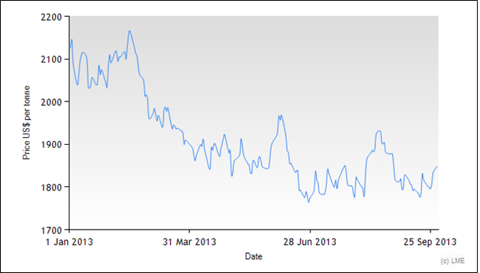 (Source: LME.com)
Copper - iPath Dow Jones UBS Copper Total Return Sub-Index ETN (NYSEARCA:JJC)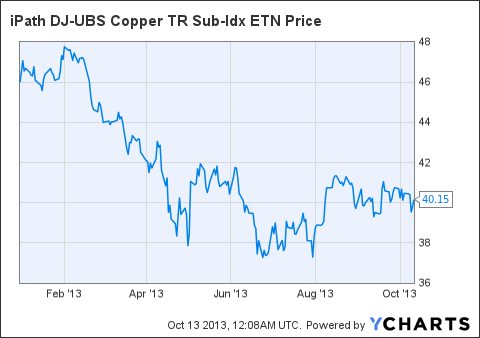 Gold - SPDR Gold Trust ETF (NYSEARCA:GLD):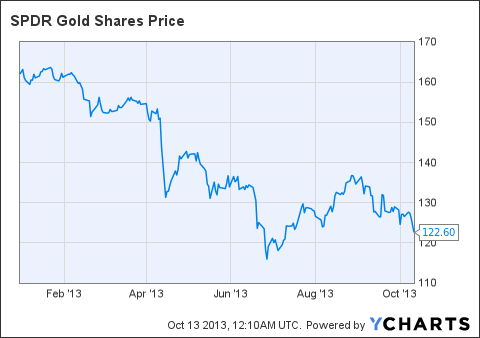 Silver - iShares Silver Trust ETF (NYSEARCA:SLV):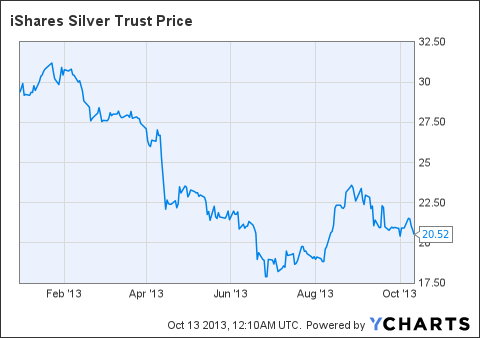 Financials & Valuation
The key aspects of Alcoa's valuation:
The price of aluminum is still a key swing factor for EBITDA and earnings. However, the downstream business is benefiting from end-market growth (autos, aerospace) and the company has a big program of productivity enhancements to improve profitability.
Alcoa has a lot of debt (and more if pensions are included, as I show below) and marginal free cash flow.
Alcoa has a lot of leverage (financial and operational), so there is potential for big moves in the stock, despite its rangebound trading recently.
The equity value is only ~1/3 of the total enterprise value (when including the pensions), which further increases the potential for big moves in the stock price.
It is hard to make an argument that Alcoa is overvalued/undervalued. The direction of aluminum prices is more likely to drive the stock price in the near term than the valuation.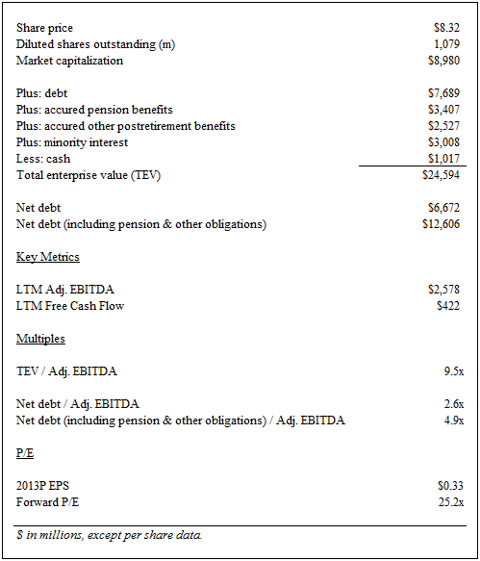 Estimates
Analyst estimates increased slightly following the Q3 results.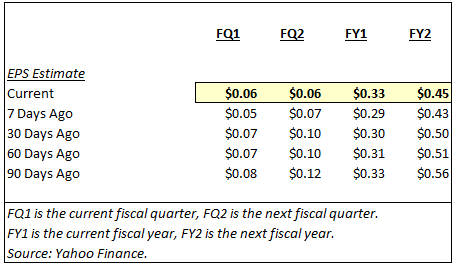 Stock Price
Alcoa's stock has been making lower-highs going back to 2011.
I have been watching the $8 level as a key "bounce or breakdown" point. Although the stock dipped below $8 over the summer, it has bounced back.
On an encouraging note, Alcoa's stock price has made higher-lows since July and has acted well following Q3 earnings.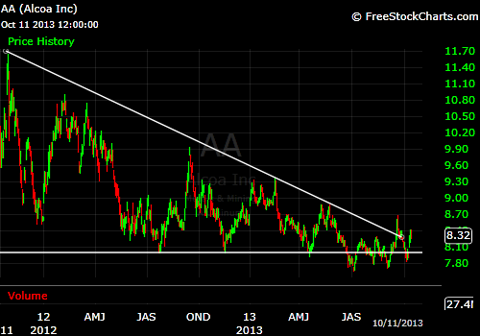 (Source: FreeStockCharts.com)
Short Interest
Short interest in Alcoa's stock has been increasing over the last few months.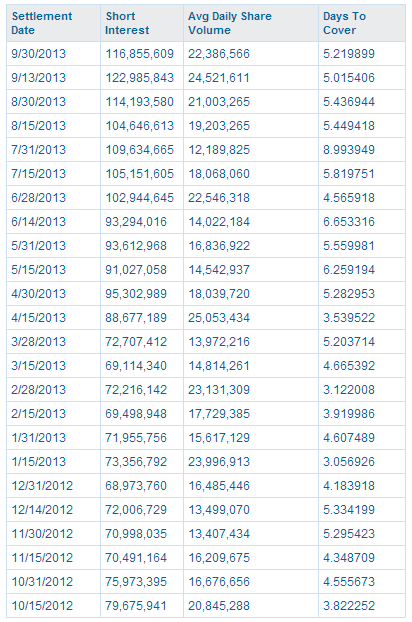 (Source: Nasdaq.com)
Analyst Sentiment
Prior to the Q3 results, there were a couple of notable downgrades:
Following Q3 earnings, analysts still seemed cautious:
Key Positives
I have been (and remain) cautious on Alcoa, but it is important to recognize a few positives. The stock price may bottom before good news emerges.
Alcoa's stock is holding above $8 and aluminum is holding above $1,800 m/t.
The stock has held up well over the last few months, despite lots of bad news, including a debt downgrade, falling aluminum prices and removal from the Dow. A stock that doesn't fall on bad news may be sending a bullish message.
The stock has been trading in the ~$8 range for over a year. That is a lot of time for the pessimists to sell. Maybe there is a more patient investor base now (though there is an increase in short activity).
Conclusions
Alcoa generated good results in Q3. However, aluminum prices were neutral, compared to a headwind in previous quarters. This leads me to believe that the price of aluminum is still the key driver for the stock, despite the company's positive operational performance.
Aluminum still faces more headwinds. Alcoa's supply/demand forecast seems to be at the optimistic end of the industry. The supply glut may continue to put pressure on aluminum prices.
Despite the negativity, Alcoa's stock price has held up well. Maybe the negativity is priced-in.
The key levels remain an $8 stock price and aluminum above $1,800 m/t.
Disclaimer: The opinions expressed above should not be construed as investment advice. This article is not tailored to specific investment objectives. Reliance on this information for the purpose of buying the securities to which this information relates may expose a person to significant risk. The information contained in this article is not intended to make any offer, inducement, invitation or commitment to purchase, subscribe to, provide or sell any securities, service or product or to provide any recommendations on which one should rely for financial, securities, investment or other advice or to take any decision. Readers are encouraged to seek individual advice from their personal, financial, legal and other advisers before making any investment or financial decisions or purchasing any financial, securities or investment related service or product.
Information provided, whether charts or any other statements regarding market, real estate or other financial information, is obtained from sources, which we and our suppliers believe reliable, but we do not warrant or guarantee the timeliness or accuracy of this information. Nothing in this article should be interpreted to state or imply that past results are an indication of future performance.
THERE ARE NO WARRANTIES EXPRESSED OR IMPLIED AS TO ACCURACY, TIMELINESS, COMPLETENESS, OR RESULTS OBTAINED FROM ANY INFORMATION IN THIS ARTICLE OR ANY LINKED WEBSITE.
Disclosure: I have no positions in any stocks mentioned, but may initiate a long position in AA over the next 72 hours. I wrote this article myself, and it expresses my own opinions. I am not receiving compensation for it (other than from Seeking Alpha). I have no business relationship with any company whose stock is mentioned in this article.
Additional disclosure: I may trade any of the securities mentioned in this article at any time, including in the next 72 hours.