JPMorgan's (NYSE:JPM) billion dollar settlements and legal reserves are fodder for headlines, but will probably be soon forgotten. Even the London Whale episode faded away pretty quickly. The current round of JPMorgan bashing is not driving down the share price to levels where it is a screaming buy, like in the aftermath of the London Whale. On a near-term basis, JPMorgan looks fairly valued. However, if the company can continue to grow in-line with its historic results (and announced plans), the shares could have a lot more upside. In this article I will analyze JPMorgan's valuation based on Tangible Book Value Per Share and EPS metrics.
JPMorgan's Tangible Book Value Per Share
Through 1H 2013, JPMorgan's Book Value Per Share and Tangible Book Value Per Share increased 9% over the prior 10-year period, including the financial crisis.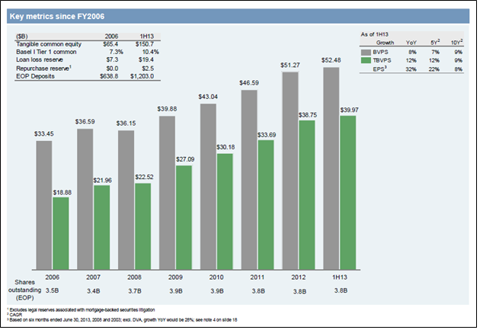 Click to enlarge
(Source: JPM presentation, September 9, 2013)
These metrics fell in Q3 as the company took a big hit due to litigation expenses. As of Q3:
Book Value Per Share (BVPS): $52.01
Tangible Book Value Per Share (TBVPS): $39.51
There have been opportunities to buy JPMorgan's stock price around TBVPS during panic periods, but over the last year the stock has traded at a premium to TBVPS. In fact, the stock price has been hovering around BVPS for most of the year.
The white lines represent BVPS for the prior quarter and the yellow lines represent TBVPS for the prior quarter.
(click to enlarge)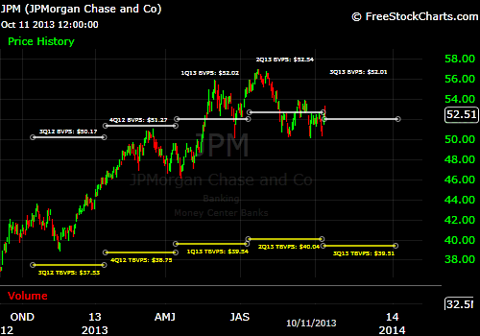 Click to enlarge(Source: FreeStockCharts.com)
Key questions: [i] how fast will BVPS and TBVPS grow and [ii] what multiple to use.
My basic assumptions are that JPMorgan can continue to grow TBVPS at ~10% annually and that it will trade in a range of 1.2x-1.5x TBVPS.
There may be some crisis periods (like another London Whale event) when the stock price trades down to TBVPS or below, but in normal times many investors will likely buy the stock on dips to ~1.2x TBVPS (just my assumption).

Click to enlarge
Based on this framework, JPMorgan has ~10% downside potential compared to 13% upside potential in the near term.
However, if it grows TBVPS per share by 10% over the next year, then it has ~1% downside potential compared to 24% upside potential.
EPS
Another way to look at JPMorgan's valuation is Earnings Per Share.
At the last investor day, JPMorgan's management presented their view for the bank's earning power. On a normalized basis, JPMorgan expects to have earnings power of $24 billion annually, which could increase to $27.5 billion annually with certain growth intiatives and efficiency gains.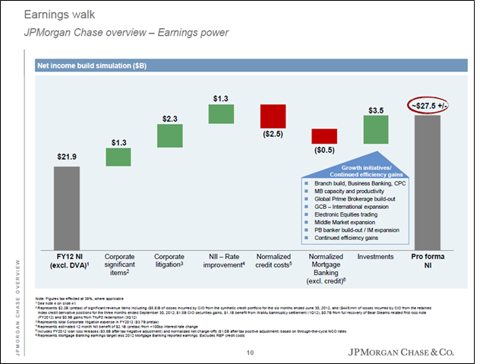 Click to enlarge
(Source: JPM investor day presentation, February 26, 2013)
Based on the current share count of 3.8 billion diluted shares, these projections equal ~$6.30 per share and ~$7.25 per share with growth initiatives.
Analysts are projecting EPS of $5.68 for 2013 and $5.99 for 2014. There are always lots of adjustments to EPS and it is hard to know what is baked into the estimates.
On the last earnings call, JPMorgan's management was asked about the EPS upside going forward.
Glenn Schorr - ISI
Maybe a last one. It's a world that doesn't have a lot of loan growth, has very low interest rates, and capital markets have been far from ideal. To your point, your underlying businesses are operating good, and ex the charge, you're earning that $6 run rate that people are hoping you could get to. I guess the question is, do you have more confidence than you did last year in terms of that $24 billion over the cycle? Because you're kind of at that run rate now with not ideal conditions.
Jamie Dimon - Chairman and CEO
It's your job to forecast the future. We do think there's some very good businesses, and like I said, there's underlying growth. But obviously it could be swamped in the short run by markets and events, etc. We'll report a lot more on investor day, give you much more insight. (source: JPM Q3 2013 earnings call, Seeking Alpha)
I assume that JPMorgan should trade at 10-15x P/E.
In the short term, $6 of EPS and a 10x multiple seems the best way to value the company. This implies a $60 price target.
However, I believe that there is upside to this valuation over the next few years.

Click to enlarge
Upcoming Headwinds
Over the long term, fundamentals and valuation win out. But in the near term there are a number of variables that could impact the financials and the stock price.
Headwind #1: Litigation Exposure
JPMorgan's management said on the Q3 conference call that the litigation exposure was higher than they thought even a few weeks ago.
There could still be more surprises. Felix Salmon wrote an interesting article about JPMorgan's legal issues. He argues that the government is going after JPMorgan now because it can. There is no longer a threat to the financial system, JPMorgan has the cash to pay and the public wants punishment. Fair or not, JPMorgan could still face more litigation surprises.
Headwind #2: Rising Interest Rates
I expect interest rates to go up over the next 1-2 years. JPMorgan has said that it is prepared for higher interest rates and stands to benefit.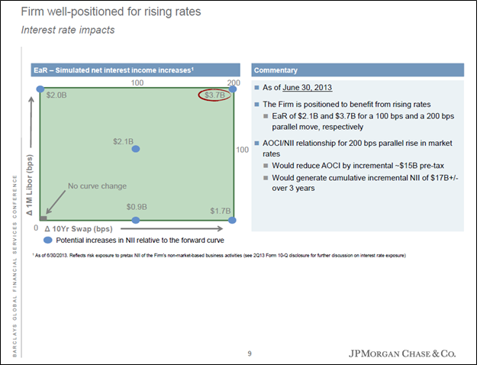 Click to enlarge
(Source: JPM presentation, September 9, 2013)
The problem is the transition to higher interest rates. It is hard to know how "well-positioned" the firm is to a quick spike in interest rates.
Headwind #3: Regulation
The capital levels for big banks like JPMorgan (and other regulatory requirements) are still not clear.
Prior to the release of the Q3 results, JPMorgan presented its progress on hitting the capital and leverage requirements: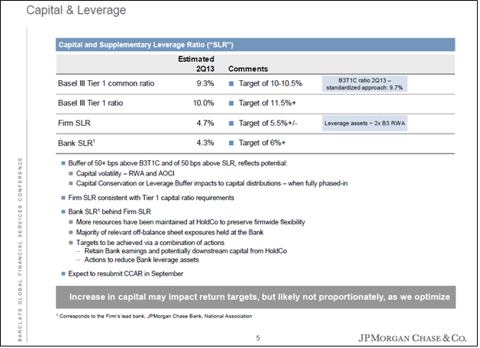 Click to enlarge (Source: JPM presentation, September 9, 2013)
Based on the Q3 data, the updated metrics are:
Basel III Tier 1 common ratio: 9.3%
Firm SLR: 4.7%
Bank SLR: 4.3%
In layman's term, JPMorgan still has more work to do to hit its targets and the regulatory environment remains uncertain.
Furthermore, JPMorgan re-submitted its Comprehensive Capital Analysis and Review (CCAR) proposal in September. The CCAR is a review of the bank's capital position. Before it can issue dividends or buyback shares it must meet the CCAR requirements. JPMorgan expects to hear back about it CCAR submission in December. I don't expect an issue on this front, but you never know.
Conclusions
JPMorgan's litigation issues don't worry me. They are unfortunate and costly, but mostly relate to decisions made in a different time (or by banks that JPMorgan acquired). JPMorgan will pay, but there won't be much long-term impact.
JPMorgan seems to be fairly valued at the moment. My main valuation guide is 1.2-1.5x TBVPS. However, JPMorgan is positioned to continued to grow TBVPS as well as earnings. On a multi-month to a multi-year timeframe, I expect substantial upside to its share price.
I am cautious on the market and don't see any near-term positive catalysts for JPMorgan. I don't have a position now, but may establish one soon, especially if the stock pulls-back to the $45-$50 per share range.
Disclaimer: The opinions expressed above should not be construed as investment advice. This article is not tailored to specific investment objectives. Reliance on this information for the purpose of buying the securities to which this information relates may expose a person to significant risk. The information contained in this article is not intended to make any offer, inducement, invitation or commitment to purchase, subscribe to, provide or sell any securities, service or product or to provide any recommendations on which one should rely for financial, securities, investment or other advice or to take any decision. Readers are encouraged to seek individual advice from their personal, financial, legal and other advisers before making any investment or financial decisions or purchasing any financial, securities or investment related service or product.
Information provided, whether charts or any other statements regarding market, real estate or other financial information, is obtained from sources, which we and our suppliers believe reliable, but we do not warrant or guarantee the timeliness or accuracy of this information. Nothing in this article should be interpreted to state or imply that past results are an indication of future performance.
THERE ARE NO WARRANTIES EXPRESSED OR IMPLIED AS TO ACCURACY, TIMELINESS, COMPLETENESS, OR RESULTS OBTAINED FROM ANY INFORMATION IN THIS ARTICLE OR ANY LINKED WEBSITE.
Disclosure: I have no positions in any stocks mentioned, but may initiate a long position in JPM over the next 72 hours. I wrote this article myself, and it expresses my own opinions. I am not receiving compensation for it (other than from Seeking Alpha). I have no business relationship with any company whose stock is mentioned in this article.
Additional disclosure: I may trade any of the securities mentioned in this article at any time, including in the next 72 hours.