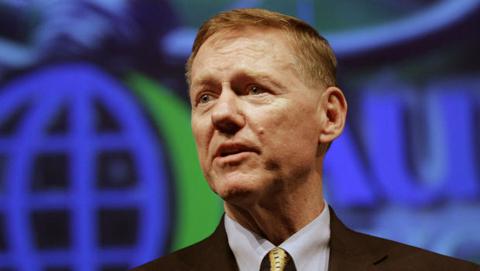 Source: CBS
With the departure of CEO Steve Ballmer, Microsoft (NASDAQ:MSFT) hopes to have a new leader named by the end of the year. Many analysts consider celebrated Ford (NYSE:F) head Alan Mulally as the lead candidate.
Several articles have appeared for or against the appointment of Mulally, with many questioning his qualifications for the job. Let's take a look at some of the myths surrounding Mulally's qualifications, and then examine why he would be a great leader for Microsoft.
Myth #1 - Mulally is an "Industrial Man" and Knows Nothing About Technology
An automobile has about 10,000 moving parts, right? An airplane has two million, and it has to stay up in the air

- Alan Mulally, 2007
Robot Little Bird vs. Angry Birds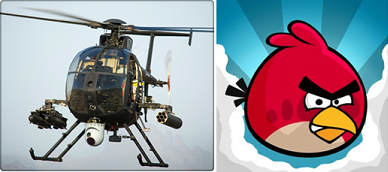 Image Source Left: Boeing
Image Source Right: All Thumbs Gaming
When doubted by an executive at Ford about his lack of experience with cars, Mulally responded with the quote above.
Perhaps detractors would give Mr. Mulally more tech credibility if he were busting out high scores on Farmville on Facebook (NASDAQ:FB), posting pics of Ford cars on Instagram, or relentlessly spamming his colleagues through Salesforce.com (NYSE:CRM) email blasts?
So decide for yourself, which technology platform do you consider more complicated, Angry Birds or the Unmanned Little Bird? The complexities of Mulally's world-class systems and his cars speak for themselves.
I personally find that examining all technology through the lens of the Apple mobile story, or the .com 1999 paradigm, or through social media (Facebook), is a huge mistake, but unfortunately, that line of thinking continues to dominate. Technology companies often have very different personalities and markets, and are not always subject to a winner-takes-all line of business, but more about that later.
Educational Background
Mulally comes with an impressive educational background, holding a Bachelor and Master Degree in aeronautical and astronautics engineering, along with an MBA from MIT.
Why would he pick MIT (Massachusetts Institute of Technology) to earn his MBA, when he clearly could choose from any school he wanted, like a Harvard? The reason is because it's one of the most well-respected technology educational institutions on the planet.
Experience
In addition to his undeniable success at Ford, Mr. Mulally presided as the president of Boeing Information, Space & Defense Systems and senior vice president of The Boeing Company. I would challenge detractors to locate a leadership position that demands more technology skill than this one.
For first-hand experience, Mulally's biggest success earlier in his career was to lead the design team of the first all-digital flight cockpit, "fly by wire" in a commercial aircraft, implemented in the 767. This was a revolutionary, and forward-thinking, leap ahead.
Mulally is the complete technology package, not only providing tremendous executive-level technology leadership ability, but one that is grounded by years of front-line experience as an engineer and project leader, managing some of the most sophisticated systems on the planet.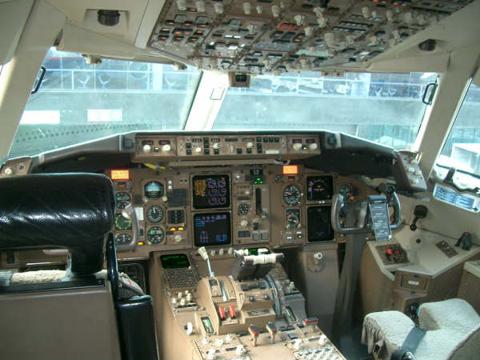 Source: Wikipedia
Myth #2 - He's Too Old
Detractors feel that Mulally lacks the physical and mental prowess, or the fire to carry about a turnaround, simply because of his age. Or, as one article claims, he would bring a "grandfatherly" oversight to the company, which has an average age of 34. (Author hint: Maybe the lower average age is indicative of an environment where turnover is too high?)
Mulally lives 3 miles from Ford headquarters and arrives at 5:15AM every morning, where he then goes on to work for 12 hours. Does that sound like someone who is slowing down or lacks the passion for his job? Sounds more like someone dedicated with an unrelenting energy and desire to succeed to me.
Personally I find his tremendous life experience, dedication, and abilities to be huge assets and his age not a liability.
Myth #3 - Microsoft needs a CEO with a Startup Mentality
Microsoft is not a startup tech company. Again this is looking at the company through the wrong paradigm, as though it was an Internet startup in 1999, and needing to base its product lines off of bold, disruptive, high-risk ideas.
Microsoft is almost a 40-year old company now, and like Technology Staples peers Cisco (NASDAQ:CSCO) and Intel (NASDAQ:INTC), has supplied much of the infrastructure upon which other companies (like those bold startups) build from.
Like Boeing (NYSE:BA) and Ford, Microsoft is an institution, and it could be argued that it is a technology conglomerate that has more in common with (NYSE:GE) than it does with Apple (NASDAQ:AAPL). The company has a ubiquitous footprint and a highly diversified set of product lines.
The last thing we need is some rebel coming in and destroying value by blowing cash on a Broadcast.com or Time-AOL merger.
Microsoft is the perfect environment for providing a stable incubator for new ideas, with the umbrella of a cash cow. With the right culture shift, intellectual ideas locked behind red tape and political shenanigans will finally find their way to the light of day.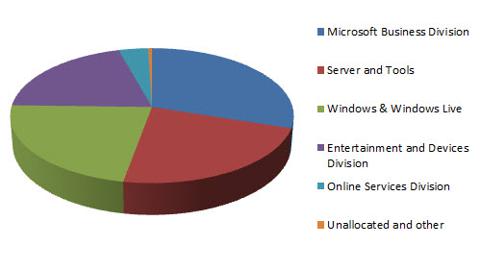 Source: Punch Cut
Now that we have examined some of the myths/cons around Mulally, let's look at what he brings to the table and why he would be a great candidate for Microsoft.
Pro #1 - Almost Identical Experience at Ford Perfect Fit for Microsoft
Take a look at this Business Week article that appeared in the summer of 2007. Mulally was new to Ford, yet the culture seemed eerily similar to that of Microsoft. The company had lost its way, was not sure of itself, and the hierarchy created a system where cooperation was discouraged.
Although the root cause is different here, the symptoms are nearly identical. Microsoft clearly has a culture that is broken and needs fixed, and Ford was the same way.
"In the royal hierarchy at Ford, an elaborate system of employment grades clearly established an employee's rank in the pecking order."
"The grades also had the unintentional effect of quashing ideas and keeping information tightly controlled."
"One consequence of employees' need to make their mark in such a short time was to discourage cooperation with other divisions and regions, whose products were often on a different timetable. And no engineer ever got noticed by carrying over his predecessor's design or idea -- even if it saved big money…"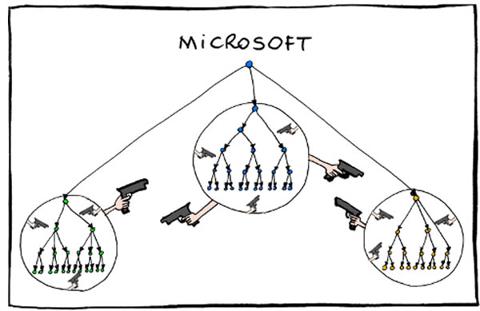 Source: Global Nerdy
Pro #2 - Mulally's Leadership from the Top Changes Culture
Mulally is not afraid to break down barriers and take risks. Consider key firefighter decisions he made at Ford to turn the company back around, saving it from the Great Recession and not needing government assistance during the meltdown:
Discarded bad product lines (Land Rover, Jaguar) so the company could focus on core competencies.
Negotiated rates with unions to save labor costs and keep jobs in the US (previously thought impossible).
Put Ford's massive assets on the line to raise badly needed funds to keep the company afloat.
However, more importantly is the culture and tone that he brings to the table.
Although Microsoft is not in dire straits, not even close to it, (the company is still one of a handful to maintain AAA credit rating and is swimming in cash flows and huge cash stockpiles), there is a need for a sense of urgency and the company is embarking on a turnaround.
In addition to bringing a sense of urgency, Mulally also brings a sense of accountability and transparency to the table. He is a consensus and team builder - good for breaking years of Microsoft's entrenched competitive culture.
As an outsider, he brings in a fresh perspective to the table to break old habits. Let's hope that includes abolishing the ridiculous stack ranking employee review system.
The final result? Look at Ford - a profitable company with a solid product line:
The domestics are getting really, really good at building small vehicles

- Fred Diaz, U.S. sales and marketing head for Nissan Division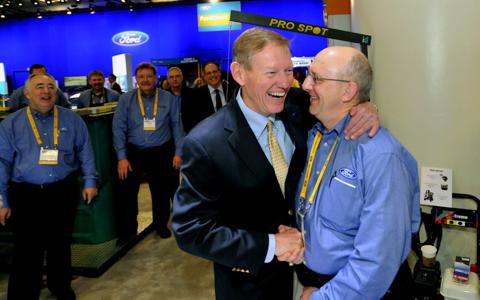 Source: Motor Trend
Investing Strategy
I continue to invest in Microsoft and consider it a stable investment for decades to come. In January, I offered several investing ideas for those interested in Microsoft stock. Personally, I continue to sell puts during market pullbacks, to take advantage of high options premiums. Should a value situation arise I will always consider adding to my long shares but am holding for now.
Conclusion
Changing industries can upset even the most seasoned executive. Not Alan. He understands the fundamentals of business success as well as any business leader I know.

- Steve Ballmer, Time Magazine, 2009
Alan Mulally has excellent leadership skills as a turnaround specialist, an experienced and world-class technologist, and finally, as a consensus builder. These three qualities are exactly what Microsoft needs and what would make him a great fit for the job at Microsoft. We had One Ford and now we have One Microsoft.
I would welcome him as the Microsoft CEO and also believe Mr. Stephen Elop would make a great senior level advisor, as a strong core leadership team.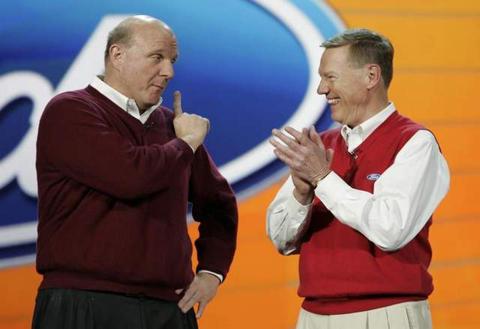 Source: The Detroit News
Disclosure: I am long MSFT, INTC. I wrote this article myself, and it expresses my own opinions. I am not receiving compensation for it (other than from Seeking Alpha). I have no business relationship with any company whose stock is mentioned in this article.