By Chris McKhann
The XME mining exchange-traded fund has been in a powerful uptrend for a year, but the puts were active yesterday.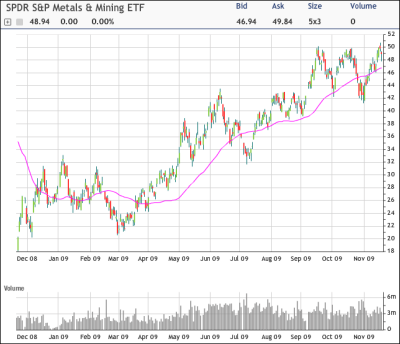 The S&P Metals and Mining ETF (NYSEARCA:XME) finished down 1.67 percent to close at $48.94, which was well off the lows of the day. In Wednesday's session the price hit a new 52-week high, completing a 100 percent run from the low of a year ago. But the XME still needs to double again to get back to levels from June 2008.

The average total options volume for the XME of late has been around 6,600 contracts, but there was one trade of 25,000 contracts that stood out yesterday. It appears that a trader was rolling out a bearish position as 15,000 of the December 42 puts were sold for $0.60 and $0.55, while 10,000 of the March 42 puts traded for $2.60. The open interests at those strikes were 21,035 and 112 respectively.

This could be a ratio calendar spread, but it appears likely that the trader was selling to close the puts in December and buying out in March to reduce exposure to time decay and increase exposure to changes in volatility. In either case, the trade is looking for shares to fall down to or below that $42 level, where the XME was trading as recently as the beginning of the month.
(Chart courtesy of tradeMONSTER)