The debate continues, be it tired or tireless, - what should investors expect from Apple (NASDAQ:AAPL)? On September 3rd, a CNN article challenged: "Apple needs to find new ways to stay on top". The report included the following graph as proof that demand is stalling.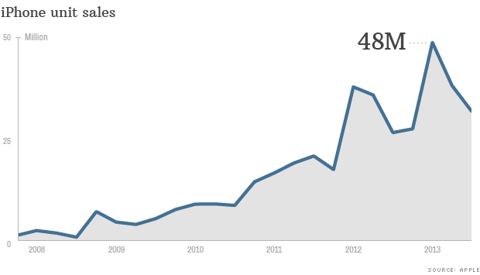 The author proposed:
"On the hardware front, there's not much Apple can do to blow customers out of the water"
and
"Apple is also struggling to entice new customers in developing markets."
An analyst, Andy Hargreaves, from Pacific Crest Securities is quoted in the article as saying,
"If most people in the world who can afford to buy an iPhone have already [done so], you have to find more opportunities in the ecosystem."
Just a week later on September 10th, Apple introduced the iPhone 5c and the iPhone 5s. Reviews were mixed - of course, they always are. On September 23rd, Apple released the results from the first weekend of sales which, at least, left no doubt about consumer demand. The launch was a record-breaking success. Apple had sold 9 million units, the greatest number of units in the first weekend of sales for any Apple iPhone to date. Apple's ecosystem certainly did not appear to be shrinking.
In the Enterprise - Why Apple?
Even though Apple's consumers dominate the debates, investors should not neglect to recognize that the Apple ecosystem includes the enterprise. On September 5th, the website As Disruptive As It Gets published a blog with results from an online survey by Greyhound Research.
The survey polled IT decision-makers in the Asia-Pacific, Japan, Middle East and Africa regions. The results are enlightening. As expected, the younger population leads the adoption of Apple products. The next largest base of users are upper-level executives. IT departments either are supporting or are planning to support the Apple platform at a rate of 41% for iPhones and 37% for iPads - impressive rates considering these regions are "developing markets".
What may be the most pertinent information from the survey answers the question, "Why Apple?" as summarized below:
"Enterprise decision makers remain unsure about supporting Android fully in the enterprise. Many reasons contribute to this including irregularity of support for OS upgrades, bigger base of end-users demanding iPhone and iPad support, a weak app marketplace strategy among others."
BYOD?
Many naturally turn their thoughts to a BYOD (bring your own device) approach when contemplating Apple in the enterprise. The benefits of smart devices are indisputable:
Communication delays are shortened.

Switching between communication methods (voice, messaging) is simplified.

Multiple text conversations are easily managed.

Search capabilities are available.

All media types (data, images, video) are supported.
A Cisco Systems (NASDAQ:CSCO) IBSG Horizons survey covering BYOD and Virtualization found that only 5% (30) of 600 businesses responding forbid the use of employee-owned devices. The survey validated that BYOD policies result in productivity gains for the employees. Employees also cite greater job satisfaction in a BYOD environment. But, a report in August based on a Teksystems' survey found that IT department management view the movement as "mediocre at best" in effectiveness.
A BYOD approach is flooded with problems. When a personal device is used in the enterprise:
Who pays the bill, especially if overage charges are incurred?

Who is responsible for the health of the device, including keeping the device charged?

How does the enterprise ensure the security of its data? Sensitive company data is definitely at risk.

How does the individual ensure the privacy of one's personal data?

Who is responsible for maintenance, support, repair of the device?

How do apps/data/contacts stay updated?

IT support costs rise.
It is quite obvious a business should not run mission-critical processes relying on the voluntary presence of personal devices.
Enterprise Devices
The solution for enterprises may well be found in history - dedicated devices. An enterprise-owned device can be maintained, supported, updated and, most importantly, protected as necessary by the enterprise. With the adoption of enterprise-dedicated devices, the stage is set for entrepreneurial-minded developers to build solutions meeting different industries' needs.
Case Study - Voalte
One such visionary launched just such an idea when Apple released the iPhone software developer's kit in 2008. Trey Lauderdale, an experienced healthcare professional, envisioned disrupting the industry by merging the various forms of communication. By providing healthcare professionals the ability to communicate via voice or text and the ability to respond to alarms from a single device, he sensed that a patient's care would improve. So, while many embarked on developing the next addictive game, Mr. Lauderdale and a team of enthusiastic entrepreneurs formed Voalte. The company's goal is simply stated in its mission statement:
"Better communication means better caregivers. Better caregivers means better patient outcomes."
Just five years later, Voalte is the only company that can claim installing over 8000 iPhones in 30+ hospitals nationwide. An additional 30 projects are underway. Each facility procures enough devices to outfit a shift. So, devices are essentially shared by employees on differing shifts. The iPhone is configured to make and receive calls over the hospital's WiFi network thus cellular plans are unnecessary. The Voalte app is loaded on each device and integrates with alarm systems. Third-party medical apps, such as drug references or dosage calculations, can be loaded. Apps for language translation can be installed. The device redefines the moniker "smartphone" when used as an enterprise tool. Voalte details the definition:
"They are ultra-mobile computers that fit in a caregiver's pocket, run a variety of medical applications, and will soon connect with electronic medical records and bar code medication administration systems."
With device in hand, the healthcare professional logs in gaining access to personalized profiles. Secure access and patient privacy compliance are ensured through enterprise security policies based on the employee's login. Co-worker availability is managed and displayed as each logs in.
Historically, over half of a nurse's shift is spent charting, communicating and waiting on information. Patient care occupies less than half of a nurse's time. The iPhone enables communication at the point-of-care. More time is spent at the bedside. Fewer errors are made. The availability of text messaging eliminates many traditional communication barriers and dramatically decreases annoying overhead noise. In fact, Voalte has tracked a 9:1 text to call ratio in its customer base. The multitasking capabilities of the device itself raises the productivity and efficiency of the caregiver.
In 2012, Voalte conducted a time-motion study at one of its installations, Sarasota Memorial Hospital. The hospital invested $750,000 for iPhones and Voalte software and apps. On an annual basis, the savings in nursing time was $1 million.
As impressive as that ROI is, Voalte's founder, Trey Lauderdale, still sees waves of innovation in the near future. In a September interview with HISTalk, he shared his vision:
"Across the board there is disruptive innovation and opportunities everywhere. I would not be surprised if in the next five to seven years, companies that like Voalte or in Voatle's position could have the potential to be the size of some of today's large EMR vendors or other billion-dollar companies in the space."
Does the iPhone 5s Fit?
Now, along comes the iPhone 5s, touted as the "most forward-thinking smartphone in the world". The newest version in the iPhone family features a desktop-class 64-bit architecture. What this means for apps, even business apps, is improved CPU and graphics performance.
Another improvement that should surely appeal to the business environment lies in the changes increasing battery life and device usage time.
The M7 motion coprocessor included in the iPhone 5s measures motion data that can be utilized in business apps as well as the fitness and activity apps consumers use.
For the healthcare industry and many others, Touch ID, Apple's fingerprint recognition and analysis, can definitely be incorporated into business apps. Voalte's executive management shared their initial reaction to the feature:
"There are definite possibilities for the Apple Touch ID fingerprint scanner as we look toward the future of healthcare. As we learn and discover these features, we plan to take advantage for improved clinical communication and security."
The First Rejection
Steve Jobs described Apple's impact:
"We started out to get a computer in the hands of everyday people and we succeeded beyond our wildest dreams".
In the mid 80's, the first Apple Macintosh was rejected by corporate America. It didn't have enough memory. There was no hard drive nor network connectivity. It didn't fit.
Enterprises Today
Everyday people now carry Apple technology that fits in their hands, their pockets into corporate America. A survey in March, 2013 by Citrix (NASDAQ:CTXS) confirmed Apple's iOS is dominating. The survey is based on a quarter where Apple's growth paced at 58% while Android dropped 35%. One glaring problem with Android was identified by McAfee:
"97 percent of the mobile malware found was Android-based".
Corporate America is adapting. And, Apple is adapting to corporate America. Apple opened its platform with a software developer's kit (NYSEARCA:SDK) in 2008 and allowed custom apps to be built. In 2010, it began offering an iOS Developer Enterprise Program which provides "tools and resources for developing proprietary, in-house iOS apps" for distribution to a company's employees. Enterprise-grade security features allow a single enterprise sign-on, and virtual private network (VPN) definition by app. Data protection features help separate corporate data from personal. Apple's iOS integrates with mobile device management (MDM) systems for configuration and management. Apple ensures iOS upgrades are ready for its full line of products at no cost.
With visionaries and entrepreneurs like Trey Lauderdale stepping out to innovate and change business by capitalizing on Apple's tightly-integrated hardware and software, the corporate world has to take notice. As those innovations and changes prove the return on investment is healthy and results are superior, enterprises are finding they simply cannot afford to reject Apple again.
Conclusion
Again, corporate America should not run mission-critical processes by relying on the voluntary presence of personal devices or a BYOD approach. Enterprise-dedicated devices loaded with proprietary business apps will be the logical alternative. Apple is the provider most likely to benefit as enterprises move that direction. Why? Because it's already dominating the space.
No, enterprises will not reject Apple this time.
Disclosure: I am long AAPL, CSCO. I wrote this article myself, and it expresses my own opinions. I am not receiving compensation for it (other than from Seeking Alpha). I have no business relationship with any company whose stock is mentioned in this article.
Additional disclosure: I want to thank Trey Lauderdale, Voalte's Founder and President, and Caroline Early, Voalte's Public Relations Specialist, for their contributions and for sharing their time and vision with me.