Armour Residential (NYSE:ARR) is an mREIT investing in agency residential mortgage-backed securities. Armour Residential's mortgage backed securities portfolio consists of hybrid adjustable-rate, adjustable-rate and fixed-rate residential mortgage-backed securities issued or guaranteed by Fannie Mae (OTCQB:FNMA), Freddie Mac (OTCQB:FMCC) and Ginnie Mae. The mREIT sector has fallen on particularly hard times characterized by increasing rate volatility and massive dividend cuts. Armour Residential is no exception. Shares literally tanked since the company reported a Q2 2013 book value of $5.43 per share (down a staggering 25% q-o-q):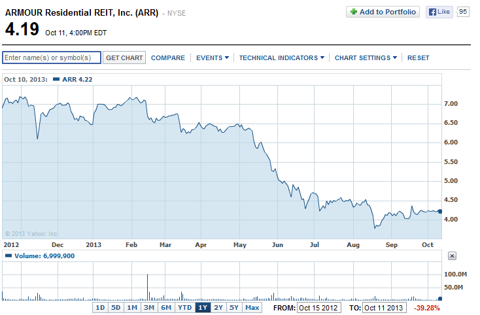 In fact, bullish investors praised Armour Residential and mREIT darlings Annaly (NYSE:NLY) and American Capital Agency (NASDAQ:AGNC) as exceptional investments with respect to their dividend yields. I have never believed in a business model that relies on high leverage and on short-term funding (short-term funding was a major cause of the financial crisis by the way). Armour Residential has lost 39% of its value over a 1-year period, 38% over two years and 52% of its value over 5 years. Investors paid for their high dividend yields with serious capital depreciation over the last year. Chimera (NYSE:CIM), American Capital Mortgage Investment (NASDAQ:MTGE) and Hatteras Financial (NYSE:HTS) also felt the force of mREIT repricings.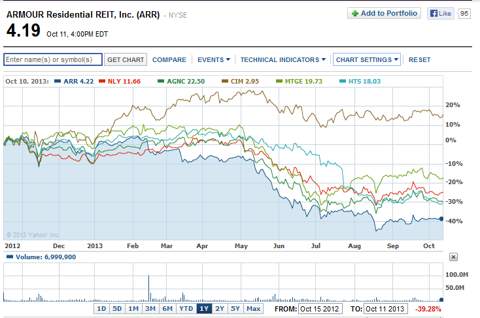 The entire mREIT sector is currently experiencing a long-awaited meltdown as a consequence of higher than usual interest rate volatility and increasing rates across the rate spectrum. As a result of the FED's low interest policy mREIT investors have been flocking to mREIT stocks such as Annaly and Armour Residential chasing their 10-15% dividend yields but ignoring their reliance on short-term funding, high leverage ratios and risks stemming from capital increases. In addition, many companies were founded just a few years ago and have a limited history of dividend performance.
Armour Residential is the most punished mREIT in the peer group with a one-year decrease in share value of almost 40%.
Reliance on short-term interest rates
MREITs such as Armour Residential and others leverage up their balance sheet relying on short-term interest rates. ARR lists its dependence on short-term rates as a major risk factor in its most recent 10-Q filing with the SEC.
In December 2008, the Fed stated that it was adopting a policy of "quantitative easing" and would target keeping the Federal Funds Rate between 0.00% and 0.25%. To date, the Fed has maintained that target range. Our funding costs, which traditionally have tracked the 30-day LIBOR have generally benefited by this easing of monetary policy, although to a somewhat lesser extent. Because of continued uncertainty in the credit markets and U.S. economic conditions, we expect that interest rates are likely to experience continued volatility, which will likely affect our financial results since our cost of funds is largely dependent on short-term rates.
Investors should not be blinded by high dividend yields in the sector. The performance of mREITs, ARR in particular, has caused huge unrealized book losses for investors, which are likely bigger than the cash flow income from dividends. The table below depicts the present dividend yields for major mREITs, the extent of their dividend cuts (the highest quarterly distributions happened between 2009 and 2010) as well as their respective 1-year performance.

Armour Residential currently has the highest dividend yield at 14.32%. Investors who purchased Armour Residential just last year may have received 14-16% in dividends but are now sitting on 39.28% in capital losses. The table above also paints a broader picture of the sector: Dividends across the sector are markedly down at an unweighted average of 47.45% since their historical High. Armour Residential posts the largest dividend cut of 58.33% from its Q3 2010 High of $0.12 per month (currently ARR's dividend stands at $0.05 per share) which also explains why Armour Residential is among the stocks that consolidated the most.
Balance sheet expansion and regulatory risk
Balance sheets of mREITs have ballooned up with assets quadrupling in value to $400 billion since 2009, which raises issues of systemic relevance. Tougher regulation in terms of higher capital requirements and leverage restrictions could surely hit the mREIT sector in the future, which would dampen returns and shareholder remuneration. Armour Residential's 10-Q section about financial regulatory reform risks summarizes regulatory efforts to control balance sheet expansion of major financial institutions. A legislative or regulatory push to curb leverage in the shadow banking system (including mREITs) would have a major impact on the business model of mREITs and their returns. Potential leverage control and regulatory oversight pose serious challenges to the business model of mREITs. The IMF certainly advocates those themes (from Bloomberg):
With the amount of repurchase agreement, or repo, financing used by the two largest mortgage REITS comparable to that of Lehman Brothers Holdings Inc. before its 2008 collapse that roiled the global economy, "at the very least the mREITs point to a microcosm of fragilities in the shadow banking system that deserve closer monitoring," the IMF said today.

The reliance by the industry on short-term loans to invest in government-backed mortgage securities with strategies involving interrelated risks mean their sales as prices decline might create a "fire sale 'risk spiral,'" according to the report.

Sales may reduce the value of holdings among other investors such as banks and potentially cause declines big enough to "induce repo lenders to pull back funding or raise rates more broadly (or both), with negative consequences for other leveraged short-term borrowers," the IMF said.

Increased oversight of mortgage REITs and firms involved in the repo market that they turn to for financing "would help reduce the risk of a cascading failure of counterparties." A review of repo "haircuts," or down payments, would be "desirable," along with greater disclosure, the IMF said.

Authorities also "could consider changing the exemption status for certain" mortgage REITs, or label the largest as systemically important and in need of more oversight, the group said. The U.S. Securities and Exchange Commission, after asking in 2011 for comments on the companies' exemption from the Investment Company Act that allows them to use unlimited leverage, didn't announce any adjustments to the rule.
High leverage
As of June 30, 2013 Armour Residential had a leverage ratio of roughly 10:1, which compares to 8:1 on December 31, 2012 and indicates that balance sheet risks have increased over the last six months. Higher leverage ratios reflect higher risks and ARR's recent substantial decline in book value per share is a reflection of it. Armour Residential remains a high-risk business.
Increasing rates will likely continue to hurt net interest spreads and impact the value of MBS securities held in ARR's portfolio. Falling interest rates are supporting Armour Residential's business model as they allow leverage to work in favor of shareholders. Rising interest rates work just the opposite way. With interest rates expected to rebound, Armour Residential and peers are facing strong cyclical headwinds.
Price/yield relationship still important
Higher dividends also reflect higher risk. REITs are structures that require companies to pay out the majority of their earnings. High dividend yields correspondingly reflect the risk of the underlying business. Dividend cuts without changes to the risk profile of the company need to be reflected in lower share prices, which brings the price-yield relationship back into balance. Lower dividends set the stage for further price depreciation.
Summary
Interest rate volatility will increase as the economy recovers and the FED begins to taper. Divergence from the historical relationship between rates also is a major risk factor for the valuation of Armour's residential mortgage portfolio. Investors who believe that 30% return on equity ratios, leverage ratios of ten to one and a reliance on short-term funding indicate a high-risk business, which cannot produce sustainable dividends, might want to consider a short position in Armour Residential. I have previously written about why Annaly makes a great short and the fundamental thesis holds true here. While I am bearish on the sector in general, Armour stands out with high leverage ratios, substantial shareholder value destruction as evidenced by a 25% drop in book value per share, the largest dividend cut in the sector since its High in 2010 and the worst share performance over the last year. In addition, many mREITs that have been flying high during the financial crisis have very short dividend records and haven't proven yet if and how they perform in an environment of rising/volatile interest rates. Chimera has a dividend record since 2009, Armour Residential since 2010 and American Capital Mortgage since 2011. There is only one reason why mortgage REITs prospered in the 2008-2010 period and IPO'ed en masse: Low interest rates. Rising interest rates make leverage less profitable, compress net margins and cause book values and distributions to fall further. Given the reasons outlined above I affirm my negative outlook on the sector and maintain my short rating on Armour Residential, Annaly and American Capital Agency.
Disclosure: I am short ARR, NLY, AGNC. I wrote this article myself, and it expresses my own opinions. I am not receiving compensation for it (other than from Seeking Alpha). I have no business relationship with any company whose stock is mentioned in this article.