You might have strong convictions about smoking and tobacco companies but it pays to be agnostic when it comes to investing. Adjusted for dividends, shares of Philip Morris International (NYSE:PM) have rewarded investors with an annualized 20% over the last five years, well ahead of the 14% return on the S&P500. The company continues to see market share growth even in regions with declining volume trends. Iconic brand loyalty and scale has held up industry-leading margins and emerging market growth promises strong cash returns in the future.
Share growth even in a weak market
Smoking in the United States peaked in 1981 with approximately 640 billion cigarettes sold and had declined to 360 billion sold by 2007. It seemed regulation and increased public awareness had finally started to reduce the number of smokers. The anti-smoking lobby was beginning to win but the tobacco companies kept making money. The Altria Group (NYSE:MO), then called Philip Morris, made $25.9 billion from domestic and international cigarette sales in 1992. Ten years later, annual sales had jumped to $47.6 billion, an annualized increase of 6.3% in an industry facing an almost mandated decline.
Whether you like it or not, smoking is a powerful profit machine.
After six consecutive quarters of contraction in the economy, eurozone cigarette volumes were down 10% on a year-over-year basis. Over that year, Philip Morris International increased its market share by a full percent.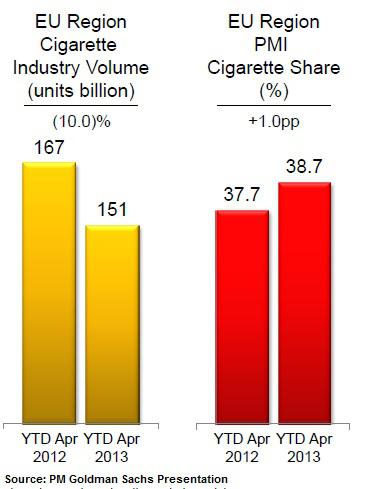 It may be one of the most hated companies in the most hated industries, but Philip Morris International is definitely a best-of-breed.
Eurozone Tobacco Products Directive
Now investors are worried that a trend in packaging laws could derail growth and hurt brand identity. European regulators passed a tobacco products directive in 2012 that, if enacted, could present some serious industry changes.
The proposal includes a ban on menthol and slims, a requirement that 75% of the packaging be covered by graphic warnings and a ban on some promotional elements. In May of this year, a group of U.S. senators sent a letter to the EU's ambassador to the United States threatening that the directive would impact trade relations. The directive is expected to be adopted by the end of the year with 18-24 months to transpose into national legislation for member states. That means that the industry probably still has two years or more to fight or mitigate it in courts and I doubt that the final directive will have the impact that it originally intended.
The plan follows similar laws and proposals in Thailand, Uruguay and Australia. The industry has had some success blocking earlier legislation on the grounds of trade and brand infringement.
Fortunately for investors of Philip Morris International, the company has a strong future in emerging markets where cigarette volume sales are increasing and regulations are less restrictive. In China, where the biggest upside exists, the market is basically a monopoly but the company has entered into a joint-venture with China National Tobacco to cross-sell products. I do not think the Chinese market will open to foreign companies anytime soon but eventually it could be a huge boost to sales.
So economic pressures are driving down volume sales in Europe and regulation is a constant threat across the globe. Whether you like it or not, there will always be smokers and Philip Morris may only be getting stronger as the market shrinks. The company was able to grow market share in every one of its regions in the year to July. Thanks to iconic brands and scale, the company is able to maintain an industry-leading operating margin of 43% and earn $0.27 for every dollar of sales.
The company is not sitting around until the industry is regulated into oblivion. CEO Calantzopoulos announced this year that the company was on the eve of a, "paradigm shift for the industry," with three alternatives to traditional smoking. The most interesting of the three, a product that involves heating the tobacco instead of burning it, is ready for clinical testing and up to four years out on manufacturing.
Expectations are too low for current year
Earnings for the current quarter are expected to come in at $1.43 per share on $7.94 billion in revenue. Earnings of $1.30 last quarter missed expectations by almost 8% for a rare decline in year-over-year earnings. As a consequence, expectations for the current quarter have come down from $1.49 per share over the last 90 days.
If the company meets expectations for $5.43 per share this year, it would be the lowest earnings growth in three years. Earnings grew by 7.4% last year but are expected just 3.8% higher this year on no growth in sales.
Besides the fair value argument outlined below, I think there is a good chance that earnings surprise this quarter. The company took a $0.07 per share hit on foreign currency weakness in the second quarter. The dollar has been in free-fall for most of the last quarter, dropping almost 5% from a one-year high in early July and that should be supportive when the company translates foreign sales.
Beyond an upside from foreign currency translation, management has been optimistic on second half earnings. Earlier this year, management gave a webcast for the Goldman Sachs Consumer Symposium saying, "The bulk of our EPS growth this year is expected to occur in the latter part of the year and we anticipate a particularly strong fourth quarter."
A conservative valuation for the long-term
A discounted cash flow approach to valuation is really the most appropriate for these mature-industry, cash-return companies. The estimate takes into account cash returns over a period of years and values the cash return into perpetuity after that period. The model then discounts the cash flows back to a present value by the company's cost of capital.
Management has increased the dividend by an annualized 11.7% over the last five years with the annual payment currently at $3.76 per share. In the model below, I reduce the near-term dividend growth rate to 9.5% on continued weakness in the Eurozone and 7.5% through 10 years out. The terminal value is based on a 3% growth rate. These estimates are likely to be extremely conservative yet still show a 14.4% upside to the stock's fair value on top of the healthy dividend yield.
There is a lot not to like about the smoking industry and it looks like, in developed markets at least, that regulations and public awareness are having a lasting effect. The emerging markets still promise decades of robust growth and the tobacco companies will remain profitable years after volume starts to decline there as well. Philip Morris International is well-positioned to take advantage of this growth with its best-selling brands and scale advantage. The shares trade at a steep discount to fair value and the company could be on the verge of innovation that will add even more upside.
Disclosure: I have no positions in any stocks mentioned, and no plans to initiate any positions within the next 72 hours. I wrote this article myself, and it expresses my own opinions. I am not receiving compensation for it (other than from Seeking Alpha). I have no business relationship with any company whose stock is mentioned in this article.