Cisco Systems (NASDAQ:CSCO) is a growth company that might be interesting to value investors as well. The growth premium investors pay for accessing Cisco's earnings stream is quite low and Cisco's intrinsic value is meaningfully higher than its current share price. In this article, I focus more on valuation and cash flow characteristics than on Cisco's operational challenges. A number of great articles from other fellow SA contributors already cover this area (e.g. here).
Share performance
In the last two years, Cisco has taken the lead in terms of peer group performance: It returned 32% while Qualcomm (NASDAQ:QCOM) gained 23% and LM Ericsson (NASDAQ:ERIC) 22%. Intel (NASDAQ:INTC) produced a return of minus 1% and Juniper Networks (NYSE:JNPR) lost 6.4%. The question is now whether Cisco's valuation can grow further given the outperformance of its peers. Both earnings and free cash flow indicate relative undervaluation and upside potential.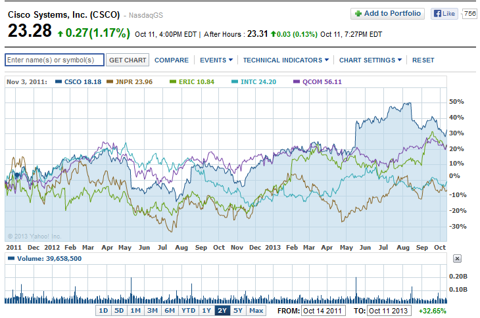 Click to enlarge
Free cash flow valuation
Cisco's historical cash flows and a reconciliation to free cash flow to equity are provided in the table below. While many investors focus on a generic free cash flow measure, I am working with the FCFE definition which clarifies just how much cash is ultimately available to the owners of the business. There are a variety of free cash flow definitions in use (operating cash flow minus capex, operating cash flows minus investing cash flow, free cash flow before debt service etc). In this article, I consider the free cash flow to equity which includes Cisco's operating and investing cash flows. The net figure will be adjusted for net changes in debt borrowings for each period.
Cisco's debt borrowings have fluctuated between $1,508 million in 2011 and ($557) million in 2012. Net borrowing decreased further in 2013 with net debt repayments of $12 million. For simplicity, I assume debt changes in 2014 will be irrelevant for Cisco's FCFE. Cisco's 2013 investing cash outflow was impacted by $6.8 billion for acquisition expenses. I adjust the 2014 investing cash flow for those expenses and estimate the normalized investing cash flow to hit $4.9 billion. With 5,380 million diluted shares outstanding Cisco's 2014 free cash flow to equity is estimated to hit $9,500 million or $1.77 per share. Investors purchasing Cisco now would do so at an initial free cash flow yield of 7.59% or a P/FCFE ratio of 13.18 based on the 2014 cash flow estimates shown below.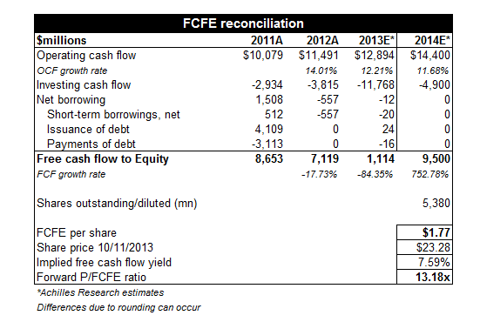 Click to enlarge
Applying the FCFE per share estimate of $1.77 in a discounted cash flow model (assuming 4% long-term growth rate and 10% cost of capital to account for the higher-risk technology business of Cisco) the intrinsic value of Cisco comes out at $30.16 per share. Given the current share price of $23.28, Cisco shares still have meaningful upside potential: almost 30%.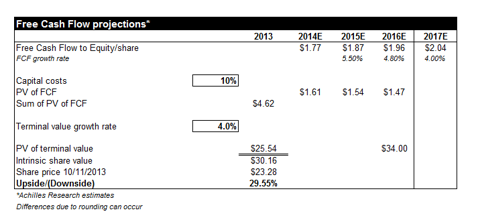 Click to enlarge
Market valuation
Cisco's low free cash flow valuation is validated by its low earnings valuation. Cisco compares favorably to other large-cap equipment providers in the technology sector. Cisco fetches just above 10 times forward earnings while Juniper Networks commands a substantially higher multiple of 15 times leading earnings. Both Qualcomm and LM Ericsson are tending towards Juniper's valuation with multiples of 13.66 and 14.58 respectively. Cisco's low earnings valuation substantiates the low free cash flow valuation derived from above: Investors get a real bargain here.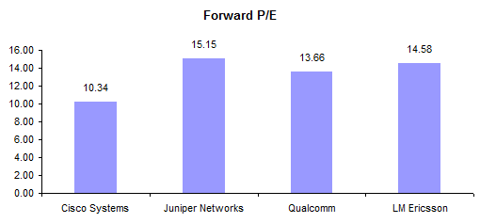 Click to enlarge
In terms of peer group comparison, Cisco offers investors a high discount to the P/E peer group average: It trades 23% below the peer group average P/E of 13.43 but it has the highest peer group dividend yield of 2.92%. Generally, I would not classify Cisco as a dividend investment (like utility companies, telcos or REITs) but pocketing a steady 3% dividend yield makes Cisco even attractive to income seeking investors who desire low valuations, high yields and price appreciation potential.

Click to enlarge
Summary
Cisco is a free cash flow strong company operating in markets with above-average growth potential. Earnings and free cash flow valuations indicate that Cisco remains undervalued: It retains 30% upside potential to its intrinsic value of $30 a share and compares very favorably to other large-cap companies in the communication and equipment sector. The growth premium investors pay is relatively low which makes Cisco an interesting Buy candidate for both growth- and value investors. Income-driven investors might also want to take a closer look at Cisco at an initial free cash flow yield of 7.6% and a dividend yield approaching 3%.
Disclosure: I am long CSCO. I wrote this article myself, and it expresses my own opinions. I am not receiving compensation for it (other than from Seeking Alpha). I have no business relationship with any company whose stock is mentioned in this article.