Let's examine a simple idea. In every producing oil well, formation, or field there is a finite quantity of recoverable hydrocarbons. This so-called Ultimately Recoverable Resource is definitively known in retrospect after secondary injection, infill and flank development, or fracturing, chemical or steam enhancements that lifted every drop that makes economic sense.

In a mature field, where reservoir performance is fully understood, no sane person will spend more than $1 to recover less than $1 of oil & gas. Wells are abandoned, rigs withdrawn, and the field is sold. Smaller operators might be able to eke out a bit more value from "sub-prime" acreage or strata. They have lower overheads and more leisure to search for crumbs.

But this, too, must come to an end when it becomes obvious that the resource is economically exhausted. MMS reported for FY2008 that about half of Louisiana's oil and gas leases were non-producing. Not a drop of production. Totally shut in.

So, I repeat that URR is knowable in retrospect. Someday, Ghawar will be a dead field, utterly and hopelessly depleted, producing 200 bpd. Dubai is already feeling the pinch of decline. Dubai's recoverable reserves will be exhausted in less than 20 years.

It also happens from time to time that known resources are "stranded" and cannot be economically produced. Tupi gas falls in this category at present. It's over 200km from the nearest pipeline, across ultradeep rugged seafloor. Petrobras is hoping to deploy a floating LNG liquefaction barge (as are other operators). But FLNG is not current technology. It may not be economically feasible if gas prices remain low.

That's why the old SEC rules required that proved reserves had to be commercial (i.e., profitable to produce) with existing technology, at today's price, for a specific market, with plausible means of extraction, separation, transport, and remediation of produced water.

I hope the Monte Carlo clown who urged us to throw 21 darts at Africa took all this into account as "risked" probability of commercial discovery. However, we are not concerned at the moment with random drilling in a war zone or wildlife refuge.

Above is a UK government chart of monthly production in the Forties field, which was discovered in 1970. The curve is typical of individual wells, producing formations, and fields that have been fully and skillfully explored and exploited.

Slightly smoothed, you can see more clearly the sequence of development, peak, decline, and abandonment by the primary operator (in this case, BP). The URR was two billion barrels -- a fact known very early in the Forties exploration program.
It is possible to blunder recovery and wreck a reservoir, which the Russians have done in Siberia, but it is not possible to produce an ounce more than an Ultimately Recoverable Resource. The term "reserves growth" does not refer to petroleum accumulations or geological processes that are measured in millions of years.

Science? What Science?

The retail investor sees PR releases about new discoveries, and TV commercials about sexy new technology. Legislators and regulators debate how, when and whether to exploit another increment of the Cornucopia of Endless Oil which official "experts" (who have never drilled a well) continue to expand and blue sky revise upward.

All of which plays right into the hands of promoters, collectively known as minnows, who have little or no production. Their goal in life is a public share offering on AIM or TSX, allegedly to fund a brilliant oil and gas opportunity that bozos like Arco explored and declared uncommercial thirty or forty years ago. "Well, heck, look at the price of crude today. Duh! We have better technology. We don't even have to drill to make a pile of money on this acreage. We'll do a PowerPoint and flip it to the Chinese."

It's unfair to single out one of these penny-ante minnows and show you how insane their project is. There are hundreds of them equally nuts. Anonymized to disguise who I'm talking about, here's a typical case. Ryder Scott certified 200 billion bbls of unrisked undiscovered oil in place, plus 400 Tcf unrisked undiscovered gas. Big project. A hired gun consultant told an AAPG meeting that "huge structural traps and conventional sandstone reservoirs have been identified." Sounds great. Sediments are 10,000 meters thick. Wow. All of it is locked up in perfectly valid permits from a white Anglo rule-of-law government, safe as houses!

Roll Them Bones

Do they have any production? No. Any exploration wells? No. The disclaimer is big enough to drive a health care bill through it.
In the interests of providing Company shareholders and potential investors with information regarding the Company, including the Company's assessment of its and its subsidiaries' future plans and operations, certain statements included in this press release may constitute forward-looking information or forward looking statements (collectively, "forward-looking statements"). All statements contained herein that are not clearly historical in nature are forward-looking, and the words "anticipate", "believe", "expect", "estimate" and similar expressions are generally intended to identify forward-looking statements. Similarly, forward-looking statements in this press release include, but are not limited to anticipated developments of the Company's various drilling projects and the timing thereof, capital investment levels and the allocation thereof, pipeline capacity, government royalty rates, reserve and resources estimates, the level of expenditures for compliance with environmental regulations, site restoration costs including abandonment and reclamation costs, exploration plans, acquisition and disposition plans including farmout plans, net cash flows, geographic expansion and plans for seismic surveys, or successfully engaging a partner in any of the Company's endeavours. It should be clearly understood that the resource plays evaluated herein are high risk and that there is no certainty that any portion of the undiscovered resources will be discovered and that, if discovered, it may not be economically viable or technically feasible to produce any of the resources. In addition, please note that statements relating to "reserves" or "resources" are deemed to be forward-looking statements, as they involve the implied assessment, based on certain estimates and assumptions, that the reserves and resources described can be profitably produced in the future. Such statements represent the Company's internal projections, estimates or beliefs concerning, among other things, an outlook on the estimated amounts and timing of capital expenditures, anticipated future debt levels and incentive fees or revenues or other expectations, beliefs, plans, objectives, assumptions, intentions or statements about future events or performance. These statements are only predictions. Actual events or results may differ materially. Although the Company believes that the expectations reflected in the forward-looking statements are reasonable, it cannot guarantee future results, levels of activity, performance or achievement since such expectations are inherently subject to significant business, economic, competitive, political and social uncertainties and contingencies. Many factors could cause the Company's actual results to differ materially from those expressed or implied in any forward-looking statements made by, or on behalf of, the Company and the foregoing list of important factors is not exhaustive. These forward-looking statements made as of the date hereof disclaim any intent or obligation to update publicly any forward-looking statements, whether as a result of new information, future events or results or otherwise.

If you're a momentum trader, none of this matters. Speculative penny stocks have a lot of volatility. You can make money if you buy on the rumor, sell on the news. The minnows generate a lot of news, buying each other, drilling wells that have "positive shows," issuing securities and raising more money from banks and investors.
Due Diligence
Revision of SEC regs S-K and S-X kicked open the door. You're welcome to place your bets on press releases loaded with disclaimers. But the right way is financial due diligence.

BP paid $5 per barrel of proved reserves at Thunder Horse. "Proved" was categorically and definitively proved by drilling and first class geoscience. BP didn't have to float paper. They paid cash upfront to build a platform, state-of-the-art subsea iron, and a reasonably short pipeline to carry oil and gas to a thirsty U.S. market.

Compare Petrobras.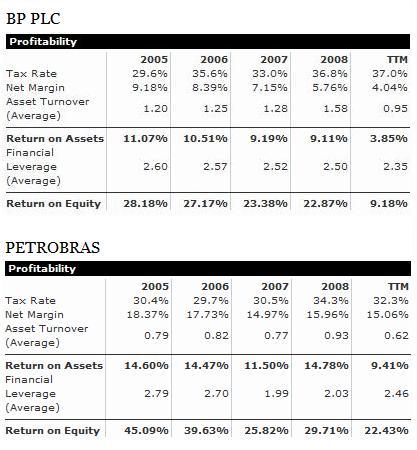 I stared at this chart a long time, dumbfounded. How was it possible that a quasi-Soviet bureaucracy, leaking cash like a Nigerian adoption agency, beat the pants off BP in every respect year after year? With similar reserves, similar taxes and equal leverage, Petrobras had double the margin, consistently higher RoA and higher RoE than BP.
Here we enter the snakepit of structured finance. BP eschews
project finance
. All of BP's exploration risk is on balance sheet, cross-collateralized by all of BP's assets. Petrobras is a hardcore SIV junkie, laying off risk to bankers, hedge funds, governments and vendors. You can see the result on cashflow and credit quality. BP debt has a AA rating. Petrobras is up to their socialist state-owned necks in off-balance sheet leverage and liquidity risk.

Their latest legerdemain is quite funny.
Oct 15 (Reuters) - Brazil's government is seeking to capitalize state-run oil company Petrobras by transferring rights to 5 billion barrels of oil in the offshore subsalt fields in exchange for new shares in the company. The state would then give Petrobras government securities equal to the value of the oil agreed upon between the government and the company based on the preliminary assessment. Petrobras will then return these bonds to the government in exchange for rights to produce up to 5 billion barrels. The share issuance and the rights transfer will be structured as two legally separate transactions, though they happen simultaneously and will have the same value.
Wash, rinse, repeat.
Project finance is a structured finance model that Petrobras uses in addition to the usual sources of corporate finance raised in the financial market. The Company raises resources from investors and finance entities through Special Purpose Companies (SPCs), set up for each project as a means of implementing some of its new business enterprises. These projects are developed in such a way as to minimize the funding and guarantees on the part of the Company. They are implemented without impacting the Company's budget and debt in accordance with the prevailing accounting rules and Brazilian laws. [PBR website]

Petrobras will offer tenders for 28 deepwater drill rigs in September to be built in Brazil. "There may not be enough funding for these projects, so Petrobras may have to step in the middle," a project finance banker in New York said. "They would be a bridge; running the construction, handling the oversight and then bidding out the contracts." After the deals are completed, the drill ships could be sold to the private sector and then leased back to Petrobras for ultra deep water drilling. That's the main idea now under discussion at the Petrobras headquarters in Rio de Janeiro. The rigs to be chartered would be built in Brazil. Under this strategy, the charterers themselves would be responsible for constructing rigs in Brazilian shipyards. [Project Finance Intl]
The cost of project finance? About 1000 basis points in previous PBR-sponsored SIVs – handsome graft paid to Brazilian bankers who are first to be made whole from the project cashflow.

But the Santos pre-salt play is unprecedented, requiring $100 billion in project finance to explore and produce an estimated 5 billion barrels ($20 per barrel capex).

What happens if Petrobras is wrong about P2 "more probable than not" recovery?
Higher cash flow generation and proved reserves could allow Petrobras a more significant use of debt over time without putting pressure on credit quality. [Fitch Ratings, Sept 2009]
Sure. But what happens if they don't have higher cash flow? – crash and burn just like Enron, when structured finance and contractual obligations (to China) wipe out common equity.

The Looters Ball

The average age of the members of the Society of Petroleum Engineers is 55, thinking about early retirement and a golden handshake in the next round of industry consolidation. Their PRMS scam is a nice, safe no-fault Sgt. Schultz defense ("We know nothing! Nothing!")

Petrobras is bulletproof, no matter what happens or fails to happen at Tupi. Their socialist state-owned tentacles reach into every village and every local politician's back pocket.

U.S. vendors like FMC have been indemnified by our Ex-Im Bank up to $9 billion.

BP has a sugar cane ethanol project in Brazil, no interest in pre-salt. They'd rather roll the dice in Iraq, where risk is limited to bomb-throwing insurgents and nutzo mullas. BP's team in Iraq will be a handful of engineers and executives. CNPC (CKKHF.PK) is providing half of the money.

What's driving the unprecedented risk-taking, zany off-balance sheet structured finance, and loosey-goosey SEC reserves rule revision is Peak Oil panic. No project large or small is too risky or preposterous. Let a thousand minnows blossom. Drill through the Moho and pray for abiotic oil, bubbling up from the mantle.

But let's not kid ourselves about corporate motives. The men and women in oil are human. They want a paycheck, as big as possible for as long as they can stay employed. Many are willing to concoct absurd plays and certify contingent resources that will never pay off.

Concurrent with revision of SEC Regulation S-K and S-X, watch out for restatement of assets and accounting policy. Peak oil is going to taste infinitely better with a spoonful of sugar. We don't need any proof in "proved reserves." Science is a chalk painting we did in Petrel and a Monte Carlo racetrack bet that the P4 of undiscovered crude is moving up, up, up.



Tradition, discipline and rules

must be the tools

Without them?

Disorder, chaos,

moral disintegration

In short, you

have a ghastly mess!

-- Mr. Banks ('Mary Poppins')

Disclosure: No position long or short in energy or any of the companies discussed. Content taken from public websites is "fair use" for critical and educational purposes. No financial, legal or accounting advice is offered in this article, nor any representation that the information presented is accurate, timely or complete. The opinions expressed here are solely those of the author and do not reflect the views of CWSX LLC or its professional staff or directors.