Editors' Note: This article covers a stock trading at less than $1 per share and/or with less than a $100 million market cap. Please be aware of the risks associated with these stocks.
Arrayit Corporation (OTCPK:ARYC) is very properly positioned to take advantage of the latest upsurge in interest in genetic testing. The company has a great technology, a solid sales channel, and some big plans for its future. Its only major problem is funding, and if it could solve that problem, I believe the company could be a major name in the healthcare sector.
Earlier last month, I wrote an article introducing ARYC to the investment world, having become a 15% shareholder at that time. I have vastly increased my position since then, and have also helped the company secure promises of funding from a major Canadian bank and at least 2 billionaire global healthcare investors. In this follow up article, I will take a look at what has been happening with the company since that time.
Recent Developments Highlight Arrayit's Progress
Indeed, recent developments highlight the progress Arrayit has made in the last few months as the company's unique technology gets more and more recognition.
Recently, researchers at the Indian Institute of Toxicology Research (IITR) in the state of Uttar Pradesh in India used ARYC's microarray platform to improve their understanding of pesticide-induced Parkinsonism.
ARYC's unique technology is also gaining recognition in Europe. In August this year, the company announced a $42,000 microarray platform sale to a medical research center based in northern Europe. In addition, researchers in the Department of Clinical Immunology at the Aalborg University of Hospital in Aalborg, Denmark, used the company's Multi-Well Hybridization Cassettes to speed the analysis of exosomes and other extracellular vesicles. In Switzerland, researchers at the Institute of Bioengineering, School of Engineering and School of Life Science, Ecole Polytechnique Federale de Lausanne, used the microarray technology to develop a live cell-based drug discovery method to reduce and replace drug trials in animals and live persons.
In the U.S., the company's Protein Microarray Technology is being used by researchers at the Infectious Disease Research Institute (IDRI) in Seattle. The technology will be used to empower complete influenza virus testing for "flu," a common condition. Recently, Arrayit also shipped a $100,000 TissueMax® Automated Tissue Microarrayer to the University of Miami in Miami, Florida. Meanwhile, scientists at Pennsylvania State University and the United States Department of Agriculture (USDA) chose Arrayit's Microarray Manufacturing and Consumables Platform to develop advanced tests for food safety. The National Taiwan University Hospital in Taipei and The High Throughput Biology Center at John Hopkins University School of Medicine in Baltimore, Maryland, leveraged the company's technology to advance the basic understanding of the aging and longevity pathways. Massachusetts Institute of Technology's (MIT) Lincoln Laboratory placed a $27,000 purchase order for SpotBot® 3 Personal Microarrayer with Megsonic Power Supply and Humidity Control. The purchase order was completed by Arrayit recently.
It is not just researchers at major universities that are recognizing Arrayit's technology but even some big names in the healthcare industry. Drug major Genentech is using Arrayit's patented technology to accelerate drug discovery. The company has purchased Arrayit's NanoPrint™ LM60 Microarrayer Platform for $138,000. Opko Health Inc. (NYSEMKT:OPK) bought the company's patented and proprietary NanoPrint™ LM60 Microarray Printer and One-Year Service Warranty for $146,000. Opko made the purchase through its subsidiary Opko Pharmaceuticals LLC.
Opko Health, along with The Scripps Research Institute, University of Colorado School of Medicine, used the company's Microarray Platform to make an important discovery that advances the understanding of autoimmune disease.
In South Korea, electronics giant Samsung Electronics Company is using Arrayit's proprietary SuperStreptavidin Microarray Substrate Slides to capture and analyze circulating breast cancer tumor cells.
Arrayit's products and services could gain further visibility as the company has been contacted by the business development team at Amazon.com. Amazon analysts have recognized the company as an attractive Amazon seller and also offered to build an Arrayit storefront on Amazon.com.
Insurer UnitedHealth Group Inc. (NYSE:UNH) in a research report on genetic testing last year noted that U.S. spending on genetic testing totaled $5 billion in 2010. The research report, which was released by UNH's Center for Health Reform & Modernization, showed that spending on genetic testing will rise to $15-$25 billion by 2012.
While more and more people are becoming aware of genetic testing, there are certain challenges. One of the major challenges is that testing millions of patient samples one at a time in laboratory can be costly. This is where Arrayit comes in with its patented microarray technology, which can make genetic testing cheaper but also speed up the entire process significantly.
The Technology
With the help of Arrayit's patented microarray technology, 100,000 individual patient samples can be placed on a single microarray substrate slide. Once the samples have been placed, the slide is then immersed in a solution, which contains known markers for a specific disease. Obtaining the results after the process is fairly easy. If any of the samples contain the marker for the disease being tested, a red spot will appear, and if not, a green spot will appear.
The technology has been developed by Dr. Mark Schena, who serves as the President of Arrayit and is considered the foremost authority of microarray technology.
Who is Arrayit Competing Against?
Arrayit's unique technology gives the company a significant advantage in the microarray industry. The company will certainly need that advantage, given that it is competing against some big names in the microarray industry. One of the biggest players in the microarray industry is Illumina Inc. (NASDAQ:ILMN), which uses microscopic beads instead of large solid support for the analysis. Another major player in the microarray industry is Affymetrix (NASDAQ:AFFX), which develops and manufactures microarrays using silicone chips. Both Illumina and Affymetrix currently dominate the industry. However, Arrayit has the potential to gain significant market share going forward as both Affymetrix and Illumina focus on DNA microarrays and have limited offering in protein and other related applications.
Risks
Of course there are certain risks, as with any emerging company. One of the major risks facing Arrayit is limited capital. In an interview, Arrayit President Mark Schena told me that the company has funds to carry out its operations for next 12 months, however, it needs additional funds. While limited capital is a risk, Arrayit is taking steps to address this issue. In the quarter ended June 30, 2013, the company raised $0.175 million from an accredited investor. As I said before, in recent months, I have raised my stake in the company, which will definitely help. Also, Arrayit has been in talks with a Canadian bank to raise additional capital. Finally, the company is also looking for partners to commercialize its technology. Any licensing agreement in the future will further boost Arrayit's cash position.
Another issue is the fact that the company's OvaDx and Parkinson's Disease still require approval for from the FDA. Any regulatory delays could have a significant impact on the company's top-line growth. Also, as I had noted before, rapid and significant changes in technology, which is quite common in the life sciences industry, can also have a negative impact on the company's performance. Finally, Arrayit is expected to face significant competition from the likes of Illumina and Affymetrix. Both these companies dominate the industry and also have significant capital.
Improving Operational and Financial Results
As Arrayit's products and services continue to gain recognition, the company is expected to see a significant improvement in its operational and financial results. In the first half of 2013, the company registered a 19% increase in its revenue to $1.55 million.
The company's gross margin for the six-month period rose 21% to $0.71 million. Net income for the six-month period was $0.16 million, compared to a loss of $1.31 million reported for the same period in the previous year.
Mark Schena, the company's President, noted that ARYC's backlog orders have improved to $0.29 million. Schena believes that the company's focus on high margin microarray products will bring some positive outlook in the next year.
Based on the recent orders received by Arrayit, I believe that the third quarter was also a strong one for the company. This is one of the reasons why I'm so bullish on the company.
Outlook
I did a five-year sales projection for Arrayit starting with 2014. Even after keeping a conservative outlook, I get impressive numbers at the end of year 5 or 2018. By the end of 2018, I expect Arrayit to generate sales in excess of $225 million. The sales projection is based on outlook for five of Arrayit's products/tests; AllergyAdvisor, Animal Allergy, OvaDx, Parkinson's Disease and Excalibur.
Annual Sales

Year 1

Year 2

Year 3

Year 4

Year 5

$ 8,544,750

$

33, 078,750

$

75, 430,500

$

140, 025,750

$

225, 897,000

Sales by Test

Year 1

Year 2

Year 3

Year 4

Year 5

Excalibur

$ 4,110,000

$ 19,818,750

$

49, 657,500

$ 96,866,250

$ 164,385,000

AllergyAdvisor

$ 1,374,750

$ 4,680,000

$ 8,658,000

$ 10,939,500

$ 11,232,000

Animal Allergy

$ 660,000

$ 1,980,000

$ 2,835,000

$ 4,140,000

$ 6,120,000

Ova DX

$ 1,200,000

$ 3,120,000

$ 5,520,000

$ 10,800,000

$ 18,240,000

Parkinson's

$ 1,200,000

$ 3,480,000

$ 8,760,000

$ 17,280,000

$ 25,920,000

Total Revenue

$ 8,544,750

$ 33,078,750

$ 75,430,500

$ 140,025,750

$ 225,897,000
The sales projection is based on the following assumptions.
| | | |
| --- | --- | --- |
| AllergyAdvisor | | Direct-to-Consumer product with attractive price point for the general public |
| | | An estimated 50 million Americans - 16% of the population - have some sort of allergy |
| | | In most people, allergies first appear in infancy or childhood. |
| | | Assume test will be ordered by 1% of US families with school-age children |
| | | Market via TV spots in top 15 geographic/demographic metro areas - a new metro every quarter |
| | | |
| Animal Allergy | | The number of household pets in the US is estimated at 164 million. |
| | | Up to half of all household pets can suffer from allergies - most common are fleas, pollen & food |
| | | Assume 7% of allergy tests from animal allergists will be ordered from Arrayit. |
| | | |
| | | |
| Ova Dx | | Currently no test available to detect ovarian cancer until Stage 4 |
| | | According to American Cancer Society, 22,250 new cases of ovarian cancer will be diagnosed in US |
| | | 14,000 women die from ovarian cancer every year - 5th highest cause of cancer death in women |
| | | Currently over 180,000 women in the US diagnosed with ovarian cancer |
| | | Assume 25% of family members with history of diagnosis will pursue Ova Dx test. |
| | | |
| Parkinson's Disease | | Estimated 10 million people world-wide living with Parkinson's Disease |
| | | 60,000 Americans diagnosed with Parkinson's every year |
| | | Thousands go undiagnosed every year |
| | | Assume 33% of population diagnosed will have test prescribed |
| | | Assume approx. 10,000 test/yr for patients exhibiting symptoms |
| | | |
| Excalibur | | Excalibur has two revenue streams - the equipment and the test itself |
| | | 5 billion prescriptions are filled in the US annually |
| | | Assume medical professionals will prescribe Excalibur test for .0025% of their prescriptions |
| | | Assume medical professionals with Excalibur equipment order test an average 10 times/mth |
Based on these numbers, and assuming an EBITDA margin of 25%, which is the average for biotechnology companies, ARYC could have EBITDA of approximately $90 million by the end of 2018.
Stock Rallies
Arrayit's strong performance has been noticed by investors in recent months. In the third quarter of 2013, shares of the company gained nearly 320%. More importantly, there was a significant increase in trading volume during the quarter.
During the third quarter of 2013, a total of 7,824,870 shares of ARYC common stock were bought and sold on the market. This represents approximately 43% of the company's current 18,000,000 shares float. The trading volume rose 242% over the second quarter of 2013, and 696% over the first quarter of 2013.
As the chart below shows, the rally in ARYC shares kicked off after the stock established a "golden cross" in August. The stock has seen a pullback in recent days, but the upward trend is expected to continue. The stock hit 628% retracement at $0.29.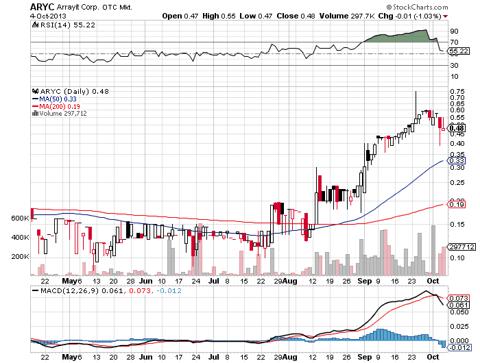 Click to enlarge
Source: Stockcharts.com
Well-Positioned to Capitalize on Anticipated Growth in Genetic Testing Market
Arrayit has made significant progress in recent months as evidenced by some of the company's recent developments. As the company's products and services continue to gain recognition, one can expect a significant improvement in operational and financial results. Arrayit definitely looks well-positioned to capitalize on the growth in genetic testing market.
Disclosure: I am long OTCPK:ARYC. I wrote this article myself, and it expresses my own opinions. I am not receiving compensation for it (other than from Seeking Alpha). I have no business relationship with any company whose stock is mentioned in this article.