Over the last 30 days the media has focused on the political issues of Washington, and the market has lagged. The Dow Jones Industrial Average has fallen from September 17, 2013, at 15,706 to the October 9, just below 14,803. This down turn has been 900 points in the DOW Jones, and investors lost value of your accounts, but if you don't sell right now. Last week, with just a little positive news the market jumped 323 points to over 15,000 and climbing. The recovery will continue with more good news and an increase above 16,000 soon when the market resets after Washington reaches a deal on the budget and deficit. There seems to be lots of stress about this, but as an investor, I recommend cooler heads. If you can buy in right now while the market is down, you should see a nice short-term profit. But look at this long-term dividend stock pumping over 20% return on your investment.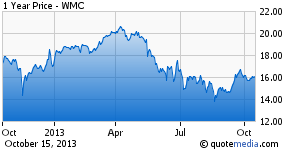 One company that I believe is oversold and the stock price will rebound nicely is Western Asset Mortgage Capital Corporation (WMC). The stock will open at $15.96 on October 15, 2013 and the year-to-date high and low are $14.55 - 23.98. The latest distribution was $0.90 and went ex-distribution on September 26, 2013 and will pay on October 29, 2013, with a yield of 22.21%. The estimated book value is 17.39 and over the last month the interest rate spread has improved, giving the mortgage market more breathing room, and a better line on profits. The company is near the bottom of its price range and will grow value over the next quarter.
During the second quarter, all mortgage companies saw a decrease in their stock price, caused by the market abrupt adjustment from the Federal Reserve Chairman's comment that the government may soon reduce the amount of bonds they buy each month, and potentially stop buying bonds altogether. This would be the end of QE3, which influenced the market to adjust interest rates up quickly and many companies produced losses in the second quarter. Since then many have readjusted their portfolios and interest rates have settled in the market with a better spread for the mortgage companies.
Western Asset Mortgage Capital Corporation is externally managed by Western Asset Management Company, a global leader in diversified fixed-income management, which is a wholly-owned subsidiary of Legg-Mason (LM). GE sold Western Asset Mortgage Capital Corporation in 2007, during the financial meltdown.
Western Mortgage is a REIT that must pay 90% of its profits in distributions to maintain its status as a REIT. WMC conducted its IPO on May 15, 2012. The distributions it has paid over the last year show a solid performance.
Date Distribution
09/26/13 $0.90
06/27/13 $0.90
04/10/13 $0.95
12/27/12 $1.12
09/27/12 $0.85
08/02/12 $0.38
Western Mortgage has paid excellent distributions of $3.87 over the last 12 months, with a stock price today of $15.96 that would yield an annual return of near 24% on your money. If the stock price increases like we expect, the annual rate of return may decrease, but the distribution amount near $0.90 should remain steady.
During its second quarter presentation on August 6, 2013 the company listed its peer group as: American Capital Agency (AGNC), Anworth Mortgage (ANH), ARMOUR Residential (ARR), Capstead Mortgage (CMO), CYS Investments (CYS) and Hatteras Financial (HTS). This is a tight group of mortgage REITs that have similar portfolios and all have seen their stock price decrease and a pull back in the amount of their distributions. We have reviewed each of these companies and all have good fundamentals in the market and continue to use good business practices. All should show a rebound in their stock price and maintain a healthy, double-digit return in their distribution payout. We expect the stock price valuation to be a bonus above the distribution.
I recommend going to Western Asset Mortgage Capital Corporation and Western Asset Management Company website to see the above mentioned quarterly and annual reports. The company's Investor's Relations Page is also a good site for valuable information.
Western Asset Mortgage Capital Corporation is rated a buy and hold for the anticipated increase in the stock price and the long-term dividend payout. Currently, at over 20% the opportunity is hard to pass on. I would expect this to remain part of a solid portfolio for the distance future.
Disclosure: I am long WMC, ARR. I wrote this article myself, and it expresses my own opinions. I am not receiving compensation for it (other than from Seeking Alpha). I have no business relationship with any company whose stock is mentioned in this article.