On Wednesday we wrote a piece talking about the strange upgrade of Pulte Homes (NYSE:PHM) by an analyst at Citigroup (NYSE:C). At that time (Upgrade Trumps Macro-Economics for Homebuilders), we reiterated our Overvalued stance on Pulte, the largest in the group thanks to its acquisition of Centex, as we have that stance on most homebuilder stocks right now.
In the Citigroup analysts' note he said that Pulte is "undeservedly out of favor," but that seems to ignore the fact that their fundamentals have been decimated over the last two-plus years.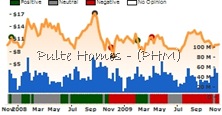 Furthermore, the recovery may come especially slowly to homebuilders in particular, as the supply overhang is just now starting to abate. On Thursday's Mad Money, Jim Cramer issued his own warning against the stock and put it in the sell-block.
"…Of the homebuilders, the worst house in a bad neighborhood is Pulte Homes. The largest homebuilder America now with Centex, into the sell block.… Yesterday morning Pulte was upgraded from Citigroup from a Hold to a Buy. Hence triggering why I wanted to do this piece tonight. I think that upgrade is totally nuts and I should know…

These homebuilders are still on very shaky foundations and business." — CNBC's Mad Money 11/20/2009
Cramer agrees with Ockham that even with the nascent recovery in the housing market, homebuilder stocks are still in a very tough environment. He says that Pulte paid too much for its merger with Centex which only harms an already strained balance sheet. Furthermore, he points out that Pulte's target market, retirees, are probably the most spend thrift of any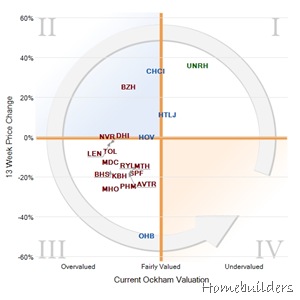 demographic right now with their retirement accounts getting whacked during the recession. The picture only gets worse when you combine these factors with a worse than expected loss and cancellation rates that are high and only rising.
The day of the Citi upgrade, all homebuilder stocks got a boost despite much worse than expected housing starts data. However, Pulte has already given all of those short lived gains back and then some in just two trading days.
Clearly, this is one stock that both Ockham and Cramer agree cannot be bought at this time, and the upgrade from Citi is odd and lacks any bite. See the chart above for a view of all the residential construction stocks that we cover. It is clearly not a pretty picture as all of these have seen earnings and revenues fallen off a cliff, and asset values have been written down substantially to the detriment of shareholder's equity.