A Core and Satellite Portfolio Strategy
The core of my equity portfolio is 22 large capitalization corporations. It is accurate to call this a dividend growth portfolio and there is an emphasis on today's income. My goals are to provide income, preserve capital and have enough average dividend growth to match inflation and maintain purchasing power. In addition to this core portfolio, I have satellite holdings of three REITs, three MLPs and two BDCs.
An important part of the income production of the core comes from three high yielding utility stocks. Because these three stocks have been, and are still on sale, I have added to my position of each of them recently. You too might want to consider one, two or all three of these undervalued stocks. The purpose of this three part series is to give you an overview of each of them to enable you to decide if you wish to continue evaluation to add them to your portfolio. We will look at National Grid (NYSE:NGG) in Part I, Southern Company (NYSE:SO) in Part II and PPL Corp. (NYSE:PPL) in Part III.
A Comment on Method
Doing research and analysis on a foreign company often involves some detective work, which is in many ways similar to what one reads about in a modern police procedural murder mystery. The investigation begins with interviewing witnesses and the collection of evidence. Often the witnesses offer conflicting testimony. The facts too, sometimes seem to contradict each other. Intuition and judgment are required to come to the correct conclusion.
The witnesses are the providers of financial data such as Morningstar, Yahoo Finance, FinViz and many others. However, like the witnesses at a crime scene, these compilers of financial data offer different versions of what happened. The numbers they provide as evidence of performance are sometimes inconsistent and at odds with each other.
The Securities and Exchange Commission operates what is akin to an official evidence storage facility. This is EDGAR, not named after J. Edgar Hoover, it is the Electronic Data Gathering, Analysis, and Retrieval system. As Dragnet's Joe Friday might have said, "Nothing but the facts ma'am." But, what do these facts mean? The National Grid's response to the required 20-F is written in British English, with amounts in Pounds Sterling and governed by the FRS (Financial Reporting Standards), from which the new UK GAAP was derived. Indeed.
So it has been the task of this investigator to wade through the myriad of data, reject the gross inaccuracies, and put forth the below report. The cross examination of witnesses eventually provided an accurate picture. The best sources in a financial investigation are often EDGAR, the company's website and its Annual Reports. The many and confusing facts are believed to have basic truths at their roots. The mystery of "what is this company" and "should I invest in it has been solved."
I now hold a full position of NGG in my core portfolio. It suits my particular needs well and is helpful in fulfilling my goals. Will it fulfill yours?
Wherever possible I have used graphics in this presentation. I believe we have all learned to grasp ideas readily from visual images, and surely, a half dozen or so graphs eliminates at least 1,000 words. I hope the links in the article will be useful for further investigation. I look forward to your comments.
National Grid plc
National Grid is one on the world's larger regulated public utilities with a market capitalization of $43 billion. Its objective is to be,
a low risk business focused on generating shareholder value through both dividends and asset/equity growth by investing in essential assets under predominantly regulated market conditions to service long-term sustainable consumer led demands.
The London based company owns most of the electrical infrastructure, the national grid, for England, Wales and parts of Scotland. It is also a midstream gas operator in the UK. In addition, it has a strong presence in the northeastern US where it has been making acquisitions since the year 2000. In this country, the business model is slightly different. It owns public utilities involved in the transmission and distribution of electricity to consumers, and provides gas to consumers in some areas. As shown in the chart below, it does not generate electricity in any significant amount in either the UK or US, or provide the midstream infrastructure of gas transportation in the US.
A very complete and readable description of the company is available from Reuters, here. This runs about 700 words, much too long to include here, but it is highly recommended reading for the potential investor.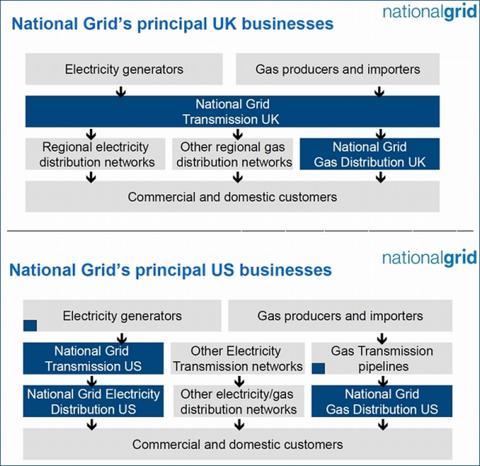 Performance
The firm is fulfilling its objectives as set out in the above quote. Before we look at the specifics, let us put them in perspective with this statement from Morningstar.
"With its U.K. rate structure set through 2021, Grid offers a transparent earnings and dividend growth trajectory. Even though the dividend likely will not grow at the 10% annual clip it did between 2005 and 2012, we still think it can grow faster than inflation. With its 5% dividend yield in mid-July, we think the stock offers attractive total returns given the stability of its business model."
The regulatory environment is not as healthy for utilities in the US as in the UK, but in spite of that, National Grid has shown a consistent increase in return on equity in the US from 6.9% in 2009 to 9.3% in 2012. This increase is due to rate increases and cost cutting. Overall, the firm has an ROE of 23.6, which is a high figure, about twice that of many utilities.
This company is a well run and predictable firm. A large part of this is due to the UK's nurturing regulatory environment and to National Grid's exceptional transparency. The firm makes sound long-term plans and there are few surprises. The forward dividend is expected to be in the 6.75% area over the next 12 months. Like many European firms, NGG pays two unequal dividends a year. The firm has a low beta (of 0.31 according to Morningstar), which is indicative of its share price stability.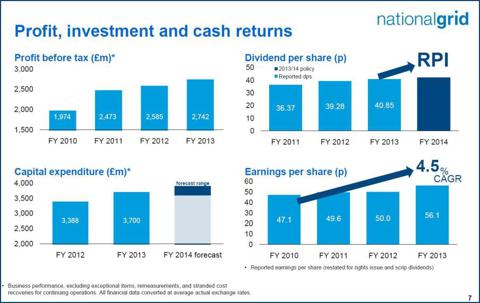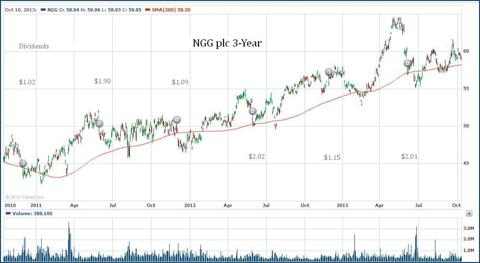 Service Areas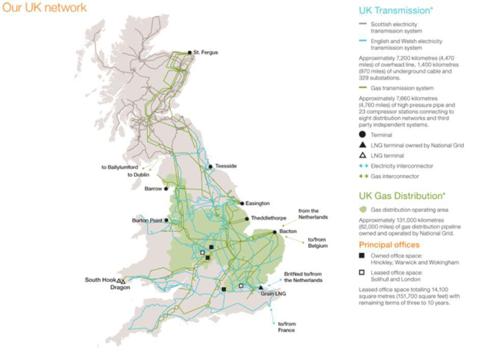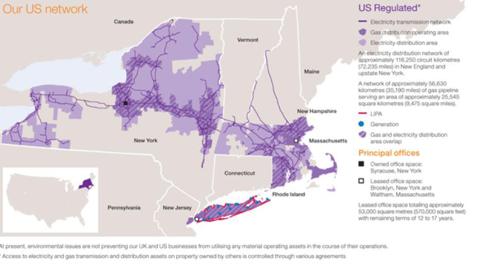 Reporting, Setting Expectations
The dividends are not regular amounts, making the estimation of any given semi-annual distribution difficult. They do not provide a steady and increasing dividend like their American counterparts. They are up and down, from year to year, depending on business conditions. In addition, the British business has the possibility of performance incentives built into its rate structure, as well as rate increases tied to the official inflation rate. As shown above, the trend is clearly upward and at a predictable long-term rate of EPS and dividend increases. One must properly set their shorter-term expectations, due to the cultural difference in dividend payment amounts, or face disappointment.
Reporting by the usual sources of corporate data, Yahoo Finance, Standard & Poor's, Bloomberg and Morningstar, is inconsistent, often contradictory and not accurate. This is the nature of the data of many foreign firms. That is, the reported 5-year DGR is -0.79% (Bloomberg), or 6.39% (Morningstar), or 18% (FAST Graphs) or 3.5% (Seeking Alpha Portfolio). Reported yield is either 5.3% or 6.7% by those same firms. Two firms report the TTM yield as 5.3% and the forward yield as 6.7%, which I believe is correct.
The massive database of ten years of financial data available through Morningstar is a most useful resource, as the data is available in US dollars on foreign firms. In addition, the annual 20-F filed with the SEC at EDGAR is a superb resource and includes the well-illustrated NGG Annual Report.
However, analyst coverage is weak compared to that of US firms.
Valuation
NGG is priced at or below its fair value according to Morningstar and as illustrated by the F.A.S.T. Graphs I present. F.A.S.T Graphs is a dynamic tool and allows the user to modify both the length of the historical perspective and the rate of growth of future earnings. I have chosen to use a 10-year historical perspective to establish the average P/E ratio. I believe that this period most closely reflects the history of the firm as it is structured today.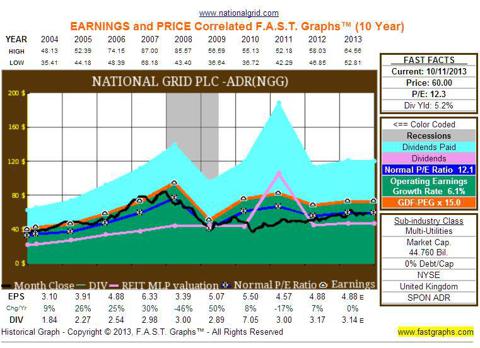 Because of the paucity of analysts reporting to S&P Capital IQ on this UK firm, there is no analyst estimate of future earnings. I have chosen to use a 4% annual growth rate in the second F.A.S.T. Graph, which is a 5-year earnings projection and another tool for current valuation. Please note, on the data bar beside the chart it indicates "OVERRIDE." That is because I entered the earnings growth rate.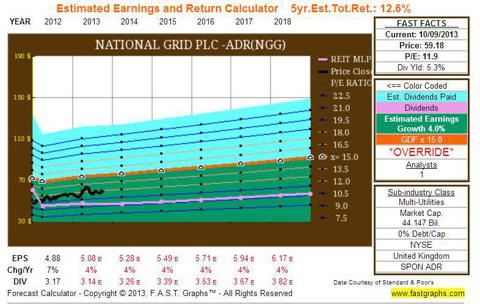 The 4% rate is a conservative estimate based on information provided in company presentations. (FinViz offers 4.80%). I am confident that around or below $60, the stock is in the range of fairly valued to undervalued. In addition, Morningstar offers an estimated Fair Value of $60.
The company has been evolving over the past 12 years, and transforming itself at a faster rate, toward more profitability, the past 4 years. There is good cause for optimism.
Data

Risks
Great Britain's Labour Party announced on September 24th that it is in favor of freezing utility rates from 2015 to 2017. It is quite unlikely that this will happen, and it has not caused much reaction in the analyst community. British utility stocks dipped on the news but recovered within a few days. Note, the analyst rating of 1.5 above indicates a strong buy.
All utilities carry some price risk in an environment of rising bond yields. This is in part because they do not compete as well for investor dollars. The other part of the reason is that its own debt begins to become more costly. However, unlike US utilities, this firm has little long-term debt.
Summary
National Grid is a high yielding (6.7%) UK based utility, which is fairly priced at around 60. While it does not provide the steady and predictable quarterly dividends and annual increases of US Utilities, the yield will probably exceed that of the best of them over the short-to-intermediate term. There should be a modest increase in earnings over the next 5 years, based on the rate structures in place. Investors interested in high yield from a large and sound company should give this firm consideration.
Take care in doing your own due diligence and in discerning if this stock will further your portfolio goals. I wish you good luck.
Disclosure: I am long NGG, SO, PPL. I wrote this article myself, and it expresses my own opinions. I am not receiving compensation for it (other than from Seeking Alpha). I have no business relationship with any company whose stock is mentioned in this article.