If you want to know which beaten-up bank stocks will provide the most ample returns from here, go back and look at what happened last cycle. Back in 1990, after bank stocks bottomed in November, the charge was led by those banks that still had significant credit quality problems and were still reporting quarterly losses. Then, as the cycle rolled on, the companies steadily managed through their credit issues and eventually returned to normalized profitability—and their stock prices zoomed.
Two of my biggest winners back then were Barnett Banks, at that time the largest bank headquartered in Florida, and Valley National, the largest in Arizona. Both were located in growth areas, and both had above-average exposure to commercial real estate loans. At first, investors (me included) underestimated the magnitude of the companies' credit problems. It wasn't pretty. The stocks got clobbered as the market extrapolated problems in selected loan portfolios to the loan portfolios overall, and then significantly overestimated the ultimate size of the companies' credit losses.
But the bears on Barnett and Valley were soon amazed when credit costs finally did peak, and they were astounded by how quickly the banks returned to normalized profitability. The companies' stock prices exploded. Valley National went from $9 in November, 1990 to $50 by April, 1992. That's a five-plus bagger in less than two years.
I believe many bank stocks are on the verge of similar moves now. Some have already started theirs: Fifth Third, for example, traded around $1 in back in February. It trades for around $10 today as investors have slowly realized (correctly, in my opinion) that credit costs have peaked and the company and its stock are headed back toward normalized earnings and valuation levels.
However, not all the banks we expect to survive have generated the same level of investor confidence. Which brings us to Synovus Financial, a company we own in the investment partnership I run. Its stock doesn't look so different from how Fifth Third looked back in February: earlier this week, the stock hit a 17-year low!
On Wednesday we traveled to Columbus, Georgia, to spend the better part of a day with management, discussing the company's outlook. Our conclusion: Synovus could be one of this cycle's equivalents to Barnett and Valley National. It could indeed be a five-bagger over the next couple of years!
As you might imagine, both the bull case and the bear case on Synovus are straightforward, and center mainly on credit. To us bulls, credit costs have peaked, and the company will return to profitability by the second half of 2010. Meanwhile, Synovus has sufficient capital to absorb the additional operating losses between now and then. After that, normalized profitability will return by 2012. This outlook is not reflected in the stock's current valuation which, with the stock at $1.62, works out to 40% of tangible book value.
I wish I could make it more complicated. Sorry.
The bears on Synovus, meanwhile, believe credit costs have not peaked, and that future operating losses will blow away so much of the company's capital base that it will be forced to massively dilute existing shareholders with another capital raise--if it can complete one at all.
But, as I say, I believe the bears are too bearish. Let me walk you through why I believe Synovus's credit costs have already peaked and why a dilutive equity raise will not occur. First, credit:
1. The worst-performing loan portfolios have begun to shrink. In any major credit cycle, different loan categories will have vastly different default frequencies and loss severity. For Synovus, the worst portfolios, both in frequency and severity, have been (by product type) loans to homebuilders and (by geography) loans in the Atlanta metro area and in Florida.
Not surprisingly, the nexus of Synovus' problems is loans to homebuilders in the Atlanta metro area. The chart below shows that the pool of performing loans to homebuilders has shrunk by 46% overall at Synovus, while the subset of loans to homebuilders in Atlanta is down by 66%!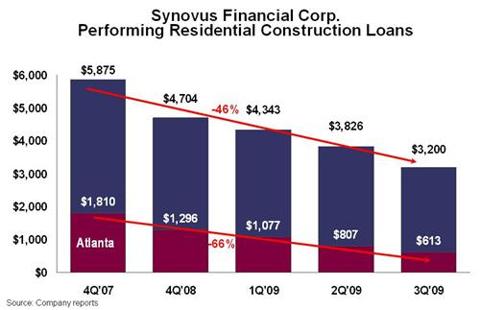 New nonaccrual loans from this pool of performing loans will almost certainly shrink going forward, since the overall pool has declined so sharply, and because the remaining, performing loans almost, by definition, are loans to stronger developers or better projects. In addition, in both Atlanta and Florida home values and sales activity have started to improve
2. The inflow of new nonaccrual loans will continue to slow. The chart below shows the dollar amount of loans that went on nonaccrual, by quarter, over the first three quarters of this year, as well as our forecast for the fourth quarter.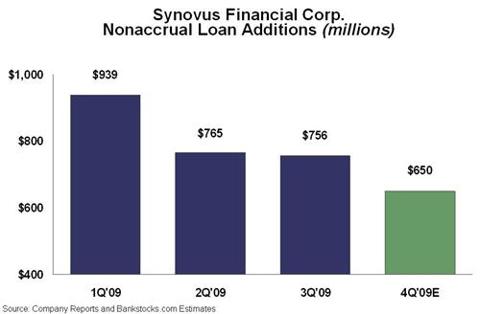 Investors and management were disappointed by the very small decline in new nonaccrual loans in the third quarter. The two tables below break out the new nonaccrual loans, by product type and geography.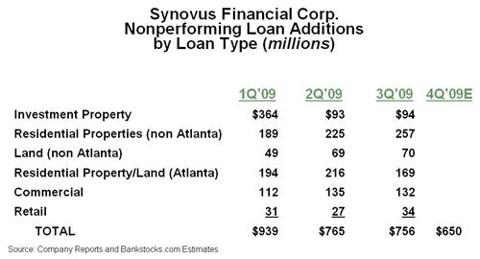 Management said on its third quarter earnings conference call, and repeated to us this week, that it expects to see reduced nonaccrual inflow this quarter from Florida and Georgia. We suspect that the decline in nonaccruals, by property type, will be greatest among residential property loans because of the decline that's already taken place in the performing portfolios, as well as the general stabilization of the housing markets.
3. The level of net chargeoffs should start to decline. The other negative surprise in the company's third quarter earnings was the jump in net chargeoffs Synovus reported. Take a look: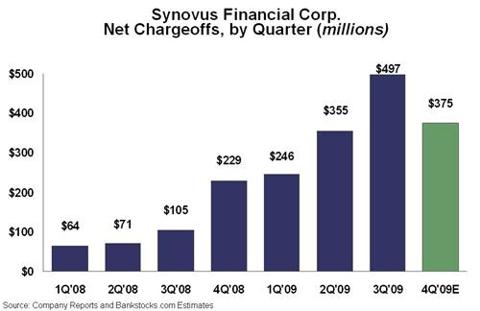 But there are several reasons to expect chargeoffs to begin to decline, starting in the fourth quarter. First, there's the lower level of new nonaccrual loans we expect. They are typically written down by 15% to 20% once they shift from performing to nonaccrual.
Second, third-quarter chargeoffs included $135 million (27% of total chargeoffs) to write down the carrying values of existing nonperforming loans. As shown in the table below, nonaccrual loans have now been written down by 28%, and have additional specific reserves of 14% of the original loan balance, which brings the cumulative writedown and reserve to 42% of the original nonaccrual loan balances.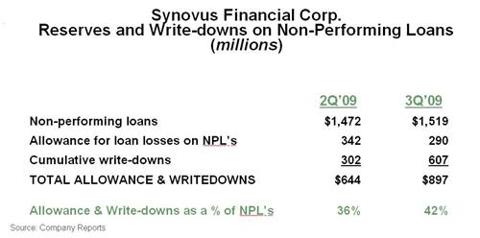 This is a valuation level that's in-line with the company's recent disposition activity, so we would expect a meaningful reduction in net chargeoffs from existing nonperforming loans.
4. The level of OREO writedowns should also start to decline. Synovus had $606 million of credit expenses in the third quarter, including an unusually high $101 million in OREO expenses.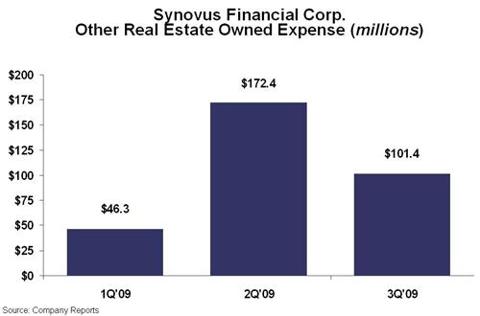 OREO writedowns should decline for three reasons. First, new nonaccrual loans moving into OREO have been written down to lower values than in prior periods. Second, the company will be less aggressive in OREO disposition. Finally, loss content of future OREO dispositions will be lower than in the past because properties being disposed of now tend to include more income-producing properties and less land than they did before.
5. Loan loss reserve building has slowed and will soon stop; reserves will begin to be drawn down next year. As we've written about before, the amount of loss-reserve building or reduction is primarily based on changes in loan grades of the entire loan portfolio, both performing and nonperforming.
As you can see in the next chart, the quarterly loan loss reserve build at Synovus has begun to decline as the loan grades in its portfolio have begun to stabilize.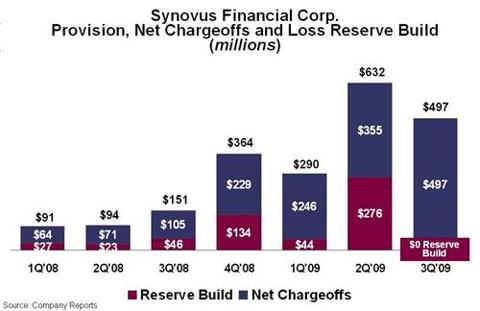 Not only do we expect this to continue but, next year, as more loans are upgraded, we believe the company will begin to bring its loan loss reserve (3.5% of total loans) down by provisioning less than its quarterly level of net chargeoffs.

These are the critical elements to the Synovus credit story, which is key to the company's earnings outlook. In the third quarter, total credit expenses of $606 million drove the company into an operating loss. For the reasons I mention above, those expenses should be meaningfully lower in the fourth quarter and should continue to decline thereafter until they reach around $40 million on a quarterly basis as the company's profitability returns to normal.
Capital
The company's key capital ratios are strong, as you can see: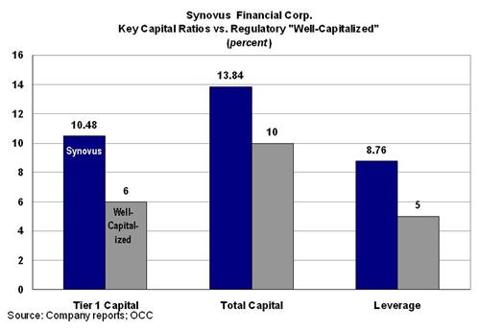 We expect these capital ratios to decline some in the coming quarters, but the declines will be partially offset by other actions, such as balance sheet shrinkage (as excess liquidity comes down) and gains on asset sales.
Assuming the company turns profitable in the third quarter of next year, its initial earnings will be tax-free. Then after a few quarters of profitability, the company will be able to reverse its deferred-tax asset reserve, which today totals $331 million. This would boost the company's capital ratios by around115 basis points and boost tangible book value by 70 cents per share, or 15%.
Given our forecast for improving credit, declining credit costs, and modestly improving pre-tax, pre-credit cost earnings, we expect manageable operating losses and a modest decline in the company's capital ratios before they start to sharply improve in the second half of 2010 and in 2011. Under this scenario, we do not expect a dilutive capital raise!
Normalized Earnings and Valuation
Here is the company's quarterly (annualized) pre-tax, pre-credit income over the last six quarters, along with our estimate of normalized earnings: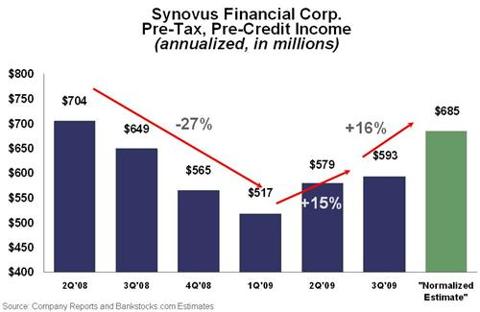 Given this level of income, $160 million of "normalized" credit expenses, a full tax rate, no TARP preferred dividends, and 490 million shares outstanding, we see normalized EPS of 70 cents per share. Assuming a below-historical normal P/E multiple of 12 times, we see the stock trading between $8 and $9 over the next two to three years, making it a potential five-bagger from today's stock price.
Those of you who remember the last major bank cycle, dust off your memories of companies like Barnett, Valley National, Shawmut, Bank of Boston, and even Wells Fargo (NYSE:WFC). Synovus looks to me like this cycle's equivalent version.