BreitBurn Energy Partners L.P. (BBEP) is an oil and gas exploration (MLP) company with operations across the United States. BreitBurn Energy Partners has total estimated proved reserves of 190.8MMBoe of which 57% relate to crude oil, 5% to natural gas liquids and 38% to natural gas. BreitBurn Energy's reserve allocation is as follows: 35 percent of reserves are located in Michigan, 26 percent in Wyoming, 17 percent in California, 14 percent in Texas, 7 percent in Florida, and the remaining one percent in Indiana and Kentucky.
In California, BreitBurn has operations in the Los Angeles Basin, in Wyoming in the Wind River Basin, Big Horn Basin, the Powder River Basin, the Evanston and Green River Basins, in Florida in Sunniland Trend, In Texas in the Permian Basin, in Michigan in Antrim Shale and in Indiana/Kentucky in the New Albany Shale. BreitBurn's production and reserve allocation can be seen in the following graph: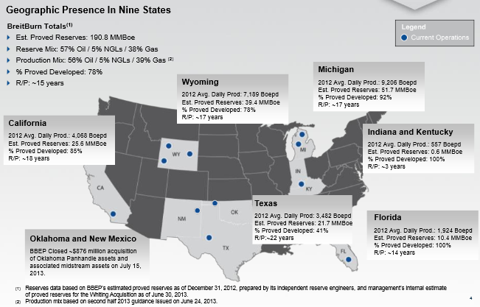 Expansion strategy
BreitBurn's acquisition history is extensive and the company is determined to purchase high-quality assets that complement and diversify the existing oil and gas portfolio. In 2012 it has completed the acquisition of oil properties in the Big Horn Basin in Wyoming which has the second highest estimated proved reserves in BreitBurn's portfolio (it paid $95 million for it). Just a month later, BreitBurn closed the $218 million acquisition of oil- and gas assets in the Permian Basin from Element and CrownRock and added to its Texan assets again in December in a transaction worth another $202 million. In 2012 BreitBurn Energy Partners has completed transactions in excess of $600 million and acquisition spending in 2013 totaled $876 million year to date. In July 2013 BreitBurn completed the purchase of oil properties in Oklahoma, Texas and New Mexico from Whiting Oil and Gas Corporation for $846 million in cash.
BreitBurn's recent Oklahoma Panhandle acquisition is one of the largest in the company's history. BreitBurn paid for the transaction in cash and borrowed the purchase price under its credit facility. The company predominantly pays cash for its acquired assets which is an indication that the company believes in their operational performance.
BreitBurn purchases mature assets with 15+ years of reserve lives to complement its existing oil- and gas portfolio. Its acquisition strategy has been proven to be accretive and the company has demonstrated its ability to integrate acquisition assets in an efficient manner which can be attributed to a long-standing and experienced acquisition team within BreitBurn's transaction department.
Profiting from US shale boom
As I laid out in my articles about Kinder Morgan Energy Partners (NYSE:KMP), here, and Suncor Energy (NYSE:SU), here, oil and gas companies are profiting from an unprecedented shale oil boom which is likely to lift the United States to the number one spot of oil and gas producers in the world. Higher oil- and gas production helps alleviate the supply/demand imbalance that has determined the commodity markets for decades. Higher energy production and the upgrade of oil- and gas infrastructure in the US will benefit US-based oil producers either through higher domestic sales or new export channels. The underlying fundamentals of the sector point towards higher production volumes and sector returns in the future.
Acquired production assets translate into EBITDA growth
BreitBurn's acquisition strategy has led to a steady increase in production volume at a staggering compound annual growth rate of 31% since 2006. Adjusted EBITDA over the same period increased at CAGR of 29% annually from $61 million in 2006 to $276 million in 2012 (a total increase of 352% in the last six years).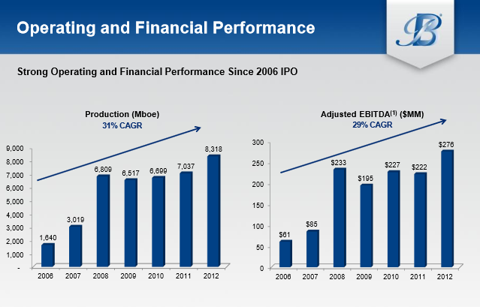 BreitBurn committed to unit holder remuneration
Since 2010 BreitBurn Energy Partners has steadily increased its distribution to unit holders: Investors currently get paid a quarterly distribution of $0.48 per unit. Holding the payout steady for the remainder of the year, investors get a 10.3% yield at a present unit price of $18.62. Distributions have increased by roughly 1.78% per quarter which is truly impressive.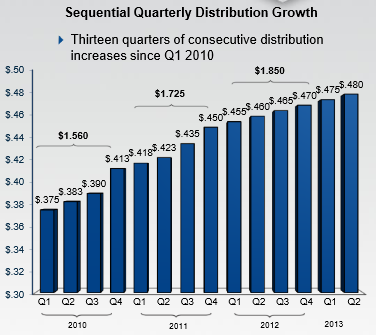 Summary
BreitBurn Energy has a 25-year record as an exploration and production company. It has demonstrated a witty acquisition policy that adds long-life mature oil- and gas assets in promising locations (in particular in Wyoming and Texas where estimated proved reserves now stand at 39.4 MMBoe and 21.7 MMBoe respectively). The majority of acquisitions are completed in cash which demonstrates BreitBurn's confidence and conviction in the acquired assets. The company also has a consistent record of increasing production, EBITDA, cash flows and distributions. At a current unit price of $18.62 unit holders pocket a distribution return of 10.3%. Since BreitBurn is structured as a MLP I would suggest that upside in the unit price is limited as the company pays out most its profits. Hence, BreitBurn Energy Partners would be suited for long-term oriented investors with a desire for yield and exposure to the booming oil- and natural gas sector in the United States.
Disclosure: I am long SU. I wrote this article myself, and it expresses my own opinions. I am not receiving compensation for it (other than from Seeking Alpha). I have no business relationship with any company whose stock is mentioned in this article.