NextEra Energy (NYSE:NEE) is one of the largest electric power companies in North America, with over 42,000 megawatts [MW] of generating capacity in 26 states in the U.S. and 4 provinces in Canada. The company's market capitalization is about $34 billion, and it is traded on the New York Stock Exchange. At its current stock price, NextEra Energy offers a dividend yield of 3.25%, which is below the vast majority of its peers, like Exelon (NYSE:EXC) or Southern Company (NYSE:SO), but its dividend quality and growth outlook is above-average, which makes it a compelling opportunity for income investors.
Company Overview
NextEra Energy provides retail and wholesale electric services to nearly 5 million customers and owns generation, transmission, and distribution facilities to support its services. It also purchases electric power for resale to its customers and provides risk management services. The company was founded in 1984 and conducts its operations mainly through two wholly owned subsidiaries: Florida Power & Light Company [FPL] and NextEra Energy Resources [NEER]. FPL is a rate-regulated electric utility in Florida and NEER is one of the largest wholesale generators of electric power in the U.S.
FPL's primary source of revenue is from its retail customer base, serving a limited number of wholesale customers in Florida. In 2012, around 89% of its customers were residential customers, 11% commercial, and industrial and wholesale represented less than 1%. For both retail and wholesale customers the price FPL may charge for electricity is regulated, providing therefore a stable revenue stream over the long term. However, this also exposes the company to regulatory risk, as usual within its sector. NEER, the company's wholesale business, derives about 90% of its revenues from competitive markets and is therefore much more exposed to market risks than FPL. However, NEER seeks to enter into long-term bilateral contracts for the full output of its generating facilities, and about 58% of its generating capacity is fully committed under long-term contracts. In 2012, NextEra's revenues came 71% from its retail business and about 30% from wholesale.
NextEra's generation fleet is among the 'greenest' within the utilities sector in the U.S., as the company is the largest generator in North America of renewable energy from the wind and sun. It owns and operates approximately 17% of the installed base of U.S. wind power production capacity, and also owns and operates one of the largest fleets of nuclear power stations in the U.S., with eight reactors at five sites located in four states. NextEra's generation fleet has significantly lower rates of emissions of CO2 than the average rates of the U.S. electric power industry, with approximately 97% of its 2012 generation coming from renewables, nuclear and natural gas-fired facilities. Therefore, the company is extremely well placed to face 'green legislation', an issue that could hurt its competitors which rely more on coal for electricity production, like FirstEnergy (NYSE:FE) or American Electric Power (NYSE:AEP).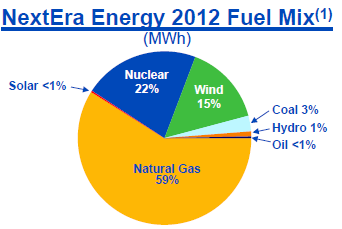 Regarding its financial performance, NextEra's operating revenues amounted to $14.2 billion in 2012, a 7% decrease from the previous year. The decline was mainly justified by lower revenues on its wholesale business. The company's profitability is very high and above the majority of its peers, achieving an EBITDA of $4.8 billion in 2012. The EBITDA margin stood at 33.6%, increasing from 32.2% achieved in 2011. Its net income was stable at $1.9 billion leading to $4.56 earnings-per-share [EPS], slightly lower than its $4.59 EPS achieved in 2011. During the first six months of 2013, the company reported good financial results achieving higher net income and EPS. Its guidance is for earnings to be between $4.70-5.00 per share, with the company expecting EPS to be in the upper range implying high-single digit growth for the year.
Over the medium-term NextEra's growth prospects are quite good, bearing in mind its 5-7% EPS growth target through 2016. Its EPS is expected to be between $5.50 to $6.00 in 2016. The company has recently announced several projects that fill-out the growth program, pushing EPS growth expectations toward the upper range of its goal. Its business risk should also increase over the next few years, with regulated operations accounting for about 84% of adjusted EBITDA in 2016.
Dividends
NextEra's dividend history is very good, posting a annual 7.5% CAGR over the past decade. In last February, the company increased its quarterly dividend to $0.66 per share, which equals a $2.64 annual dividend per share. This represents an annual increase of 10% compared to 2012, which is clearly among the best in the utilities sector. However, at its current share price it offers a dividend yield of 3.25%, which is not a high-yield but it's attractive and offers good growth potential.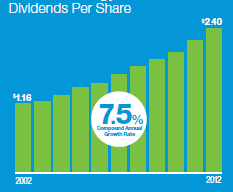 The company's dividend payout ratio has been quite low over the past few years, below 50% from 2008 to 2011. In 2012, the dividend payout ratio increased slightly but was only 52%, which is still a low payout ratio and below the sector's average. This is clearly positive for NextEra's dividend growth, as the company has plenty of room to increase the payout without putting its sustainability into question. However, the company's goal is to pay 55% of its adjusted earnings in 2014, so management will most likely maintain a conservative approach regarding its payout to shareholders over the next few years. This payout target should nevertheless mean over 10% dividend per share growth over 2013.
On the other hand, based on cash flows the dividend coverage is not that great. As the company has strong growth goals, it is investing considerably on assets leading to negative free cash flow and higher balance sheet leverage. In 2012, its cash flow from operations amounted to $4 billion, which was below its capital expenditures [capex] of $4.5 billion. Capex increased by 31% both in 2012 and 2011, leading to negative free cash flow before dividends. This high level of investments is expected to continue for the next two years, declining in 2015 to below $4 billion according to analysts' estimates.
NextEra's cash flow from operations have been stable over the past three years but is expected to increase at close to 10% CAGR from 2013 to 2016, which together with lower capex should be more than enough to finance a growing dividend. However, to reduce the company's balance sheet leverage it expects to issue at least $1.5 billion until 2014. At the end of the second quarter of 2013, NextEra's net debt was around $26 billion and its net-debt-to-EBITDA ratio was close to 5.5x, which is a very high level even within its industry. Although the company has deleveraging goals over the next few years, its high debt level makes it especially vulnerable to a rising interest rate environment.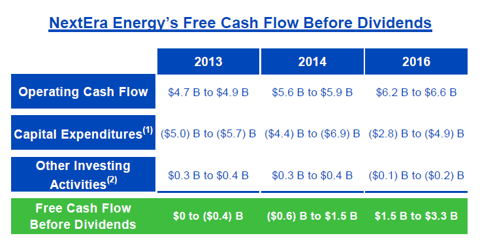 Conclusion
NextEra Energy is a quality company within its sector, offering an attractive dividend yield and higher growth prospects than most of its peers. The dividend is also supported by a heavy weight of regulated activities, high profitability, and a 'green' generation fleet. However, its balance sheet leverage is remarkably high and it should remain free cash flow negative until 2015, cooling my enthusiasm towards its stock. Yet, NextEra's value proposition seems positive for income investors as its debt metrics should return to historical values over the next three years.
Disclosure: I have no positions in any stocks mentioned, but may initiate a long position in NEE over the next 72 hours. I wrote this article myself, and it expresses my own opinions. I am not receiving compensation for it (other than from Seeking Alpha). I have no business relationship with any company whose stock is mentioned in this article.