A friend of mine asked me the other day, "If you had to choose to invest in just one silver mining stock going forward, which would it be?" It didn't take me too long to respond to his question. I told him SilverCrest Mines (NYSEMKT:SVLC), with great confidence.
I believe shares of SilverCrest mines present a great value at current prices and I think the best is yet to come. This is a silver/gold miner that will survive this period of depressed precious metals prices and will come out very strong when prices do eventually recover.
Company Overview

- SilverCrest Mines owns and operates the 100%‐owned Santa Elena Mine in the State of Sonora, México. The mine is a 2,500 tonnes per day open pit heap leach operation which is expected to yield 625,000 ounces of silver and 33,000 ounces of gold in 2013, for a total of 2.4 million silver equivalent ounces. Santa Elena first reached commercial production on July 13, 2011.
- Santa Elena is a very high-grade gold and silver mine, one reason why the company is able to mine precious metals at a lower cost than its peers.
- The company is undergoing an aggressive expansion plan to increase production next year. While the mine only has an estimated mine life of 8 years (previously 6.5 years before recent drilling), the company has been very successful in exploration and I believe the life of the mine can be extended further.
- The company aims to bring production at Santa Elena to 3.5 million silver equivalent ounces next year. The company's long-term goal is to produce more than 10 million silver equivalent ounces a year from both Santa Elena and the La Joya project. I will discuss how the company plans to do this later on.
Share Structure and Stock Price
- Silvercrest shares trade on the TSX under SVL.V and on the AMEX under the symbol SVLC.
- The company has 108 million shares outstanding with 6.3 million options for a fully diluted share count of 115 million. With 108 million shares outstanding and a current share price of $1.58, Silvercrest has a market cap of $172 million.
- The company has no warrants outstanding, which is somewhat rare for a small cap mining company. For example, Aurcana Corporation (OTCPK:AUNFF), one of its competitors, has over 10 million warrants outstanding. Warrants are often included in an equity financing and they are dilutive to shareholders, so I see it as a positive that Silvercrest has zero warrants issued.
- One way SilverCrest was able to get into production with minimal dilution was by a stream financing agreement with Sandstorm Gold (NYSEMKT:SAND). Sandstorm gets 20 percent of the life of mine gold production at Santa Elena at a price per ounce of $350. For the stream, Sandstorm gave SilverCrest $12 million cash and 700,000 common shares of Sandstorm Gold. The stream was acquired in May of 2009.
As a Sandstorm shareholder and a future shareholder of Silvercrest, I believe this agreement has been a great deal for both companies. Sandstorm only invests in projects and management teams that they are really confident in, so I see this as a third-party validation of the quality of both the Santa Elena mine and the management team.
Silvercrest - Outperforming its Peers
- Silvercrest shares are down 37.7 percent this year, compared to a decline of over 50 percent in the Silver Miners Index (NYSEARCA:SIL).
- You will see in this chart below that, while the damage has been quite brutal for the silver miners, Silvercrest has outperformed all of its peers. Here I've compared Silvercrest to the SIL, as well as fellow Mexican miners Great Panther Silver (NYSEMKT:GPL), Endeavor Silver (NYSE:EXK) and First Majestic Silver (NYSE:AG), which, besides Silver Wheaton (NYSE:SLW), is considered by many to be the best silver stock out there.
Silver Wheaton, with its streaming model which produces cash costs less than $6 per silver ounce, is the only silver stock that comes close to Silvercrest.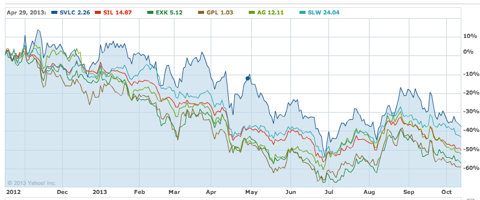 - This one chart is one example of how great of a job the management team at SilverCrest is doing.
Below are three main reasons why I believe Silvercrest has outperformed its peers and why I believe they will continue to do so going forward.
#1 Profitable, Even at Current Precious Metals Prices
- For the second quarter of 2013, Silvercrest reported cash flow from operations of $5.58 million with an impressive all-in sustaining cost per ounce of $13.26. The company sold 647K of silver equivalent ounces, putting them on track to beat their 2013 full-year estimate of 2.4 million ounces.
- The company reported net earnings of $2.87 million or .03 cents per share. You can make a strong case that the company is undervalued at current prices. The current P/E for Silvercrest is just 6.99. Analysts estimates for full-year 2014 are earnings of .21 cents a share, giving the company a forward P/E ratio of just 7.5. For comparison, Endeavor Silver has a P/E of 15.84 and First Majestic Silver has a P/E of 17.02.
- Perhaps most impressive, the company reported an average cash operating cost of just $7.80 per silver equivalent ounce for the quarter and an all-in sustaining cost per ounce of $13.26, which is well below the industry average of $22-24.
(click to enlarge)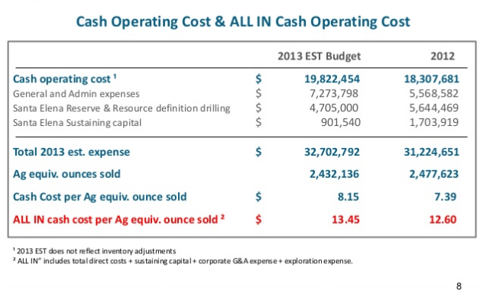 - All of these results came with the price of silver at three-year lows of $22 an ounce. The bottom line is while most silver miners are struggling to record a profit, SilverCrest is.
#2 Massive Reserve Base and Production Upside
- SilverCrest has 37.7 million silver equivalent ounces in reserves with 16.7 million in the indicated category, plus 223 million ounces in the inferred category, for a total resource base of over 276 million silver equivalent ounces.
- The chart below will show you that the growth of SilverCrests' reserves since 2006 has been quite massive. In 2006, the company had just 17.5 million in total silver equivalent ounces. By 2013, that number has grown to the current total of 276 million, with the biggest growth spurt coming in the past year.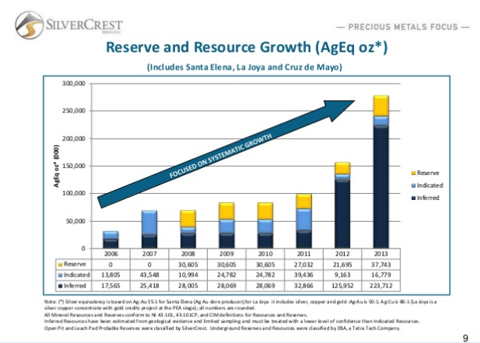 - SilverCrest has a current enterprise value of $145 million (Market cap of $172 million minus cash and equivalents balance of $29.6 million).
- Based on these numbers, the market is placing a value on SilverCrests' reserves of just $1.90 per silver equivalent ounce, which is lower than the industry average of $3-5 an ounce.
*St. Elena Expansion Upside
- As on June 30, 2013, 65 percent of the budgeted 2013 capital cost has been committed, with the expansion on time and on budget. The scheduled mill start up date is January 2013. A total of $16 million remains in the Santa Elena expansion after 2013, with $66 million budgeted for 2013.
- With working capital of $41.6 million and an undrawn line of credit of $40 million available, the company has more than enough money to complete this expansion without having to issue equity or taking on debt.
- Pre-feasibility results for the Santa Elena expansion were released in April 2013. Results of the study were very positive, even using base-case prices of $1,250 gold and $19 silver. At these prices, the project carries a Net Present Value of $108.7 (Discount of 5 percent) and an internal rate of return of 49 percent, which is very high. Payback is just 1.7 years, which is outstanding.
- With gold at $1,450 and silver at $28, however, the project carries a NPV of $223 million (Discount of 5 percent) with a super-high IRR of 88 percent and a payback of just 1.1 years! If you think precious metals prices will get back to these levels, like I do, then the best is yet to come for Santa Elena.
The expansion production profile is listed below.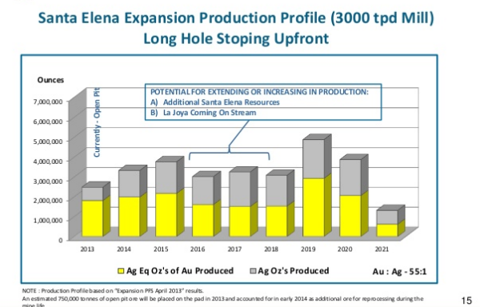 - It is very possible the company will be able to expand the mine life at Santa Elena based on recent drill results. The following drill results were reported on September 5:
SE-13-144; 9.2 metres grading 4.83 gpt Au and 171.4 gpt Ag including 0.8 metres grading 30.20 gpt Au and 638.0 gpt Ag
SE-13-152; 15.0 metres grading 4.03 gpt Au and 243.2 gpt Ag including 2.0 metres grading 17.5 gpt Au and 664.0 gpt Ag
SE-13-160; 13.3 metres grading 3.52 gpt Au and 136.2 gpt Ag including 4.1 metres grading 6.46 gpt Au and 133.6 gpt Ag
SE-13-166; 11.7 metres grading 3.97 gpt Au and 189.5 gpt Ag including 5.0 metres grading 8.10 gpt Au and 334.4 gpt Ag
SE-13-175; 8.8 metres grading 1.91 gpt Au and 70.6 gpt Ag including 2.0 metres grading 6.70 gpt Au and 226.1 gpt Ag
- These are great drill results which extended mineralization beyond the current resource, discovering three new zones:El Cholugo, El Cholugo Dos and Tortuga.
*La Joya Upside?
- Enormous upside potential remains at the La Joya project, which holds a whopping 200 million silver equivalent ounces in the inferred category. The project has excellent infrastructure, located close to highway, railways and power lines very close by.
La Joya is interesting because it contains massive inferred copper reserves of 533,200,000 lbs. The project also contains 716,200 ounces of gold and 95,900,000 ounces of silver. Because of the huge amount of gold and copper, I believe this will lead to very low cash costs once in production.
- The latest drill results have been very encouraging, containing 80 meters of 78.8 gpt Ag, .31 gpt Au and 137 gpt Ag Eq).
- A preliminary economic assessment for La Joya is underway and it should be very interesting to see how this project develops. While Santa Elena is an already profitable operation with upside, La Joya has home-run potential and can be a company maker for SilverCrest.
#3 Rock-Solid Balance Sheet for a Small Cap Company
- Perhaps the best part of the SilverCrest story is the financial condition of the company.
- SilverCrest has a solid balance sheet. The company reported cash and equivalents of nearly $30 million at the end of June, with a working capital position of $41.6 million. The company has no debt.
- I think it is very rare to see a small company with such a solid balance sheet and profitability. If silver and gold were to remain at current levels, or drop even lower, SilverCrest could still be turning a profit, which is not the case for many other silver miners out there.
Conclusion - SilverCrest is a Buy and Best of the Bunch
I believe the following points can be made about SilverCrest:
- With a P/E of about 7, they are undervalued at the current stock price, even with silver at $22 and gold at $1250.
- The company has one of the best balance sheets of any silver miner of its size.
- Huge upside potential remains at both Santa Elena, an already profitable mine, and La Joya, which could be a "company-maker."
- Even with silver at three-year lows of $22 an ounce, SilverCrest is profitable, recording .04 EPS last quarter.
- SilverCrest has outperformed its peers in 2013 and should continue to do so going forward, due to its profitability, balance sheet, production upside potential, third-party validation by Sandstorm Gold, etc.
I've been following this company since early 2013 and will continue to do so. I plan on purchasing shares sometime next month and throughout 2013/14. Follow me here on Seeking Alpha for future articles on SilverCrest and other silver miners.
Disclosure: I am long SLW, SAND. I wrote this article myself, and it expresses my own opinions. I am not receiving compensation for it (other than from Seeking Alpha). I have no business relationship with any company whose stock is mentioned in this article.
Additional disclosure: I may buy shares of SVLC within the next month.