On Friday October 11, Wells Fargo (NYSE:WFC) announced record third-quarter earnings. Beyond the astounding $5.3 billion in profits for the quarter was something far more notable, the mortgage origination numbers.
During the quarter originations declined 29%. As seen in the chart below this was a stark decline in the supposed long-term "recovery" in the housing market we were told to believe. In relation to the decline in originations, WFC also saw refinance applications plunge from 72% of mortgage applications to 36%. So what was to blame in this sudden collapse? As stated by WFCs Chief Financial Officer Tim Sloan, it was the roughly 1% rise in mortgage rates during the third quarter.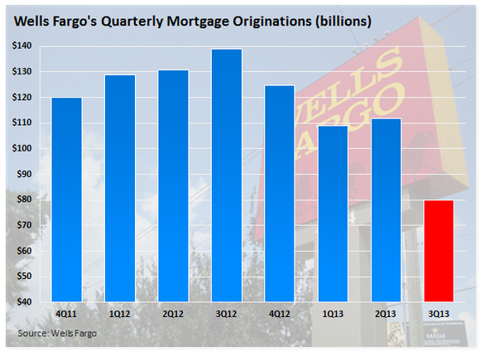 Click to enlarge
As the United States' largest loan originator, WFC tends to be a key driver and indicator in the housing market. Currently Wells Fargo generates nearly a third of the U.S. mortgage business and as seen in the last quarter there are major concerns about the impact of rising interest rates. Going forward into the 4th quarter and into 2014, banks expect continued depression in the mortgage market.
As expected, due to the Fed's policy of low interest rates and its purchases of mortgage backed securities (MBSs), there has been an artificial front-loading in the housing market. In a natural housing environment, buyers would enter the market after saving enough for a down payment and reaching a level of income that could sustain a house payment. But with low interest rates and continued small down payment requirements, that threshold has dramatically declined.
What should really worry investors is the decline in the mortgage market in relation to the interest rate increase. Historically, mortgage rates have been much higher. Throughout the 90s and into the early 2000s a 30-year fixed mortgage was around 7%-8% (as seen below). This sounds reasonable from a historical perspective and given the risk level that the banks are incurring on many of the loans.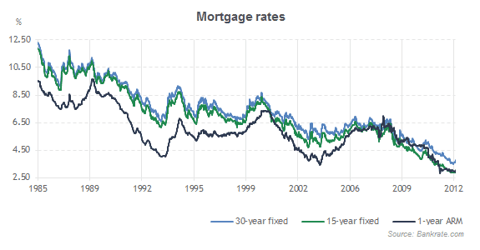 Click to enlarge
So what occurs if interest rates begin to rise to more historical levels? Well at more reasonable interest rates the number of new home buyers in the market will decrease substantially just due to the fact they are priced out of the market. Simply put, many will be unable to afford a monthly mortgage payment. This will again, as we saw in the last financial collapse, trigger a sharp decline in home values.
With all that being said, I am not so concerned about Wells Fargo and the large banks. I would still stay away from the big banks at current price levels. That includes Citigroup (NYSE:C), Bank of America (NYSE:BAC), J.P. Morgan (NYSE:JPM) and Financial Select SPDR ETF (NYSEARCA:XLF). However, long term Wells Fargo and the larger banks will experience a smaller drop mostly due to the size of the institutions and the fact that the government has made it clear it will backstop the major banks. Smaller regional banks on the other hand may be more susceptible with a decline in the housing market.
On the home construction side, another bearish signal for the housing market can be seen in recent home builder housing data. Pulte Group (NYSE:PHM) has been crushed since announcing Q2 housing orders well below expectations. After peaking at $24.47 in May, PHM has declined to its current price around $16. I think there is certainly more downside. PHM traded in the low $4 range back in 2011 and I expect it to retest those levels as interest rates rise and housing orders dry up. Other home builders such as Ryland Group (NYSE:RYL), D.R. Horton (NYSE:DHI), and Lennar (NYSE:LEN) are all strong sells at this point.
As home builders report Q3 earnings and housing orders in the coming weeks, expect weakness in new orders to be the theme. As this Wall Street Journal article pointed out last week, home-price inflation in some areas is unsustainable. The article also states and that inventory has been accumulating in the last couple quarters in attempts to take advantage of higher prices. In my view, we are in for another housing downturn.
Disclosure: I have no positions in any stocks mentioned, and no plans to initiate any positions within the next 72 hours. I wrote this article myself, and it expresses my own opinions. I am not receiving compensation for it (other than from Seeking Alpha). I have no business relationship with any company whose stock is mentioned in this article.