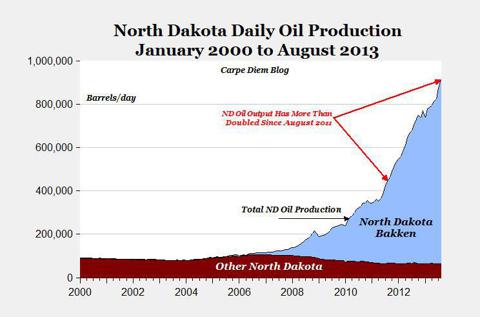 Click to enlarge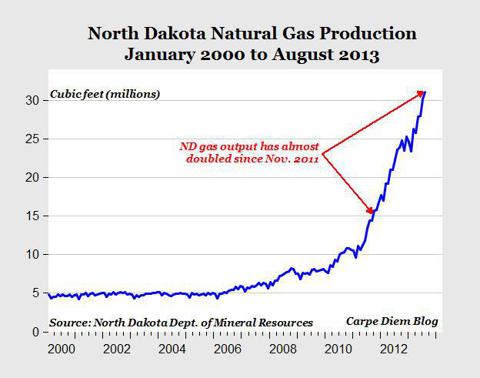 Click to enlarge
North Dakota's oil drillers pumped out more than 900,000 barrels of oil per day (bpd) in August for the first time ever, and set another new record for the state's monthly crude oil production at an average of 911,500 barrels per day (bpd), according to oil production data released today by North Dakota's Department of Mineral Resources (see top chart above). The Peace Garden state also set a new record in August for monthly natural gas production at just over 31 million cubic feet (see bottom chart). Here are some other highlights of North Dakota's record-setting oil and gas output in August:
1) The state's average daily oil production increased by 29.4% in August compared to a year ago, following an annual increase of 29.3% in July. Remarkably, in only the last two years, oil production in North Dakota has more than doubled from 446,300 bpd in August of 2011 to more than 911,000 bpd in August this year (a 104.2% increase). At the current pace of production increases, oil output in the Peace Garden State will likely exceed the one million bpd milestone by early next year, possibly as soon as February 2014.
2) In dollar terms, the oil produced in North Dakota in August had a daily market value of almost $100 million at the average oil price of $106.57 per barrel for West Texas Intermediate (NYSE:WTI) oil during the month of August. For the month, that would put the market value of North Dakota oil at more than $3 billion.
3) The Bakken region in western North Dakota produced more than 800,000 bpd in August for the second straight month, and established a new all-time monthly output record of 847,150 bpd, which represented a new record-high 92.9% of the state's monthly oil production. In contrast, the Bakken region produced less than 9% of the state's oil output at the beginning of 2007, before breakthrough drilling techniques (hydraulic fracturing and horizontal drilling) were able to tap into a bonanza of unconventional oil in the shale-rich areas of western North Dakota.
4) North Dakota's natural gas output in August increased 31.3% from a year earlier to exceed 30 million cubic feet of production for the second month in a row, and established a new monthly record high of just over 31 million cubic feet. Amazingly, natural gas output in the Peace Garden state has almost doubled in less than two years, from 15.78 million cubic feet in November of 2011 to more than 31 million cubic feet in August this year, which represents an increase of 96.5% in just 21 months.
Bottom Line: August was another banner month in "Saudi Dakota," with new all-time record high levels of production for both oil and natural gas. The shale boom continues to make the Peace Garden State America's most economically successful state – with growth in employment and income that lead the nation, the lowest state jobless rate in the country at 3.0% in August (2.7% not seasonally adjusted), an enviable and whopping state budget surplus approaching $2 billion, the highest state GDP growth last year of 13.4%, strong housing and construction markets (4,427 new building permits were issued in the state between May and August, setting a new state record for permits issued in a four-month period), thousands of landowners who have become millionaires from oil and gas royalties (estimated oil royalty payments of $20 million every day in August, at 20% of the approximately $100 million in market value calculated above), and jobless rates in 20 of the state's counties at 2.5% or lower in August (with Williams County at only 0.70%, the lowest county jobless rate in America). North Dakota's economic success, job creation and energy-based prosperity is being driven by the development of the state's vast energy resources, especially the oceans of shale oil and shale gas in the state's Bakken region. The Peace Garden State, along with Texas, are the shining stars of The Great American Energy Boom.