Citigroup (NYSE:C) presented very encouraging third-quarter results today, which validate my previously presented long thesis. Back in 2010, I started purchasing bank stocks, which were trading at massive discounts to book value as the market continued to place an extraordinary amount of contempt on deposit-strong banking franchises because of their legacy mortgage portfolios. Citigroup has come a long way since then and Citigroup's current valuation levels are still utterly attractive for investors who aren't in for a quick buck. Citi Holdings, which is sort of a bad bank to which bad asset qualities migrated, has also come a long way. My basic investment thesis is centered around the notion that the U.S. is still in recovery mode and has substantial room to grow. Cyclical companies like Citigroup, which continues to trade at depressed multiples, will provide great exposure to such a recovery. Interest rates are still ultra-low, which predominantly caters to large-cap banks with huge deposit bases such as Citigroup, Bank of America (NYSE:BAC) and J.P. Morgan (NYSE:JPM). Interest rates have nowhere to go but up. Interest rate spreads (the difference between banks' financing costs and loan rates) will be negatively impacted if the FED starts to extract excess liquidity out of the economy. However, as I have said before: Tapering is a huge positive catalyst for financial companies and their stocks in the long term because the economy will do better as a whole and stronger credit and mortgage demand will drive Citigroup's loan origination volumes.
Mixed Q3 results, but YTD trends intact
Many investors will probably disregard Citigroup's Q3 results as they are painting a weak business picture in comparison to Q2 2013:
Q-o-Q revenues were down 9% from $20 billion to $18.2 billion
Net income was down 16% from $3.9 billion in Q2 2013 to $3.3. billion in Q3 2013
Diluted EPS decreased 18% from $1.25 to $1.02
Those results on first glance appear pretty dim but a focus on YTD results is more enlightening:
Year-to-date revenues are up 2% to $58.8 billion y-o-y
Net credit losses are down 30% to $7.9 billion
Diluted EPS is up 12% to $3.55 year to date
I generally do not put too much weight on quarterly results of financial firms. Banks hold substantial amounts of assets on their balance sheet and turning around a large ship like Citigroup or Bank of America takes time. While quick efficiency gains can be booked via operating expense adjustments (Citigroup reduced operating expenses 4% from $12.1 billion in Q2 2013 to $11.7 billion in Q3 2013) legacy issues usually stay with the company for years. Citi Holdings, which holds undesirable assets that are marked for sale, for instance made respectable progress in asset downsizing: In Q3 2013 Citi Holdings held average assets of $127 billion on its balance sheet, which compares to $184 billion just last quarter: A minus of 31%. Citi Holdings also reduced average assets YTD by 31% compared to last year and end of period assets now stand at $122 billion: A minus of 29%. Citigroup continues to work through its legacy issues, which requires resources that will be funneled towards more productive growth investments in the future. Citigroup will ultimately reach a turning point in which it can leverage its resources to compete for new business rather than focus on its legacy portfolio.
Segment results
YTD net income in Citicorp's international consumer banking unit was down 7% to $2.3 billion impacted by spread compression in Latin America and Asia. However, sales growth in Latin America stands at +7% YTD and is driving Citicorp's revenues up to $13.8 billion YTD. Citicorp's strong emerging market position will in the long term benefit shareholders as incremental growth will come from rapidly expanding economies with lower levels of regulation. The international consumer banking unit also posted strong increases in investment sales (+20%) as well as higher card purchase sales (+7%).
North America Consumer Banking posted lower revenues of $14.9 billion (down 5%) YTD also impacted by spread compression and lower mortgage origination revenues. Revenues declined 6% to $4.7 billion in Q3 compared to $5.1 billion in Q2 2013. Net income decreased 17% from $1.1 billion in Q2 2013 to $932 million in Q3 2013 (down 15% YTD compared to the same period last year).
Citicorp's Securities and Banking division was impacted by weaker performance in Fixed Income, Equity Markets and Investment Banking. Fixed Income revenues were down 17% to $2.8 billion compared to last quarter, while Equity Markets revenues declined 25% and Investment Banking revenues 19% q-o-q. Net income declined 43% from $2.1 billion in Q2 2013 to $1.2 billion in Q3 2013. YTD, however, net income stands at $5.8 billion: up 13% y-o-y.
Transaction Services results were also impacted by global spread compression. Revenues were down 4% q-o-q but remained flat YTD.
Citi Holdings
I think the market still underestimates the positive developments that take place within Citi Holdings. Legacy assets are parked in Citi Holdings, which are continually wound down. The graph below depicts the tremendous progress Citi Holdings has made in reducing Residential First and Home Equity Loans (down 20% since last year). Net credit losses declined 50% since Q3 2012, and prove that Citi Holdings is on the right path to reduce hurtful earnings drag.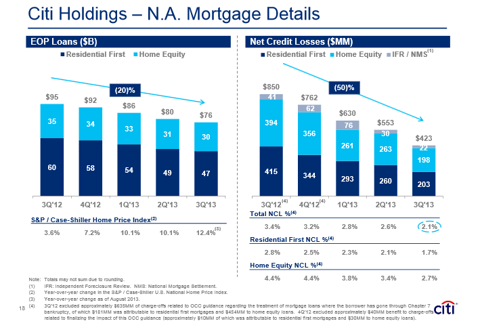 Click to enlarge
It is also appropriate to point out Citi Holdings' declining mortgage delinquencies, which have markedly improved over the last years. Mortgage delinquencies (over all delinquency time categories) are falling and stand now at nearly half the amount in Q3 2011: $4.97 billion.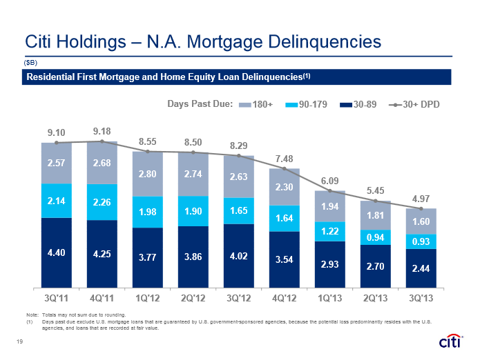 Click to enlarge
Valuation and capital strength
A very conservative metric of a bank's intrinsic value is the tangible book value per share. Citigroup's tangible book value per share in third-quarter 2013 stands at $54.52, which represents a 9% discount to Citigroup's current share price of $49.48. Citigroup also manages to trade at an 11% earnings yield or 9 times forward earnings.
Citigroup has a Q3 2013 Tier 1 Common Basel 1 ratio of 12.6% and a Tier 1 Common Basel 3 ratio of 10.4%, which indicates that the bank is adequately capitalized. Citigroup does not pay a dividend but this is likely to change in the future as the company returns to its core earnings potential.
Summary
Citigroup's Q3 results reflect the weaker market environment, which impacted client activity particularly in its Securities and Banking division and Fixed Income service line. Further pressures on operating results came from spread compression and regulatory intervention in some emerging markets. Despite short-term challenges the company remains well positioned to capitalize on a U.S. recovery.
Citigroup's underlying business trends support an investment in this large-cap banking franchise at bargain basement prices of 9 times earnings: Citi Holdings continues to make meaningful progress in winding down its legacy portfolio and mortgage delinquencies as well as net credit losses are continuously declining and reducing Citigroup's earnings drag. Citigroup's Tier 1 Common Basel 3 ratio has increased from 7.2% in Q1 2012 to 10.4% in Q3 2013: A plus of 44.4%.
Citigroup still needs more time to work through its legacy portfolio. The earnings drag from mortgages will be less and less meaningful as time goes by. Citigroup has a strong market position in developing countries, which will deliver outsized growth in an expanding global economy. Investors in Citigroup also bet on a forceful recovery in the United States. Cyclical companies like Citigroup should do well in an expanding economy where earnings and book value per share growth can quickly accelerate. Investors also need to recognize that a restrictive monetary policy will eventually be a good thing for stocks and financial companies in particular. Citigroup has come a long way but still needs several more quarters to go where value is likely being driven by operating expense cuts. I am also a firm believer in a subsequent re-initiation of a quarterly dividend, which will attract a larger pool of institutional buyers. In my experience it is always better to be invested in a company before a dividend is introduced. In my opinion, an investment in Citigroup at nine times forward earnings represents outsized upside potential and limited risk. Strong long-term Buy.
Disclosure: I am long C, BAC. I wrote this article myself, and it expresses my own opinions. I am not receiving compensation for it (other than from Seeking Alpha). I have no business relationship with any company whose stock is mentioned in this article.