International passenger capacity increased 5.6% year over year in August 2013. This has led airline companies to buy more commercial airplanes. This demand is clearly reflected in the commercial airplanes segment of Boeing (BA). In the second quarter of fiscal year 2013, Boeing's commercial airplane deliveries increased by 13% year over year to 169 airplanes. Going forward, the company expects to boost this segment, so it expanded its manufacturing facility of commercial airplanes in Montana. Moreover, Boeing has contracts for commercial airplanes lined up, which are expected to significantly grow this segment.
Advancing with commercial airplanes
Boeing's 737 is the major revenue contributing airplane series of its commercial airplanes segment. In our previous article on Boeing, we discussed the upgrade plan for this series. With the upgrade plan, the company has received many orders for its 737 series. One such order is from Russia's UTair airlines for around 40 Boeing 737- 800s, a 737 series model. Boeing expects to deliver the 40 airplanes over the next few years, and the delivery commenced on October 9, 2013. A 737-800 costs around $90.5 million.
Another contract for Boeing 737s is from WestJet. On September 26, 2013, Boeing and WestJet finalized the order for around 65 Boeing 737 MAX airplanes. This contract is worth $6.3 billion and includes 40 Boeing 737 MAX 8s and the remaining planes will be 737 MAX 7s. The 737 MAX planes are around 13% more fuel efficient than other existing single aisle planes, which will help WestJet in terms of fuel consumption savings. Both the above discussed contracts are long-term revenue generating opportunities for Boeing, as under both contracts the airplanes are expected to be delivered over the next few years.
To further boost the commercial airplanes segment, the company is expected to expand its manufacturing facility in Helena, Montana. This facility makes equipment for its commercial airplanes. Under this $35 million expansion plan, Boeing is expected to add more than 55,000-square feet of manufacturing area to the existing facility, which will expand it to 167,099 square feet by the fourth quarter of 2014.
In the first half of 2013, the commercial airplanes segment accounted for 59.7% of the company's total revenue, Boeing's highest revenue generating segment. In the first half, 306 commercial airplanes were delivered and a major portion of these deliveries were 737s. Considering all the above discussed developments, we expect the 737 to upsurge Boeing's earnings in the long term, thereby significantly inclining its stock.
In our last article on Boeing, we also discussed United Technologies' (UTX) 'aerospace system' segment benefiting from supplying components of Boeing's commercial airplanes. Its aerospace system segment announced on September 5, 2013, that it will supply wheels and carbon brakes to 50 Boeing 737-800 airplanes for Russian airline, Aeroflot, to continue its growth agenda. In a similar contract, the aerospace system segment stated on October 9, 2013, that it will provide wheels and carbon brakes to six new Boeing 787-8 airplanes for Xiamen airlines. Under both contracts, the aerospace system segment will use a proprietary material for carbon brakes, which is expected to increase brake life by 35% as compared to other existing high speed brakes. We expect that with such advancements, the aerospace system segment will grab more such contracts.
Last year United Technologies' aerospace systems segment accounted for 14.44% of the company's net sales. It is the fastest growing segment of the company, which registered growth of 75% on a year-over-year basis, reaching $8.3 billion in net sales in 2012.
We expect that the contracts from Boeing's commercial airplanes, as discussed above and in our last article, will boost the aerospace system segment of United Technologies in the long term, and going forward, it will increase its contribution to the company's net sales. These growth aspects make United Technologies an attractive investment opportunity.
Maintaining returns longevity with dividend
Boeing's stock attracts investors with its long dividend history. On June 24, 2013, the company approved a quarterly dividend of $0.485 per share, paid on September 6, 2013, which is yearly growth of 10.2%. The company has a long-term continuous dividend paying history. Its current growth fundamentals signify its capability to pay in the future also.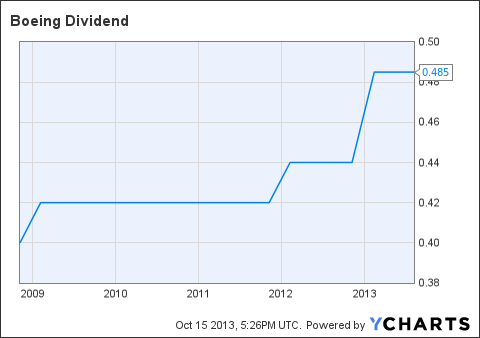 BA Dividend data by YCharts
Lockheed Martin (LMT), another major player in the aerospace products and services industry, has a strong dividend history as well. On September 26, 2013, Lockheed announced to pay a quarterly dividend of $1.33 per share on Dec. 27, 2013. This dividend is a growth of 15% from its quarterly dividend a year ago. Lockheed's dividend yield range over the past five years is 1.75% - 4.94%, and currently its dividend yield is 4.20%, near the higher value of this range. Its fundamentals are also strong, which we discussed in our earlier article on Lockheed, making it a lucrative buying opportunity.
Stock valuation
Besides strong fundamentals and dividend history, Boeing's stock valuation also makes it attractive. The company's trailing-12-months price to earnings, or P/E, ratio is 21.7, significantly higher than its forward P/E ratio of 16.27. This trailing P/E ratio is also lower than the industry's figure of 22.0. Boeing's P/S ratio of 1.09 is also low and near to one. Boeing's dividend yield is the only unfavorable valuation parameter, with dividend yield of 1.63%, lower than the industry's dividend yield of 2%. In the nutshell, Boeing's stock is currently undervalued and is expected to incline going forward, as substantiated by its valuation parameters.
Conclusion
Boeing's commercial airplanes are expected to boost its revenue in the future through its contracts for 737s. Boeing is also expanding its production facility to meet the growing demand of its commercial airplanes. Besides developing its commercial airplanes segment, Boeing's stock fetches investors' attention with its long dividend history. Considering these growth prospects, we suggest investors buy this stock to generate profitable returns.
Disclosure: I have no positions in any stocks mentioned, and no plans to initiate any positions within the next 72 hours. I wrote this article myself, and it expresses my own opinions. I am not receiving compensation for it (other than from Seeking Alpha). I have no business relationship with any company whose stock is mentioned in this article.
Additional disclosure: Fusion Research is a team of equity analysts. This article was written by Shweta Dubey, one of our research analysts. We did not receive compensation for this article (other than from Seeking Alpha), and we have no business relationship with any company whose stock is mentioned in this article.