Apple Inc's (NASDAQ:AAPL) Apple Retail division has seen better days. Apple Retail enjoyed explosive growth from 2000 to 2011 under Ron Johnson's leadership. Regardless of whether investors attribute most of the credit in Apple Retail's growth to former Apple CEO Steve Jobs, there is no denying that Apple Retail boss Ron Johnson played a vital role in helping the division grow. Apple made a huge mistake in hiring John Browett of Dixons Retail (OTC:DSITF) to replace Johnson. Independent research firm Saibus Research published two reports about Apple Retail's operational missteps under Mr. Browett and that it was a good idea for Apple to cut him loose before he did any major damage to Apple's brand. The bad news for Apple Retail was that Apple went a year before hiring a new senior vice president of retail (and online stores) and this helped contribute to its revenue only growing by 8% year-over-year in the first nine months of FY 2013. The good news was that Apple made a great hire when it announced that it hired Burberry's former CEO Angela Ahrendts as its new senior vice president of retail and online stores.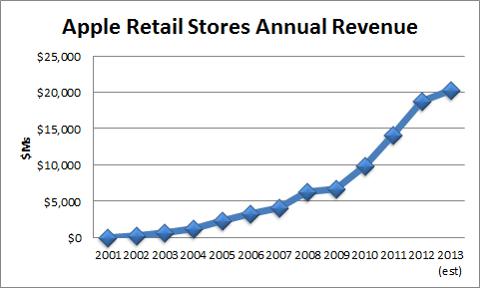 Click to enlarge
Source: Apple's 2001-2012 Annual Reports and my Estimates
Two months after Ron Johnson left Apple Retail to serve as J.C. Penney's CEO, Apple settled on John Browett to replace Ron Johnson as head of Apple Retail Stores. Browett came to Apple by way of British electronics retailer Dixons Retail. While serving as Dixons Retail's CEO, Browett continued Dixons Retail's proud tradition of poor performance that customers, employees and shareholders can recognize as the bedrock of Dixons Retail's corporate culture. John Browett served as Dixons Retail's CEO for about 5 years and in that time revenue stagnated and profits sank like the Titanic. Despite muddling through the mucky morass of mediocre management at Dixons, Apple's CEO gave John Browett the opportunity of a lifetime in order to succeed Ron Johnson as the head of Apple Retail stores.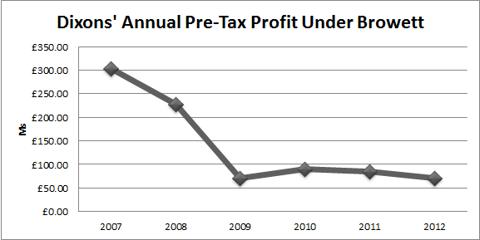 Click to enlarge
Source: Dixon's 2011-12 Annual Reports
Apple announced Browett's hiring in January 2012 and he joined Apple in April 2012. Although revenue and profits grew in 2012 versus 2011 levels, one could see that John Browett's vision for Apple Retail was much different from Ron Johnson's vision. Browett made so many questionable decisions while running Apple Retail that everyone was concerned that he was going to turn it into Dixons. Apple Retail's year-over-year growth was decelerating under Browett and as such, it was a good thing that Tim Cook decided to cut his losses while they were small by cutting John Browett loose after only six months. Tim Cook's decision to fire John Browett was a classic case of addition by subtraction.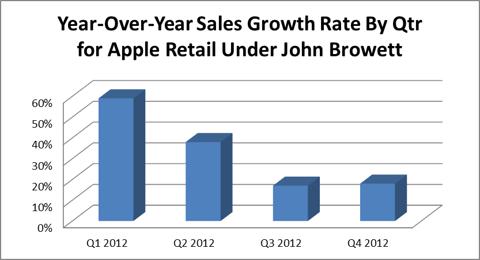 Click to enlarge
Sources: Apple's FY 2012 quarterly financial supplement reports
Apple Retail's new boss Angela Ahrendts has a long and respected career in the retail industry, especially due to the performance of British luxury fashion house Burberry Group plc (OTCPK:BURBY) under her leadership. Ahrendts earned recognition for transforming the brand into a digitally savvy, international powerhouse, giving it a dramatic makeover. Ahrendts and her team implemented a high-level vision in which Burberry would be a design, marketing and retail-led organization. After implementing Burberry's new vision, Burberry's management developed its five-year strategy and identified the following key differentiators in the luxury sector it could exploit.
Burberry was the only big British fashion brand, versus many different big French fashion brands, big Italian fashion brands and big American fashion brands.
Burberry was born from the Burberry coat whereas other brands were born from luggage, shoes and saddlery. Only Burberry was born from a coat. Outerwear was just 20% of its business back then, and Burberry's management saw a huge opportunity to exploit that category further
Burberry's management recognized that its peers were targeting 'ladies who lunch' baby-boomers and decided to target its marketing budget on millennial consumers and focused on emerging markets where the average high net worth customer is typically 15 years younger
Burberry placed a high emphasis on digital marketing communications with its new target customers because it found that these customers were "tech-savvy" and also gave it the greatest reach for its limited marketing budget
The strategic and visionary overhaul that Angela Ahrendts implemented for Burberry has paid off significantly for its shareholders. Burberry's revenue increased from £743M (~US$1.19B) in 2006 to £2B (~US$3.16B) in 2013 and its EPS increased from £0.45 (~US$0.72) in 2006 to £1.14 (~US$1.82) in 2013. Burberry's H1 2014 results continued the strong performance achieved from 2006 to 2013 as its revenue increased by 14% due to a strong 13% comparable store sales growth. Burberry's dividend per share increased from £0.08 (~US$0.13) in 2006 to £0.29 (~US$0.46) in 2013. It is no wonder why Burberry's shares dropped by 8.8% in the first three hours of trading on October 15 and why Apple's shares increased by 1% when Apple announced that it hired Ahrendts away from Burberry. On a personal note, this author was intrigued that Ahrendts came from Ball State because a local School Committee candidate that he is actively supporting in his town's 2013 municipal general election also hails from Ball State and he believes that both of them have a strong record of results while eschewing loud rhetoric.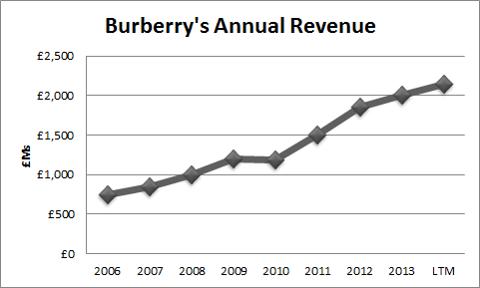 Click to enlarge
Sources: Morningstar Direct
According to 9TO5 Mac, Apple's CEO Tim Cook took the time to keep his employees in the loop regarding the hiring process. Cook sent a company-wide memo this morning that discusses how he found Ahrendts and how she will fit into the Apple culture. While Ahrendts will be running Apple's physical retail stores, she will also run Apple's online stores. This is the first time in which the Retail Head's domain covered both offline and online sales. Tim Cook said in his memo that he long wanted to make the Retail Head role cover both areas of sales, but he had not been confident enough to allow this to happen until he met Ahrendts. In recent months, Apple has also hired other retail executives from the fashion world, including a Senior VP at Levi's. Apple has also expressed fashion interests with its hires of Yves St. Laurent CEO Paul Deneve and top Nike designer Ben Shaffer.
This analyst believes that this quote from Tim Cook about Ahrendts is the clinching argument as to why he is enthusiastic about her leading Apple Retail: "Angela Ahrendts shares our values and our focus on innovation. She places the same strong emphasis as we do on the customer experience. She cares deeply about people and embraces our view that our most important resource and our soul is our people. She believes in enriching the lives of others and she is wicked smart. Angela has shown herself to be an extraordinary leader throughout her career and has a proven record of accomplishment. She led Burberry through a period of phenomenal growth with a focus on brand, culture, core values and the power of positive energy." These intangible characteristics will help her and Apple Retail's team resume its impressive record of revenue and profit growth, which decelerated significantly in FY 2013.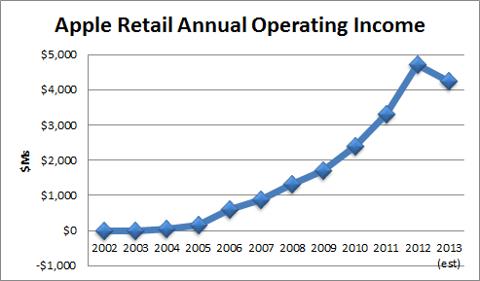 Click to enlarge
Source: Apple's 2002-2012 Annual Reports and my Estimates
In conclusion, Tim Cook struck out by hiring John Browett to succeed Ron Johnson as head of Apple Retail. However, he rebounded and hit a grand slam by hiring Angela Ahrendts as Apple Retail's next boss. Tim Cook showed Apple's stakeholders that Angela Ahrendts was a high quality hire because he made her in charge of Apple Retail's online presence in addition to overseeing Apple Retail's physical locations. Angela Ahrendts brings a high quality record of results from her previous positions, especially her time serving as Burberry's CEO. Investors should agree with Tim Cook that Angela Ahrendts would fit in with Apple's corporate culture for the following reasons:
Ahrendts shares Apple's corporate values and focus on innovation
Ahrendts places the same strong emphasis as Apple does on the customer experience.
Ahrendts embraces Apple's view that its most important resource and its soul is its people.
Ahrendts believes in enriching the lives of others and she is wicked smart.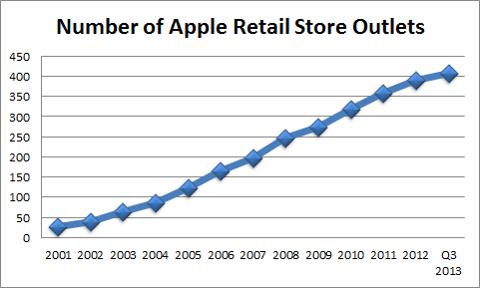 Click to enlarge
Source: Apple's 2001-2012 Annual Reports
Disclosure: I am long AAPL. I wrote this article myself, and it expresses my own opinions. I am not receiving compensation for it (other than from Seeking Alpha). I have no business relationship with any company whose stock is mentioned in this article.