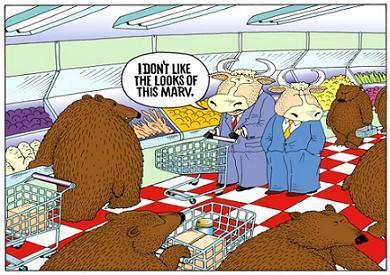 CEF Weekly Review: The 13 closed end fund (CEF) types on average nudged into positive territory posting a 0.2% increase for the week ending 11/20/09. On an aggregate, unweighted basis, the weekly average price change for the 496 CEFs remained unchanged.
The weighted 49 CEFs comprising the Claymore CEF Index registered an average advance of 0.2% for the week; First Trust CEF Composite Index was off 0.1%. The S&P 500, as measured by the SPDR S&P 500 ETF (NYSEARCA:SPY), was off 0.2% on light volume.
(Click Here for YTD CEF Performance. The table is based on a 272 CEF sample size as all the data fields are not available for the CEF universe.)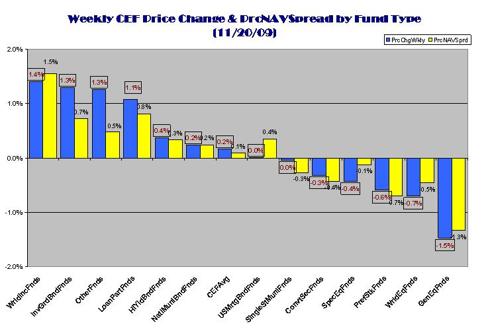 Click to enlarge
The Eqcome CEF Fear Index was essentially unchanged with weekly price changes and NAV changes at the flat-line. The CBOE Volatility Index (VIX), which typically moves inversely with the stock market, declined 0.5% for the week even in the face of a market swoon on Thursday. The VIX's pacify in the face of investors ricocheting in-and-out of the "risk trade" is disconcerting.
CEF Weekly Fund Type Performance: CEF fund type performance for the week took on some defensive characteristics. Fixed-income CEFs performed better than equity-oriented funds. Leading the procession was WrldIncFnds that was up on average 1.4%. This may have been a function of President Obama's trip to Asia coupled with a conservative investment outlook. WrldIncFnds were followed by InvGrdBndFnds and OtherFnds, both up 1.3%.
GenEqFnds were off 1.5% as the week's worst performer. This was a function of two Cornerstone Advisors' CEFs share price significantly dropping on distribution reductions. (See negative PrcNAVSprd section below.)
CEF Spread Changes: Changes in PrcNAVSprds generally follow the trend of price movement. This is typically the case when markets generate meaningful price changes. WrldIncFnds, which was the week's best performer, registered an increase in NAV over share price change. This was also true of the USMrtgBndFnds. Most of the equity-oriented CEFs saw their average price decline more than related NAVs.
CEF Winners and Losers: Two of the North Carolina muni funds registered some of the greatest positive PrcNAVSprds. Nuveen NC Muni Fund (NYSEMKT:NII) and Nuveen NC Div Adv Fund recorded positive PrcNAVSprd of 4.9% (5.3%-0.4%) and 4.6% (4.9%-0.3%), respectively. A upgrade by Fitch, the rating agency, of some North Carolina hospital bonds, to "BB+" from "BB-" with a stable outlook, could have encouraged investors that more upgrades could be in store for NC munis.
(A positive PrcNAVSprd can be viewed as a negative, subject to other metrics, as it would indicate the stock price has increased greater than the NAV. In theory, CEF prices and NAVs should move in a more tandem fashion.)
This week's extreme PrcNAVSprds are coming in pairs. Two of the CEFs with the greatest negative PrcNAVSprd during the week were associated with the same investment advisor: Cornerstone Advisors, Inc. Both Cornerstone Strategic Value Fund (NYSEMKT:CLM) and Cornerstone Total Return Fund (NYSEMKT:CRF) recorded negative PrcNAVSprds: 15.3% and 13.6%, respectively, as a result of share price declines. After the close last Friday (11/13), both CLM and CRF reported a 20% and 23% reduction in their monthly distribution for the first three months of '10, respectively. A substantial portion of those distributions is a return of capital.
Market Perspective Prior to the most recent stock market peak in Oct '07, an investor would have made money even if he/she were unfortunate enough to have purchased the DJIA at any of its peaks since 1900. The key is living long enough. So, being an unblinking optimist was a helpful personal affliction during the previous century. That may no longer be true.
As Winston Churchill once remarked, "A hopeful disposition is not the sole qualification to be a prophet." Maybe, it's no longer the sole qualification for successful investing. (For the purpose of conservation of space and to keep the focus on CEFs, this week's "Market Perspective" is available by hyperlink: "Stock Market Optimist Revisited".)
(Click here for next week's economic calendar; click here for earnings announcements and estimates.)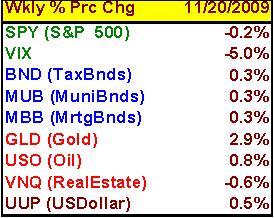 ETFs: (Click Here for ETF YTD sector performance.)
Insider Trading: The Horejsi Group continued to pile into Boulder Growth & Income Fund (NYSE:BIF) in a big way adding an additional $1.2 million in stock market value during the past week. Month-to-date it brings the total acquisition amount to $2.0 million.
Over the past year, Horejsi Group has acquired 2,387,567 shares of BIF at an average cost of $4.35 per share for a total outlay of $10.65 million dollars representing 9.4% of the outstanding shares. Its cumulative holding of BIF is 5.5 million shares or 21.6% of all outstanding shares.
The Horejsi Group as both the largest shareholder and owner of its investment manager has a delicate situation regarding the year-end review of its previous year's suspended distribution policy. To the extent a return-of-capital distribution is declared, it would partially reimburse the group for its most recent share acquisitions by the 15% average discount that it paid for the shares relative to its NAV. Alternatively, any decline in NAV would diminish its investment management fees.
The Horejsi Group also continued buying shares of Denali Fund (DNY) where it is also an insider and advisor. The Group acquired an additional $60,114 in market value raising their total for the month to $193.919. Horejsi Group has effectively taken DNY private as it owns approximately two-thirds of the shares outstanding.
This new burst of buying of BIF and DNY would be a function of monies the Horejsi Group will likely receive as a result of their significant holdings in two real estate CEFs, DWS RREEF Real Estate Fund (SRQ) and DWS RREEF Real Estate II (SRO), that are planning to liquidate. Will this newly freed money go to acquiring additional shares of BIF, DNY or BTF?
BofA/Merrill Lynch continues to liquidate its holdings in several CEFs this week. Such holdings included: NPP, MZF, NQJ and EAD.
Mark Lieb, characterized as "other" in the "Form 4" filings, acquired 12,000 shares initial position at $6.55 per share in Nuveen Quality Preferred Income Fund 3 (JHP). It was an "out of the blue" purchase as the last insider purchase was made December of last year.
Stephen A. Walsh, a Deputy CIO of the Sub-advisor, purchased 3,700 shares at 10.51 per share bringing his total holdings to 11,700 shares in Western Asset Global High Income Fund (NYSE:EHI). He was an earlier buyer this year.
Robert F. Birch, a director of Helios Strategic Mortgage Income Fund (NYSE:HSM), added 2,374 shares to his position at $5.75 per share. Bernard J. Korman, a director of New American High Income Fund (NYSE:HYB) has been a steady buyer of shares adding small positions during the month (option exercise?) to bring his total share ownership to 194,661.
CEF Distribution Announcements This Week: The following is a link to a table of CEF distribution announcements this week as well as previous weeks' with yet expired ex-dividend dates. The list is not intended to be inclusive. The report is produced Thursday evening/Friday mornings and is posted on Joe Eqcome website to enable investors a look at those CEFs that might go ex-dividend the following Monday. The report is again updated over the weekend. (Click Here for Weekly CEF Distribution Announcements.)
CEF Focus for the Week: The focus stock of the week is Boulder Growth & Income Fund (BIF). The insiders continue to be stepping up their purchases which have the potential to accelerate due to a liquidity event for their largest shareholder and the possibility of a year-end distribution (certainly, no guarantee on either). BIF is trading at a 15.3% discount and is not currently making distributions on its common stock. Additionally, its largest holding is Berkshire Hathaway Inc., A (23.8%). A resumption of a distribution policy would give this stock a "kick". (See related report entitled: Insider Buying at BIF: A Case of Manipulation or Hallucination?
Consider it food for discussion.
Disclosures: SPY & GLD and a diverse CEF portfolio including BIF.