As a follow-up to my last article, here are some interesting facts about Brazil gleaned from this week's The Economist magazine's special report on the country:
Brazil is the world's fourth largest democracy.
Brazil has the world's largest freshwater supplies, the largest tropical forests, and land so fertile that some farmers can harvest three crops a year.
Brazil is the world's largest exporter of coffee, sugar, chickens, beef and orange juice.
Brazil exports large amounts of soya and iron ore and is a major source of the world's pulp. If other countries would open up their markets, Brazil would supply them with ethanol to fuel their cars.
Sao Paulo's futures and options market is one of the world's top 5 by volume.
All of the "big 3" rating agencies classify Brazilian government paper as investment grade.
Brazil recently announced it would lend money to the IMF. It was only a decade ago that the IMF was lending money to Brazil under strict conditions.
In 2008, despite the whole world seemingly headed into the deep freeze, foreign direct investment (FDI) in Brazil was up 30% year-over-year even as (FDI) in the rest of the world was down 14%.
Since 1999 the Brazilian government has been required to run a primary surplus (before interest payments on public debt), a target the government has met every year since though it may miss this year. This policy has enabled the Brazilian government to shed most of the dollar denominated debt that caused such instability in the past every time the economy wobbled.
Brazil has suffered horrendous inflation in the past. However, a series of banking and currency reforms has tamed inflation. Still, the central bank's headline interest rate is 8.75% - one of the highest rates of any country in the world.
During the recent financial crisis, Brazil was one of the last countries to turn down and one of the first out. It was able to cut interest rates and the value of the real currency held its value.
Dilma Rousseff, Lula's hand picked preferred successor, is quoted as saying: "We respect contracts - we are part of the West", explaining that she would honour the terms on which foreign oil firms currently operate in Brazil.
Rousseff describes herself as a "Brazilian democratic socialist".
Most of these developments are the result of Brazil's tumultuous economic past and the policies put in place by President Cardoso (Lula da Silva's predecessor) and others to combat them. For instance, the oil shock of the 1970's crippled Brazil. They saw a sharp increase in dollar denominated foreign debt to pay for oil (sound familiar? this is what I have been warning US policymakers about since the US imports 65% of its oil). Since that time, Brazil adopted strategic energy policies to leverage ethanol and natural gas transportation. Here is a strategic energy policy the US should adopt before it too will see the inflation problems that ravaged Brazil in past years. Ahhhh, but no one listens to me (or learns from Brazil).
Regardless, Brazil is now self sufficient in oil. Giant offshore oil discoveries mean Brazil will become a large oil exporter in the coming years. Indeed. A full page Petrobras (NYSE:PBR) advertisement following the article says:
Investing in Petrobras means investing in a company with one of the highest growth rates in the global oil industry. In 2008, Petrobras produced 2.4 million barrels/day of oil equivalent, and production is expected to reach 5.7 million barrels/day by 2020 (7.7% p.a.). This is thanks to planned investments of $174 billion by 2013 and to the recent discovery of supergiant fields of oil and gas in the pre-salt layer, one of the most important discoveries of the last decades.

Trust the soundness and transparency of a company that has generated 32.6% yearly returns on shareholders' equity over the past 5 years. Invest in Petrobras.
In other words, Petrobras may be exporting close to 3 million barrels a day by 2020. My readers won't be surprised to know that I also think the price of oil in 2020 will be much higher than it is today. In conclusion: the recent changes in Brazil's economic, energy, and banking policies mean it is safe to invest in Brazil and safe to invest in Petrobras. Anyone who agrees with me that the future of planet Earth is one in which worldwide oil supply will not keep pace with worldwide oil demand would probably also agree that Petrobras should be a core energy holding.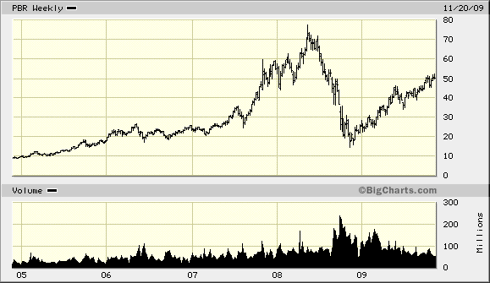 Click to enlarge
Disclosure: The author owns PBR.