After the bell on Tuesday afternoon, chip giant Intel (NASDAQ:INTC) reported its fiscal third quarter results. Overall, it was an extremely mixed report. For every item that was good, another item was bad. In the end, I'm a bit disappointed, because Intel's Q4 guidance was light again, and capital returns stayed light. Intel has become a very frustrating company, and shareholders should be concerned.
Overall Results:
Before I get into the numbers, here is what Intel guided to for Q3:
Revenues of $13.5 billion, plus or minus $500 million.
Gross margins of 61%, plus or minus a few percentage points.
R&D plus MG&A spending of approximately $4.8 billion.
Amortization expense of $70 million.
Impact of equity and other income items: $400 million gain.
Depreciation: $1.7 billion.
Going into the report, analysts were looking for revenues of $13.47 billion, and earnings per share of $0.53. Intel came in just ahead on the revenue front, at $13.483 billion, and a nickel ahead at $0.58 in EPS.
A breakdown of the numbers:
Let's start at the top. Intel came in slightly ahead of expectations, but slightly below their revenue midpoint for Q3 guidance. Don't forget, analysts were initially expecting much more, so the fact that Intel beat analyst expectations is a result of lowered expectations, not business performance. Again, Intel was below their own guidance midpoint.
Gross margins were a bright spot, coming in at 62.4%, versus guidance of 61%. Additionally, R&D plus MG&A spending came in at $4.712 billion, better than the $4.8 billion guidance. However, those operating expense gains were negated by $124 million in restructuring and asset impairment charges, which will hurt Q4 numbers as well. Overall, Intel gross margins were down 87 basis points year over year, but operating margins were down 255 basis points, mostly thanks to those extra restructuring and impairment charges.
Intel slightly beat when it came to "equity investments and other income items", which produced income of $420 million versus expectations for $400 million. Additionally, Intel's tax rate came in at 24.82%, better than the 26% that was guided to. This lower tax rate accounted for slightly more than a penny in earnings per share benefit, which is part of the reason why they beat by a nickel.
Overall, net income for the period actually declined by $22 million. Intel reported the same $0.58 EPS figure that they did in the year ago period. The diluted share count came down by 53 million shares to 5.1 billion. However, there's more behind that story, which I'll get to later. Overall, Q3 was mixed for Intel. Revenues came in a little light versus company expectations, but the bottom line was strong thanks to gross margins and lower taxes.
Balance sheet update:
This is where things get interesting, and particularly why I am saying that investors should be concerned. I'm even more concerned than I was when I wrote my article literally titled, "Intel: Frustrating On So Many Levels". Intel's balance sheet continued to improve, but the company did very little to return capital to shareholders. Here's some key balance sheet information for Intel, comparing the end of this reported quarter to last year's Q3 and this year's Q2. Dollar values are in millions.

*Liabilities to assets ratio.
There are two interesting items to note. First, Intel saw a quarterly (Q2 to Q3) rise in current liabilities of almost $2.5 billion. Now that could easily be due to new product launches and the fact that the company has increased bills. But it is a large rise, and partially explains why working capital declined and the debt ratio continued higher.
But the more interesting note is that Intel's cash and short-term investments pile has risen more than 80% in the past year. At the end of Q2, according to their 10-Q filing, $10.3 billion of that $17.35 billion was located outside the US. Those funds cannot be used for dividends and buybacks. Intel's cash pile jumped by about $1.8 billion in Q3, so I would figure that the US portion of that balance increased. We won't know what the true number is until the 10-Q is filed, which could be days or weeks.
What's my main point? Well, with the cash balance up more than 80% over the past year, Intel is not returning this cash to shareholders. The company actually paid less in total dividends to shareholders in Q3 of this year compared to last year. I've been detailing their lack of dividend raise for months now, saying that Intel might raise it for the January announcement, to get on a yearly cycle again. If they don't raise it then, there will be another increase in frustration. Additionally, share buybacks remain limited, as you can see in the chart below.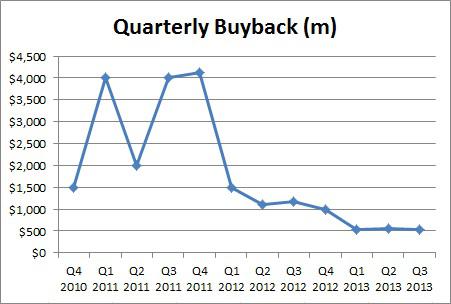 Intel spent $536 million on buybacks, down from $550 million in Q2 and $1.165 billion in the year ago period. Intel has a lot more cash than a year ago, so why are they not returning it to shareholders? On the conference call, there wasn't a single mention of the dividend and buyback outside of the opening statement that contains the same info as the earnings release. Especially with two years of decreasing revenues, Intel's stock has been pressured by a lack of results. If the company is looking for a big rebound in 2014, now is the time to buy back shares! Intel is not though, which makes me really wonder about 2014. Maybe the company is looking at a big acquisition, but they need to do something with this cash. They can't let it just double year over year while investors get less and less.
Q4 guidance:
The key when Intel reported its second quarter results is that they cut the full year forecast, which put a dent into their expected second half growth story. Here was the 2013 yearly forecast at the Q2 report:
Revenues are now expected to be flat over last year's. Previously, Intel guided to "low single digit" growth. Remember, last year's revenues were down from 2011 levels.
Gross margin forecast cut from 60% to 59%.
R&D plus MGA spending forecast cut by $200 million to $18.7 billion.
Amortization expense of $300 million.
Tax rate of 26% for rest of year. Intel had previously guided to 27% for Q2-Q4, but we saw that Q2 was less than expected.
Full year capital spending of $11 billion, a reduction of $1 billion from previous forecast.
Intel's stock dropped on the report, thanks to Intel cutting its revenue and gross margin forecast for the year. That also has had an impact on 2014 expectations, which I'll get to in a bit. For the moment, let's focus on Q4, and here is Intel's guidance, taken from their report:
Revenue: $13.7 billion, plus or minus $500 million.
Gross margin percentage: 61%, plus or minus a couple of percentage points.
R&D plus MG&A spending: approximately $4.7 billion.
Amortization of acquisition-related intangibles: approximately $70 million.
Impact of equity investments and interest and other: approximately zero.
Depreciation: approximately $1.7 billion.
Restructuring and asset impairment charges: approximately $100 million.
Tax rate: approximately 25%.
Full-year capital spending: $10.8 billion, plus or minus $300 million.
At the top, revenue guidance is light again. Intel analysts were looking for $14.02 billion, which would have represented 4.0% growth from 2012's Q4 period. The midpoint now implies about 1.6% growth. Now, there have been some thoughts that Intel is being cautious with their forecast, to keep inventory levels lean and reflect customer order patterns. Well, investors should be used to Intel giving lower than expected guidance. This is now the 5th time in 6 quarters where Intel has given lower-than-expected guidance. In fact, this is the largest guidance miss, at $0.32 billion, if you exclude Intel's warning last year. In those 5 guidance misses, each miss was at least $180 million (so revenue guidance at least $180 million below estimates). The only time it was higher was just a $30 million "beat", which basically is in-line when you consider the other numbers.
Gross margin guidance looks decent for Q4, and the R&D plus MG&A spending forecast also seems to have come down for the year, mostly due to the Q3 beat. Intel also took down its capital spending forecast by another $200 million. So not only is Intel not returning capital to shareholders, but they've cut their capex forecast multiple times now. It was too high to begin with, but should they be cutting it this much?
What's the key takeaway here? Well, it has to be the revenue number. Intel is having a revenue generation problem. Another weak forecast means expectations are likely to come down again. 2012 was supposed to be a great year. When that looked shaky, 2013 was supposed to be the great year. Now, it looks both of those years will be revenue decline years. So, 2014 is now supposed to be the great year, but maybe not, as you can see from the following table, which has tracked Intel's 2014 estimates since April.

*Growth numbers for 2014 are based on the 2013 estimate at that point. As the 2013 numbers have changed, that will impact the growth number for 2014 estimates at the same revenue/earnings level.
2014 estimates are at their lowest point now, and I think the revenue number is likely to go lower based on the Q4 guidance. Basically, 1/3 of Intel's 2014 revenue rebound has been cut. It's possible now that 2014 revenues might not even reach 2011 levels. That's troubling. I do expect EPS numbers to be hiked up because of the Q3 beat, but that comes with an asterisk. Cutting a few expenses here or there, or having tax rates be lower than expected aren't exactly the best ways to improve earnings per share. Also, if Intel gets the share count down again in 2014, it's likely that a good chunk of its earnings per share "growth" could be from the buyback. Remember, Intel had earnings per share of $2.39 in 2012, and that was with a share count that was 6% higher than where we are now!
Here comes the death cross:
I mentioned in my "Intel is frustrating" article that the stock is about to breach a key technical level, the death cross. The 50-day moving average is even closer to the 200-day moving average now, and if Intel's stock does go lower the next few days (down a few percent in after-hours), the gap will close even more. You can see these two moving averages in the 6-month chart below.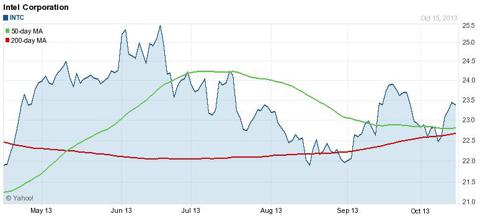 (Source: Yahoo! Finance)
I wouldn't bring this up if it wasn't necessary, but a technical breach like this doesn't exactly happen very often. The last time this happened was in 2012, about a month before Intel's Q3 revenue warning. Intel dropped $2 at that technical breach, falling further after the warning. After all was said and done, Intel's stock fell from $26 to $19 after hitting the death cross. I don't see that kind of fall here, but I wouldn't be surprised if we head another point or two lower because of this event.
Final thoughts:
Overall, Intel reported a mixed result, but there were a couple of key concerns I had:
Revenues were slightly below guided midpoint, and Q4 guidance was well below expectations.
While the cash balance has soared, dividend payments and the buyback are declining heavily.
A key technical event seems more likely now.
Intel shares were down around 2% for most of the after-hours session, which I think is a fair representation of the Q3 report. While Intel shares are likely to trade more off Washington politics over the next few days than actual fundamentals, I wouldn't be surprised if Intel tests at least the 4% dividend yield level. We could be just days away from the key technical event, which makes me worry a bit. Intel's report wasn't as bad as it could have been. For that reason, I don't think it will head to $20 as I said in a recent article, but I would not be surprised if we see the $21 to $22 level. We can re-evaluate then.
Disclosure: I have no positions in any stocks mentioned, and no plans to initiate any positions within the next 72 hours. I wrote this article myself, and it expresses my own opinions. I am not receiving compensation for it (other than from Seeking Alpha). I have no business relationship with any company whose stock is mentioned in this article.
Additional disclosure: Investors are always reminded that before making any investment, you should do your own proper due diligence on any name directly or indirectly mentioned in this article. Investors should also consider seeking advice from a broker or financial adviser before making any investment decisions. Any material in this article should be considered general information, and not relied on as a formal investment recommendation.