On November 13, Spectrum Pharmaceuticals (NASDAQ:SPPI) reported some positive Q3 results. Sales of their non-Hodgkin's lymphoma (NHL) drug, Zevalin®, which made up more than half of the revenue generated during the quarter, continue to improve significantly.
Over the past several months, many have argued that a Zevalin comeback was impossible. The drug has been ignored by doctors for several years. For this reason, many argue it'll never sell today. I will not deny it, changing previously held beliefs and perceptions isn't always easy. Without question, the Zevalin turnaround is a tall order and especially for a small drug maker like SPPI. So, I can appreciate and understand why most have not shared my view and enthusiasm for SPPI.
From my view, it is more important that the folks battling NHL are – at the very least – made aware of the Zevalin option. If doctors just simply tell their patients about Zevalin, then I firmly believe that a large majority of them would opt for it - in a heartbeat. Among other factors, this fuels my optimism about investing in SPPI.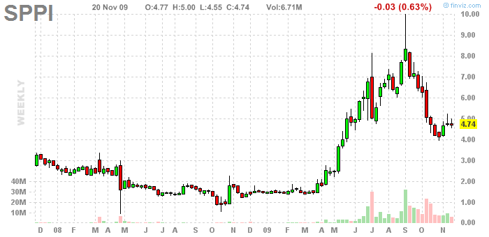 Click to enlarge
When a good plan is met with strong execution, success is likely to follow.
GOOD PLAN
First-Line Approval – Check.
On September 4, 2009, Zevalin was approved by the FDA for first-line consolidation use in the treatment of patients with follicular NHL, consisting of a patient population exceeding 43,000.
Pre-September 4, Zevalin was already approved for use in patients with refractory low grade, follicular, or transformed B-cell NHL, including Rituxan® refractory follicular NHL. Rituxan is marketed worldwide by partners Roche (OTCQX:RHHBY) and Biogen Idec (NASDAQ:BIIB).
Reimbursed at Average Sales Price (ASP) – Check.
On November 3, 2009, the Centers for Medicaid and Medicare Services (CMS) ruled that Zevalin is reimbursable at ASP like nearly all other approved injectable chemotherapeutics.
As of January 1, 2010, Zevalin will be fully reimbursed by the federal government at the ASP plus 5% to 6%. Private insurers should follow suit.
Since its initial regulatory approval in 2002, Zevalin has been reimbursed at either (1) invoice or (2) the average wholesale price (AWP).
Omission of FDA Scanning Requirements – Q4 2010
By the end of 2010, US regulators will decide whether or not they will waive the existing bio-scan requirements that are associated with the administration of Zevalin.
Similar scans are not required in Europe, where the treatment is marketed by Bayer Schering (OTC:BYERF).
STRONG EXECUTION
Now that Zevalin has been approved for first-line use, doctors are now more likely to inform their patients about the Zevalin option as well as implement it into treatment regimens.
Highlights: Q1 to Q3 2009
Quarter over quarter sales losses halted.
Sales trends have reversed.
The increase in sales has been meaningful.
Results have been achieved efficiently.
Zevalin Sales Trends
| Quarter | Total Sales | Avg. Sales/Month | Increase Sales/Month (%) |
| --- | --- | --- | --- |
| Q1 2009 | $2.6 million | $867,000 | 0% or loss from Q4 2008 |
| Q2 2009 | $3.3 million | $1.1 million | +26% from Q1 |
| Q3 2009 | $4.7 million | $1.56 million | +42% from Q2 |
| Q4 2009 | Feb. 2010 | Feb. 2010 | Feb. 2010 |
Since Zevalin had only been approved in the first-line setting for three out of the 14 weeks in Q3, sales attributable to the first-line setting are nominal at best. This means, sales growth under the existing refractory setting was likely responsible for most, if not all, of the 42% increase in quarter over quarter sales during Q3 which ended September 30, 2009.
During the company's November 13 conference call, SPPI reported that sales of Zevalin exceeded $2 million in October (to be reported in Q4). That represents an increase of +28% over the previous monthly average of $1.56 million achieved in Q3.
Right out of the gate, Zevalin is on track to easily surpass its previous peak of $20 to $23 million in annual sales.
CONCLUSION
It appears that doctors are taking notice of Zevalin (again). In time, I expect more doctors will adopt consolidation therapy with Zevalin for their patients.
Over the coming quarters, significant sales growth for Zevalin should be anticipated. Here's why:
Sales are now growing at a faster pace than at any time in the previous six years.
Based on Octobers results, month-over-month sales have increased sharply, about 30%.
As reported in my October 25 article, peers within the medical oncology community seem to strongly favor consolidation therapy with Zevalin as this drug works very well for most NHL patients.
PROJECTIONS
Since it was just approved for first-line use and that sales are now rapidly increasing each month, I believe sales will continue to climb in the coming quarters. Based on the significant jump in month-over-month sales, I am projecting that quarterly Zevalin sales are likely to hit $25 million (or greater) by Q2 2010.
PRICE TARGET
My 1/1/11 price target for SPPI is $23 or trading with a market value of $1.12 billion.
Disclosure: Long SPPI.