Whole Foods Market (NASDAQ:WFM) is America's first national certified organic grocer and world's leading retailer of natural and organic food. Being a leading organic retailer, the company is still under-penetrated in terms of area coverage. It is adopting an expansion strategy to increase its earnings. Due to the rising demand for natural food for healthier living standards, the company is expanding its product portfolio.
Expansion - capitalizing on rising demand
American residents are moving towards the concept of healthier living and natural food consumption, accelerating the organic food market, which is expected to growth by 12.9% annually and will become a $264 billion market by the end of 2017. This is a huge opportunity for organic and natural food providers to expand their operations in order to meet the demand requirements.
Last year, Whole Foods Market merely contributed 2% of the total U.S. supermarket sales, which depicts an enormous opportunity for this retailer to expand. With rising demand for natural and organic food and low penetration, Whole Foods' management has developed a plan to increase total store count from the current 355 stores to 1,000 in the U.S. In order to achieve this, the company has signed 50 new lease contracts over the past 12 months, amounting to a total of 94 signed lease contracts in all. As a result of these lease contracts, location will not be a constraint for the company in the future, which will allow it to open new stores at desired places.
Moving forward with its plan, Whole Foods Market expects to open 12 new stores in its fourth quarter, as compared to seven last year. This expansion is expected to contribute towards the company's top line. The management is expecting sales growth in the range of 12% to 14% in fiscal year 2014, up from this year's expectation of 11%. With the expansion plan to increase the store count, we believe the company will be able to capitalize on the growing demand for organic food, which will eventually lead towards higher earnings.
Sprouts Farmers Market (SFM) offers similar products to its customers and recently launched its initial public offerings, or IPO. On the very first day its stock price increased by 120%. With the funds collected from the IPO, the company plans to increase its store count by 12% annually. Currently, it has 160 stores in eight states, and it has a target of expanding in 13 more states, significantly increasing its coverage area. With this, analysts are expecting its earnings per share to upsurge from $0.48 by December 2013 to $0.56 by the end of fiscal year 2014.
A lucrative alliance with coffee giant
Recently, Whole Foods Market entered a partnership with Starbucks' (SBUX) subsidiary, Evolution Fresh. In September 2013, Starbucks rolled out its Evolution Fresh premium juices and Evolution Harvest snacks in Whole Foods Market stores. This will include 12 favorite Evolution Fresh juices and two exclusive organic juices, along with three Evolution Harvest snacks, enhancing Whole Foods Market's product portfolio. These products will be available in the Whole Foods Market's stores at a lower price than rival brands, which will entice people to buy these natural foods. With this deal, Whole Foods Market will be able to capitalize on the premium juice market, which is currently worth $1.6 billion.
Starbucks acquired Evolution Fresh in 2011, and plans take Evolution's fresh juice nationwide. For this, Starbucks expects to introduce its products in about 8,000 U.S. cafes and grocery stores by the end of this year. This partnership will help Starbucks accomplish this goal, by enhancing its distribution channel.
We believe the alliance between Whole Foods Market and Starbucks will be beneficial for both companies. Starbucks' organic and natural food fits the Whole Foods Market image of providing organic food to its customers.
We are bullish on Starbucks. Please read our detailed coverage: Why Starbucks Is A Lucrative Investment
Is there an upside potential?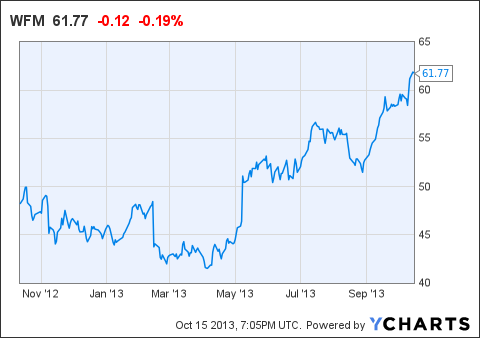 In May this year, Whole Foods Market management approved a Two-For-One stock split, bringing the outstanding shares to approximately 370 million from 185 million. Generally, after stock split activity, a company's share price downturns, but in the case of Whole Foods Market, the company's stock price increased, as evident in the above chart. As discussed above, Whole Foods Market's strong fundamentals will continue to increase its earnings, impacting its share price significantly.
| | |
| --- | --- |
| Year | EPS |
| 2009 | $0.48 |
| 2010 | $0.79 |
| 2011 | $1.03 |
| 2012 | $1.32 |
| 2013 | $1.53 |
With the five-year EPS data, including estimated EPS of $1.53 for 2013, we get an EPS CAGR of 26.09%. By applying this growth rate, we estimate next year's earnings to be $1.92 per share. With the five years average P/E of 35.3, we get a target price of $67.73 by the end of 2014. Currently, the stock is trading in the late fifties, so there is an upside for approximately 16% by the end of next year.
A stock to buy
Whole Foods Market is capitalizing on the rising trend of consumer preference towards healthier food by expanding its operations and product portfolio. Furthermore, a company with a stock split activity is typically expected to witness a downfall in its stock price, but with Whole Foods Market strong fundamentals and strong future demand requirements of organic and natural food, its earnings are expected to grow, impacting its share price. These factors make us believe this stock is a buy.
Disclosure: I have no positions in any stocks mentioned, and no plans to initiate any positions within the next 72 hours. I wrote this article myself, and it expresses my own opinions. I am not receiving compensation for it (other than from Seeking Alpha). I have no business relationship with any company whose stock is mentioned in this article.
Additional disclosure: Fusion Research is a team of equity analysts. This article was written by Shweta Dubey, one of our research analysts. We did not receive compensation for this article (other than from Seeking Alpha), and we have no business relationship with any company whose stock is mentioned in this article.