Word on the street is Best Buy (BBY) may replicate J.C. Penney's performance this year. J.C. Penney's (JCP) stock is trading currently around $7 mark, reaching the level it was trading at in the 80's. The stock is down by more than 60% in this year, due to weaker sales, failed turnaround strategy, management changes, and board resignations. A number of large shareholders, including Ackman, have sold off their stake in the company. Ackman was the biggest shareholder of J.C. Penney before selling his entire 18% stake in August this year.
We believe Best Buy, which has provided massive return of 219% year-to-date, will keep providing returns, unlike J.C. Penny. The company's turnaround strategy, Renew Blue, has proved to be a successful strategic decision over the years. Through this strategy, it was able to save $390 million in expenses and was able to make in-store space available for Samsung (OTC:SSNLF) and Microsoft (MSFT).
Best Buy is taking various initiatives to make a strong presence in the e-commerce market, especially against Amazon.com. It has been successful in dominating the e-commerce space, but Best Buy is now trying to gain market share by using competitive pricing.
New products will add to revenue
Samsung has utilized in-store space in 1,400 Best Buy stores across the U.S. since April this year to give customers a hands-on experience of its full range of mobile products. These products include smartphones, tablets, laptops, connected cameras, and accessories, and we believe this alliance will prove to be a win-win for the companies in the upcoming years. In the second quarter of 2013, Best Buy observed a 2.2% year-over-year increase in mobile phones and e-readers comps, which it attributed to the in-store space made available to Samsung.
We expect that the success of Samsung's in-store space will give further boost sales of its other products including the new HomeSync, a media center device. Samsung recently launched HomeSync, which it made available on October 6, 2013 in Best Buy stores in the U.S. for $299. Through this new device, users will able to sync and share content from their mobile devices on to their television, surf the web, and stream the content wirelessly. This Jelly Bean powered device allows the users to use Galaxy phones or tablets as a remote control, and it offers one terabyte of storage capacity.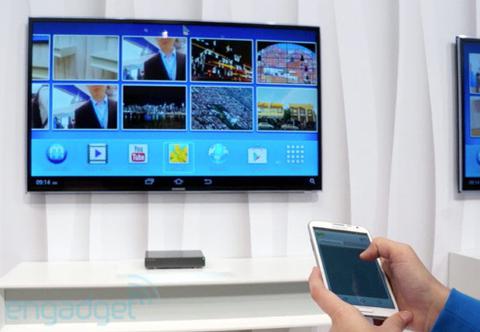 Source: engadget.com
In our view, the new product from Samsung will certainly benefit Best Buy due to the popularity of the Android platform in the U.S., which dominates with more than 51% market share. Samsung and Apple are Best Buy's largest vendors; together these two companies account for about 20% of its total sales. This could positively affect Best Buy's bottom line in the coming quarters and increase in-store foot traffic. In fiscal year 2012, 600 million customers visited Best Buy stores and 1 billion customers visited the online portal.
Also, Samsung is considering buying a stake in Best Buy in order to increase its market share in the U.S. It will also give Samsung more control over the way its products are marketed at Best Buy to further increase sales. With a stronger influence over Best Buy, Samsung will be able to match the strength of Apple's retail presence in the U.S.
Back to back console launches
Along with the device launch from Samsung, Best Buy will hold launch events for Sony's PlayStation 4, or PS4, and Microsoft's Xbox One on November 15th and 22nd respectively. Select Best Buy stores will open at midnight on both days to attract more customers in the stores. To promote the sale of these consoles, Best Buy has come up with a special promotion. If a customer trades in an Xbox 360 version of a game for the Xbox One version, they will receive a $40 gift card and a $10 trade in coupon. Through this offer, the customer will get an upgraded version of the game for only $10. We believe this will boost Xbox One sales. Microsoft expects around 1 billion units in lifetime sales for this new console. If this sales number is reached, then Best Buy will also observe an increase in revenue from gaming console sales. Moreover, Microsoft is already in partnership with Best Buy for its Windows based products, which gives it an added advantage for the sale of the gaming console.
Along with its sales in the U.S., Microsoft is focusing on China, the world's biggest gaming market, which recently ended its ban on the sale of gaming consoles. Foreign-funded companies will now be allowed to sell gaming consoles in China. Microsoft is already preparing to sell its Xbox console to Chinese gamers. In late September, Microsoft formed a joint venture with BesTV, a local Internet TV service provider in Shanghai. We believe BesTV's core business of family gaming entertainment technology, devices, content, and services will allow Microsoft to make a strong presence in the Chinese market. BesTV's business also includes game development, which will help Microsoft develop games according to Chinese gamers' preferences.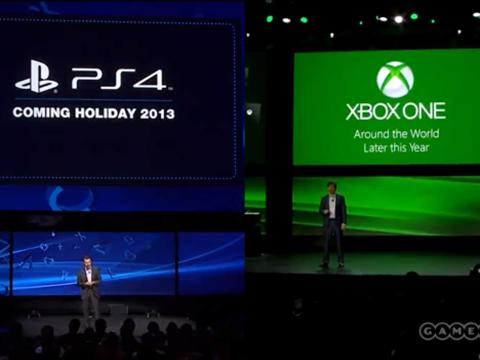 Source: businessinsider.com
On the contrary, analysts at Futuresource Consulting forecast that PS4 sales will reach 36 million by 2018, whereas Xbox One will observe only 30 million sales during the same period. Futuresource Consulting feels the PS4 is more likely to maintain its strong foothold in Japan and Europe, which are amongst the biggest markets for PS4 sales. We believe this is also due to the lower pricing of PS4, which is priced at $399.99 in comparison to Xbox One's $499.99. In our view, this won't affect the gaming console sales for Best Buy, as we expect it to come up with more offers and discounts to grab additional customer attention. Through this, it will also be able to increase store foot traffic, which will increase store sales for Best Buy and eventually increase its revenue.
Is it a buy?
Best Buy has been showing great potential lately. The stock is now up by more than 235% this year. The reason behind this is the various initiatives Best Buy has been taking, which include various partnerships and its current turnaround strategy. The upcoming events discussed above will take the stock price even further, and we are confident that it will provide excellent returns in the coming quarters.
Disclosure: I have no positions in any stocks mentioned, and no plans to initiate any positions within the next 72 hours. I wrote this article myself, and it expresses my own opinions. I am not receiving compensation for it (other than from Seeking Alpha). I have no business relationship with any company whose stock is mentioned in this article.
Additional disclosure: Fusion Research is a team of equity analysts. This article was written by Madhu Dube, one of our research analysts. We did not receive compensation for this article (other than from Seeking Alpha), and we have no business relationship with any company whose stock is mentioned in this article.