Despite the incredible rally in Gold prices over the last two months, to the tune of $200+/oz, and $3-4 in Silver Prices, many miners don't reflect the current valuations. Remember, a $200 increase in the price of gold and $3-$4 in the price of silver, can have a dramatic effect on the earnings potential and Net Profit Margins of the industry as a whole. With record profits seen in Q3, as gold averaged approximately $950-$960/oz, Q4 should attract a lot more investor interest. One reason I think the most recent quarters results were more or less overlooked was because Gold and Silver mining is essentially an emerging industry as the industry has had a poor track record in terms of profitability for more than a couple quarters at time. This is obviously changing, as central banks around the world de-base their currencies at an alarming rate. While many have companies stock prices have kept up with the rising prices in the precious metals, there is an equally sizable group who has failed to follow suit. These have tended to be the mid-tier, junior and exploration companies, providing a window of opportunity to find bargains.
While it is true, a major correction in the Dow or S&P may cause a drop in the underlying commodity prices, it is very unlikely it will come close to that seen a year ago. This is because the relative price strength in gold and silver isn't being driven primarily by a weakening USD, but rather by both a weakening USD and increasing investment demand around the world from the likes of China and most recently India (as they scooped up the entirety of the 200 metric tonnes of gold sold by the IMF). This speaks volumes to the mindset foreigners are adopting regarding the yellow metal, purchasing a vast quantity when prices are at record high. One would expect gold to have had a precipitous decline with that amount of supply being put out on the market, instead of what really happened (gold rallying $25/oz that very same day). In short, the dynamics for precious metals are changing as their in an increasing amount of worldwide investment demand, that will only gain momentum as inflationary pressures start to plague many industrialized nations over the coming years.
Getting back to the topic at hand, a handful of high quality mining equities have been trading sideways or marginally higher relative to where they were 2 months or $200/oz ago. Some notables include:
Agnico-Eagle (NYSE:AEM) - Sure the quarter looked ugly at first glance, but the losses incurred were primarily just on paper. AEM, actually maintained 2011-2015 guidance (where the trek from 1 to over 2m oz per annum is to be achieved). They have cash costs that remained towards the bottom of the industry and flagship operations in very mining friendly countries.
Yamana Gold (NYSE:AUY) - Finally turned in a great quarter in which they actually met expectations, yet they seemed not to recognize their 317k/oz of production, cash costs of approx $350/oz and their 16% quarter over quarter growth at El Penon and more importantly, their growth engine for the next few quarters, Gualcamayo, increased production 61% sequentially, while bringing in lower than expected cash costs.
El -Dorado (NYSE:EGO) - while this company has seen a nice appreciation in there stock price, the degree to which is lower than warranted. Like Agnico, El-Dorado also has below industry average cash costs, not to mention the brilliant acquisition of Sino gold ( which was/is the largest gold producer in China).
Red-Back Mining (OTC:RBIFF) - After increasing proven reserves 32% in September, followed by an additional increase in total resources by 20% in November, at what now is considered a world class mine at Tasiast, Redback has also seen a nice appreciation in their stock price, but like El-Dorado and the others, fails to reflect both the high quality mines, nearly 200 million in net cash and record gold prices.
Jaguar Mining (NYSE:JAG) - With an unparralled growth profile, which continues to remain on track, this is one emerging junior, I would have expected to finally break out. Yet it still is in the same trading range it was when gold was $920-$960, which is both frustrating but also provides an opportunity to accumulate additional shares. It has increased their potential peak production target, yet unlike IAM Gold (mentioned below), still isn't reflected in the sub 900 million market capitalization.
Coming to the Royalty Companies, one stock in particular has also failed to participated in the two month long rally. While Silver Wheaton (NYSE:SLW) and Royal Gold (NASDAQ:RGLD) have seen an appropriate appreciation in the price of their common stock, Franco-Nevada (FNNVF.PK), like Jaguar is stuck in the same trading range it was when gold was trading between $920-960/oz. Making this an opportunity for more conservative investors who desire exposure to the precious metals with a reduced amount of risk.
Aurizon Mines (AZK) - Another junior miner who stock price has been rather stagnant, relatively speaking.
I have personally bought several at the money GDX puts, expiring march 2010, in the case that gold should drop $100-150/oz in by expiration, at which point I could use the profit derived from the GDX hedges to further increase my positions.
I will be waiting waiting for the next earnings season, which will show a dramatic increase in industry profits ( assuming prices trade in the $1000-$1160 range seen so far in Q4).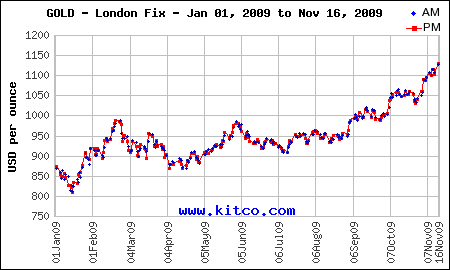 So far in Q4 - Gold Prices have averaged approximately $1078 (which includes the Nov 25th as it is currently at $1160/oz in Asia). This is more than $100/oz higher than the previous quarter.
Click her for a chart comparison with IAM Gold
Disclosure: Long AEM Calls, AUY , RBIFF.PK , FNNVF.PK, EGO CALLS, JAG