The deal that the market was expecting yesterday fell through and the deal which was supposed to replace it, originating from the House, then failed to garner the votes to pass and thus the vote was shelved before anyone could vote on it. This morning all indications are that the leadership of both parties in the Senate will meet to try to hammer out a deal as they now race against the clock. This is a complete mess, to say the least, but someone needs to come up with a plan and at least have a vote. At the very least a one paragraph bill should pass that simply states that the debt ceiling will be raised to an amount which would allow a month or two for further negotiations while also reopening the government.
Europe is lower today, but U.S. futures are higher as investors appear to be betting that a deal is reached before the clock runs out. We are generally always optimists, but right now we have lost a lot of faith in the system and have worries. If a deal is not reached before the trading session is over, or at least rumored to be close to completed, watch for a sell-off as investors seek cover from what could turn out to be a mess.
With all that is happening in Washington there is little corporate news out there, however today we want to focus on JC Penney (NYSE:JCP) and Best Buy (NYSE:BBY) in the retail sector as a lot are expecting a turnaround to occur at the department store and also revisit the discount brokerage names we have discussed recently including Charles Schwab (NYSE:SCHW), Ameritrade (NASDAQ:AMTD) and E-Trade (NASDAQ:ETFC).
Chart of the Day:
The latest drama out of Washington has weakened the U.S. Dollar and in Euro terms we are seeing it trade very near the yearly lows. Watch more seek refuge in the Euro if a deal cannot be reached. Our bet is that the trade has run its course, but it still needs to be recognized after such a move.
Click to enlarge
(Click to enlarge)
Source: Yahoo Finance
We have economic news today and it is as follows:
MBA Mortgage Index (7:00 a.m. EST): Est: N/A Actual: 0.3%
NAHB Housing Market Index (10:00 a.m. EST): Est: 57
Fed's Beige Book (2:00 p.m. EST): Est: N/A
Asian markets finished mixed today:
All Ordinaries -- up 0.10%
Shanghai Composite -- down 1.81%
Nikkei 225 -- up 0.18%
NZSE 50 -- up 0.23%
Seoul Composite -- down 0.31%
In Europe, markets are trading lower this morning:
CAC 40 -- down 0.85%
DAX -- down 0.16%
FTSE 100 -- down 0.49%
OSE -- down 0.38%
A Tale of Two Retailers ...
There are many investors out there who think that JC Penney is poised to be the next Best Buy as soon as they get a new leader to come in and reconfigure the ship. Best Buy was a great story which had a timeline and certain events which simply came together at precisely the correct time. That is not the case right now with JC Penney and the stock price action continues to demonstrate that, with shares falling another 8.89% yesterday to close at another new multi-year low, 31 year low, of $7.17/share on volume of 72.96 million shares.
It is somewhat ironic how two poorly run companies took two separate paths earlier this year. As one started its recovery the other began its path into intensive care. No matter how cheap JCP gets in the next few sessions, just remember one thing - it is not cheap enough.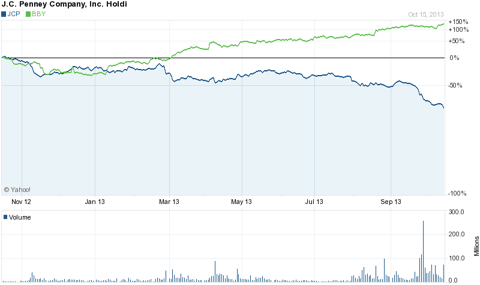 Click to enlarge
(Click to enlarge)
Source: Yahoo Finance
Many on Wall Street are turning positive on the name as they figure it is bottoming, but this same logic was being deployed when shares were double the current price. There still is no timeline for when sales trends are going to turn positive as a whole and the company lost out on their top target the other day when she decided to join Apple in a newly created position. There is a lot of similarities one can draw between Best Buy's recent turmoil and JC Penney's current issues, but an imminent turnaround is not one of them and those trying to time this thing are fooling themselves.
Warren Buffett did have good things to say about the retailer today, but even he admitted that it was going to be a long, tough road ahead. If Mr. Buffett is of that opinion, and not a buyer, then neither are we.
Discount Brokers' Shares Seeing Price Markups
Readers will remember U.S. going bullish of the discount brokerage industry just before this last run as we highlighted the opportunity that existed in shares of Charles Schwab and Ameritrade Holdings - two of the largest and best run discount brokers out there. We have watched as the two helped consolidate this industry into just a handful of large brokers and created some price stability while cutting out a lot of the overhead that bloated the system. Later we added E-Trade to the mix as their business has turned for the better and the company appears to have placed their past issues firmly behind them.
Schwab saw shares rise after beating with their quarterly earnings and reporting a solid outlook. When your company can beat on revenue these days you know you are in a sweet spot, and the discount brokers certainly are right now.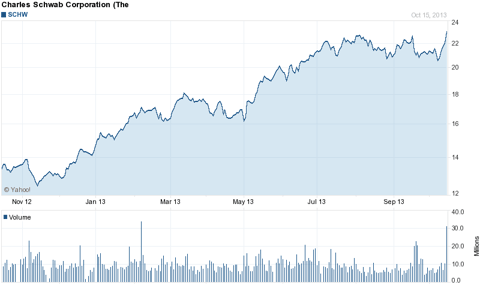 Click to enlarge
(Click to enlarge)
Source: Yahoo Finance
The market has continued its march higher and the volatility created by the elected officials in Washington has only added to trading in retail investors' accounts. We suspect that trading activity will show a nice uptick when brokers report their quarterly results over the next two quarters due to this and are also encouraged by the continued inflows of new cash into accounts. When looking at the industry, E-Trade is still somewhat of a turnaround story but both Schwab and Ameritrade offer great franchises with solid fundamentals driving their numbers. We continue to believe that one wants to be long the discount brokers during this bull market.
Disclosure: I have no positions in any stocks mentioned, and no plans to initiate any positions within the next 72 hours. I wrote this article myself, and it expresses my own opinions. I am not receiving compensation for it (other than from Seeking Alpha). I have no business relationship with any company whose stock is mentioned in this article.