By Stephen Ellis
After 75 years of tight state control, the Mexican government has finally signaled that it will loosen the shackles on Pemex, long considered one of the most poorly run national oil companies in the world. Pemex's struggles during the past decade--including falling reserves and production, a bloated employee base, and a poor capital position--have finally reached a breaking point, and Mexico is pushing through a series of reforms that will enable a much more promising market. Unfortunately, the forthcoming secondary laws are critical to seeing just how attractive the new investment environment in Mexico will be, but we think it is important for investors to understand which firms are the best positioned to benefit in the case of a favorable outcome.
Why Are Changes Needed?
Mexico nationalized its oil sector in 1938, and Pemex was created as the sole oil operator in the country. With more than $120 billion in 2012 revenue, Pemex is one of the largest national oil companies in the world and one of the largest customers for the oil-services industry. The firm controls every aspect of oil and gas production in Mexico and is a source of nationalistic pride for many Mexicans while contributing roughly 30%-40% of Mexico's tax revenue. However, the huge tax burden has been crippling for Pemex; in 2012, taxes were almost $70 billion, more than 50% of Pemex's revenue, which has greatly limited its ability to develop new resources. We view Pemex as starved of capital as well as deficient of oil and gas expertise. Pemex is also, in our eyes, one of the most poorly managed national oil companies in the world.
Key Pemex Statistics Versus a Typical U.S. Firm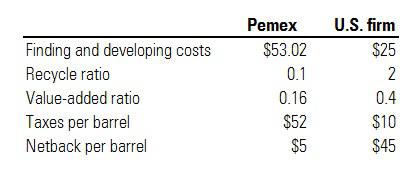 Note: All Pemex numbers are five-year averages from 2008-12. Finding and development costs measure per-unit capital outlays for adding new reserves (a lower metric is better). The recycle ratio measures the incremental return on pretax capital that an E&P is generating for every unit of oil or gas produced. The value-added ratio measures the discounted cash-on-cash return for the reserves additions during a given year. All measures exclude revisions.
Source: Morningstar estimates
The challenges for Mexico and Pemex have gradually increased, particularly over the last decade. Crude oil production peaked in 2005 at 3.5 million barrels per day and stood at 2.6 million bpd at the end of 2012. The bulk of the decline can be attributed to production declines at the offshore field Cantarell, which produced 2.1 million bpd in 2004, but now produces 380,000 bpd. Replacing Cantarell's losses has been difficult, as the high-profile Chicontepec field is yielding only 65,000 bpd after a $9 billion investment and remains well short of the operator's 300,000 bpd goal. Pemex is also pursuing a risky deep-water drilling program in the Gulf of Mexico despite its lack of deep-water expertise. Since 2006, it has invested about $2 billion-$4 billion in 25 wells with only limited success to date.
Pemex's issues go deeper than poor exploration results given its tight government control. Pemex's CEO is appointed by the Mexican president, the Energy Ministry chairs its board of directors, and the Finance Ministry controls its budget. The company's exploration and production division generates substantial profits, but its refining and petrochemicals losses more than offset its earnings, in part because of government price controls. The firm's pension liabilities are almost $100 billion, its oil output per worker is well short of its international counterparts, and it has to grapple with one of the oil and gas industry's most powerful unions. In short, we see this as a situation that is ripe for change. Otherwise, if things remain as they are, Mexico is likely to become a net importer of oil by the end of the decade.
What Changes Are Being Considered?
Change has happened slowly at Pemex. In 2008, Mexico pushed through legislation designed to stem the production declines, which included creating a National Hydrocarbon Agency to increase oversight of the firm. The reforms also let Pemex create incentive-based contracts for services companies to increase production, and we've seen a number of awards to integrated-services firms, but without letting foreign companies own reserves, they were unable to attract interest from the oil and gas majors.
In August 2013, the Mexican government announced that it planned to pursue far broader reforms. These changes will specifically address two key issues enshrined in the constitution that have thus far remained untouched: the inability of the government to grant private-sector concessions (or reserves ownership) or production-sharing contracts, and the designation of the oil and gas sector as a strategic market for Mexico, which places it under government control. We expect the reforms to pass, but the key details of the reforms will be clarified in the secondary laws, which will be passed later. We believe the clarity of the secondary laws will ultimately determine whether the energy reforms are truly successful rather than being a repeat of 2008.
Key Reform Elements Under Consideration
Booking of reserves. We believe this is the key element that has kept the majors out of Mexico. The ability to book Mexican reserves on their balance sheets is of great importance to value creation for investors and firms. Mexican citizens, however, have equally strong views about retaining Mexican ownership of the oil and gas.
Contract types. The oil and gas majors prefer production-sharing agreements over profit-sharing arrangements given the more attractive economics. As it appears that direct oil and gas ownership is unlikely, the contractual details of the profit-sharing agreements will be critical to determining whether the SEC will allow the reserves to be booked. For example, the oil and gas companies were able to book Iraqi reserves on their balance sheets despite the lack of direct reserves ownership.
Cost recovery. The portion of costs that the oil and gas companies are entitled to recover before they have to share production or profits with Pemex.
Governance. Will Pemex provide oversight or will it be a to-be-named commission? The integrated-services companies have struggled in the past with poor Pemex communication, as prior contracts paid them on the number of wells drilled rather than well productivity, which led to lower-than-expected production levels for Pemex.
Fixing Pemex. Issues up for discussion include cracking down on corruption at Pemex, creating a fund to better manage Pemex's profits, and reducing Pemex's tax burden. The reforms suggest that profits for Pemex could be $7 billion-$9 billion by 2015, because of an improved tax structure. Simply breaking the Pemex monopoly over oil and gas in Mexico should force the company to become more efficient and productive.
Pemex 2.0. There are also plans to create a separate company (Pemex 2.0) to enter into private contracts with the majors for tight oil and gas work, in order to create a leaner and more agile company because of the widespread belief that Pemex's problems are impossible to fix.
What Pemex has belatedly recognized is that in order to pursue the tight oil and gas and deep-water reservoirs that it has available, it needs more resources and technical expertise. Pemex's efforts have focused on conventional oil and gas reserves and shallow water (it is one of the largest employers of jackups in the world), and it has no experience with successfully exploiting deep-water or tight oil and gas plays. The firm can hire top-tier services companies to perform the work, but there is a level of direction and oversight required to ensure the wells are drilled in in the best location and in the most efficient manner, which Pemex does not have. The U.S. Energy Information Administration has estimated that Mexico has 681 trillion cubic feet of technically recoverable tight gas reserves, which is the fourth-largest total in the world. Most of the reserves are contained within the Burgos basin, which contains part of the Eagle Ford play. Furthermore, the company has estimated that the Mexican side of the Gulf contains 27 billion-30 billion barrels of prospective deep-water reserves. We estimate that these prospective reserves could translate into 3 billion-4 billion barrels of proved reserves for Mexico, similar to the 3.4 billion of proved deep-water and ultra-deep-water reserves that the EIA estimates are on the U.S. side of the Gulf of Mexico. Finally, there are also water challenges to consider: Mexico City suffers from tremendous water shortages and quality issues, and that's without the widespread usage of modern hydraulic fracturing techniques, which can use millions of gallons of water per well and place further stress on the region.
Where Are the Opportunities?
We think the firms best positioned to benefit from any increase in demand for oil services and rigs in Mexico are Baker Hughes (NYSE:BHI) (11% of revenue from Latin America), Halliburton (NYSE:HAL) (13% of revenue from the region), Schlumberger (NYSE:SLB) (18%), and Weatherford International (NYSE:WFT) (20%). Each of these companies will be providing the needed crews, equipment, technologies, expertise and experience with fracturing tight oil and gas reserves to Pemex and any other private companies interested in the newly opened market. We believe there is considerable upside potential for the oil-services industry, especially given the relatively untapped nature of Mexico's tight oil and gas reserves onshore, as well as its deep-water efforts. Both areas have suffered from Pemex's lack of experience and inadequate resources. We can see Pemex's struggles by simply comparing the number of active rigs in the Gulf of Mexico and onshore that are employed in Mexico versus U.S. waters. The differences are starker when it comes to the onshore rig count. The Eagle Ford play in Texas, currently employs 234 active rigs, while all of Mexico has just 68 active rigs. And Mexico has yet to pursue any serious attempts at tight oil and gas drilling, while U.S. drillers have drilled thousands of wells.
If the initial reforms are successful, and the secondary laws include favorable terms for the oil and gas majors, we think there is considerable upside to Mexican drilling activity levels and spending within the next 10 years. In an admittedly bullish scenario, we estimate that about 195 incremental rigs of various types could drill and complete almost 2,400 new wells per year, driving about $42 billion per year in new spending. This scenario illustrates the resources challenges Pemex faces, as its 2013 E&P spending budget is only about $20 billion. As a result, we believe the majors would need to step in with the necessary capital for the venture to be a success. These numbers would put Mexican drilling levels much closer to U.S. drilling activity levels.
In short, an incremental $42 billion of oilfield spending per year translates into a sizable oil-services opportunity. We estimate about $16 billion of new oil-services spending per year, and if the four major oilfield players split up 75% of the spending, we think it could mean fair value estimate increases of 5%-25%. We assume 20% operating margins, which are higher than recent industry results because of the complexity of the work, and we expect the industry to obtain some scale efficiencies from successfully placing a large amount of equipment and crews at high utilization levels.
At this level of profitability, the fair value increases range from around 5% for Schlumberger to over 60% for Weatherford. While Weatherford seems the most attractive candidate, we note that its internal struggles over taxes, its in-progress reorganization, and its debt load likely prevent it from chasing new Mexican work to the same extent it has in the past. Instead, we'd highlight Halliburton and Baker Hughes as companies with meaningful upside from a fair value estimate perspective. We also think they are much better positioned than Weatherford from a financial and organizational standpoint to deploy capital in the region to win any new work.