When everyone is building, make sure you're the one selling them hammers.
It's a fundamentally sound proposition to invest in the suppliers that enable a product or process and gain access to a lesser-known and generally more undervalued sector. In today's economy, we have a similar situation brewing in materials and commodities.
A highly cyclical sector, materials and commodities have seen more than their fair share of pain this year. A quick look at how miners have suffered compared to the S&P 500 tells the story. Tracking the SPDR S&P Metals and Mining ETF (NYSEARCA:XME), we see where it has underperformed by around 16%, whereas the S&P 500 has outperformed by around 20%.
When a cyclical industry bottoms out though, it's exactly where we see value investors seeing opportunity. Buying into such a sector when it's at its most unpopular means that the maximum profit potential could be realized. We've seen some evidence that miners are starting to turn the corner, which means that capital expenditures on mining equipment, which have suffered in the past couple of years, should begin to grow.
Equipment manufacturers have been knocked down to very attractive price levels and stand to profit the most from a mining resurgence. Companies like Joy Global (NYSE:JOY), Caterpillar (NYSE:CAT), and Deere (NYSE:DE) are primed for the cyclical turnaround.
(Click to enlarge) (Source: Zacks)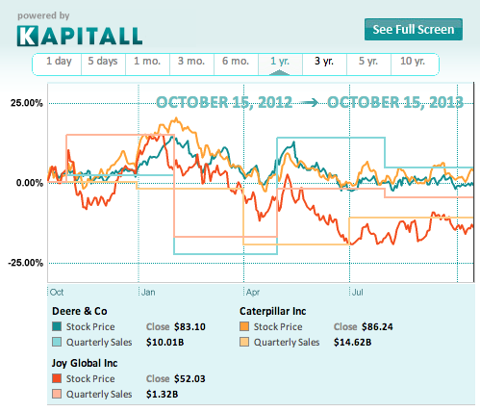 According to a report by Transparency Market Research, "the global mining equipment market is expected to reach $117.0 billion by 2018 from $71.5 billion in 2012 at a compound annual growth rate of 8.5% from 2012 to 2018."
The growing emerging markets in Latin America and East Asia continue to grow as China's industrial prowess shifts to these new markets, which should support the industry over the next decade.
Joy Global is a $5.5 billion dollar manufacturer of equipment and aftermarket parts for mining companies in industries like coal, copper, iron, oil, gold, and more. A soft mining market has caused revenues, earnings, and backlog to drop and reflects in their -22% stock performance year-to-date. However, the company has beaten earnings for the past four quarters and taken measures to cut costs and improve efficiency.
The discount Wall Street has given Joy gives it an attractive valuation with a recent P/E of just 7.6. Future growth expectations give the company a PEG of 0.74. The deep discount is hard to justify for the long term, given the extremely cyclical nature of the mining industry, which is already beginning to show some growth. Joy has also instituted a $1 billion dollar buyback program, which will significantly reduce the amount of outstanding stock available and could help boost the stock price.
The giant mining and industrial equipment manufacturer Caterpillar has a market cap of over $54 billion and has been a long standing member of the Dow Jones Industrial Average even though it's suffered this year. Like Joy, Caterpillar has seen sales decline and lowered expectations due to high inventories and taken similar cost-cutting actions.
Investors are discounting Caterpillar to the tune of a recent 13.1 P/E and a PEG of 0.66. The company's dividend yield of almost 3% may have helped stymie the falling stock price because the stock is only down about 4% year-to-date. In similar fashion to its competitor Joy, they have also announced a $1 billion dollar buyback. This accelerated stock repurchase stacks with an earlier $1 billion dollar buyback bringing the total to $2 billion for 2013.
Deere is a $31 billion dollar construction and machinery manufacturer with a strong tie to agricultural commodities and may serve as an example for investors in Joy and Caterpillar of how a cyclical industry can turn around. Deere's quarterly earnings growth of over 29% and its $40 million investment for tractors in Brazil slated for 2015 shows promise for the company going forward.
The company increased its dividend by over 10% from last year giving them a yield of 2.5%. Deere is deeply discounted with a P/E of 9.5 mainly due to highly anticipated volatility throughout the rest of 2013. The recent acquisition of Bauer Built Manufacturing caused a small pop in the stock price, with the expectation of accelerated growth in Deere's planting business.
All three equipment-manufacturing companies face a challenging environment for the rest of 2013, going into 2014. The mining industry is just getting back on its feet and new orders won't be expected to pick up for the next few quarters. So any volatility in the stock prices may provide some value opportunities for investors before this cyclical industry turns north again.
(Click to enlarge) (Source: Zacks)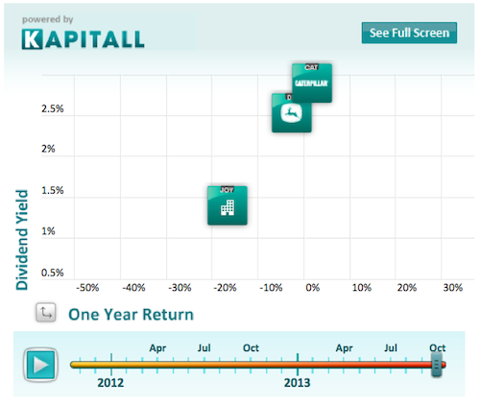 Disclosure: I have no positions in any stocks mentioned, and no plans to initiate any positions within the next 72 hours.
Business relationship disclosure: Kapitall is a team of analysts. This article was written by Daniel Cross, one of our writers. We did not receive compensation for this article (other than from Seeking Alpha), and we have no business relationship with any company whose stock is mentioned in this article.