Wells Fargo (NYSE:WFC) shows continued strength in operating and financial performance in its third quarter results. Wells Fargo's net earnings in Q3 2013 stood at $5,578 million: Up 13% y-o-y and up 1.7% q-o-q. Diluted EPS increased to $0.99 in Q3 2013 compared to $0.88 in Q3 2012 and $0.98 in Q2 2013.
Overview
Wells Fargo has leading market positions in a variety of businesses: It is number one mortgage originator, number one commercial real estate originator and number one small business lender. Strength in multiple service lines lead to revenue diversification that ultimately helped Wells Fargo to come through the financial crisis way better than other financial companies. Wells Fargo also continued to increase its capital ratios (a move we see across the sector): In Q3 2013 the Tier 1 common equity Basel 1 ratio stood at 10.64% and the estimated Tier 1 common equity Basel 3 ratio at 9.54%. Wells Fargo also profited from continued loan growth (+4%) and deposit growth (+5.2%) compared to the same quarter last year. Well Fargo was also able to release $900 million in reserves: This is an immediate reflection of a healthier housing market and stronger credit performance which can be seen sector-wide for several years now. In the third quarter Wells Fargo also continued its extensive shareholder repurchase program: It repurchased 50.9 million common share in the 3rd quarter with another $400 million repurchase transaction scheduled for the 4th quarter.
Strong financial performance
When it comes to the evaluation of banks I pay particular attention to three developments: deposit-and loan growth as well as credit- or charge-off trends. All of these themes cut to the essence of a banking franchise: Taking deposits from customer and using them to originate loans. The credit history allows an assessment of the bank's underwriting discipline.
Deposits
Deposits are the source of loan growth. Average deposits in the third quarter 2013 rose to $1,025.6 billion and are up $79.1 billion from $946.5 billion in Q3 2013: An increase of 8.4% in just over a year. Wells Fargo is one of the strongest deposit-catching large-cap banking franchises out there. Its average core checking and savings were up 6.7% ($55.7 billion) y-o-y to $892.9 billion.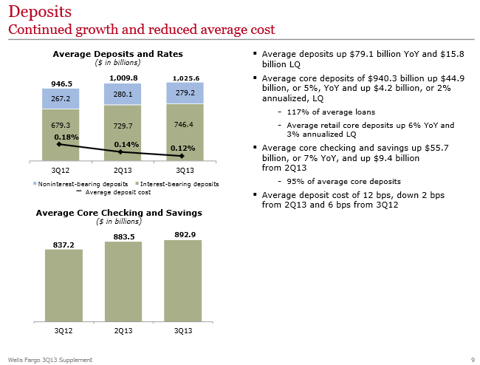 Loan growth
Wells Fargo's Q3 2013 loans outstanding were $812.3 billion which compares to $782.6 billion in Q3 2012: An increase of $29.7 billion or 4% y-o-y. Wells Fargo's current average loan yield stands at 4.41%. Wells Fargo's loan growth extended over a variety of product groups with Mortgages and Asset Backed Finance contributing the most. Improving credit conditions and rebounding asset prices are likely to support this development in the coming quarters.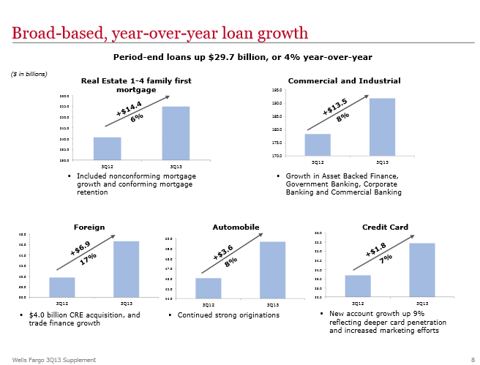 Credit trends
Determining the credit quality of a loan book allows investors to estimate future provision expenses and provides a better understanding of reserves. Wells Fargo's provision expense history over the last five quarters suggests that the provision peak occurred in the fourth quarter of 2012. Provision expenses have come down sharply since then: Expenses were down $577 million just since last quarter. In the second quarter 2013 Wells Fargo release $500 million of reserves which compares to $900 million in the third quarter and indicates that the company is experiencing a fundamental turn in credit quality and had over-reserved in the past. Net charge-offs for the third quarter 2013 amounted to $1 billion compared to $2.4 billion in the same quarter 2012: A minus of $1.4 billion or 58% y-o-y.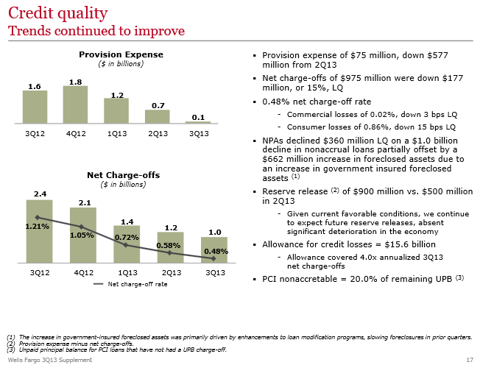 Share performance
Wells Fargo has been a strong performer over the last years. It's performance is deserved due to its intelligent business diversification, large branch footprint and superior performance results. Wells Fargo has returned 30% over the last five years. Goldman Sachs (NYSE:GS) has gained 38% and J.P. Morgan (NYSE:JPM) 33%. Bank of America (NYSE:BAC) is still in super red territory with a return of minus 39% and Citigroup (NYSE:C), too, with minus 67%. Not surprisingly, Bank of America and Citigroup offer especially outsized return potential simply because of the broader scope of value destruction during the financial crisis. It should be noted that the above mentioned returns for the financial firms relate to the most recent five year period which includes the stock market lows from 2009. The true rebound returns since 2009 are therefore understated.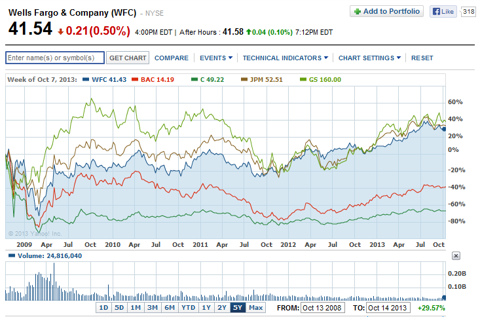 Valuation
The large-cap banking sector remains undervalued. Though Citigroup and Bank of America recouped performance over the last two years their stocks remain cheap at forward P/E ratio of nine and 10.50. Citigroup has the worst five year performance due to its high charge-off history but also provides investors with an asymmetric pay-off profile. Wells Fargo has come through the financial crisis fairly well mainly because of its comparatively high credit quality. Wells Fargo presently trades at 10.4 times earnings which is way too low given the healthy growth rates in deposits and loans.
Summary
Wells Fargo has outperformed its peers during the financial crisis. It retains market leading positions in mortgages and business lending. Wells Fargo's branch footprint is unrivaled with over 9,000 branches across the United States. More than 70 million customers use Wells Fargo for their banking and lending services. It just reported another record quarter with respect to earnings and an outstanding (and market-leading) return on equity measure of 14%. Well's Fargo is likely to profit from future reserve releases and growth in mortgages and business- and auto lending. Strong growth in deposits and loans and declining net charge-offs are supporting these developments. Wells Fargo's allowance for credit losses stands at $15.6 billion in the third quarter 2013 which covers the annualized Q3 2013 net charge-off by a factor of four and could make future reserve releases quite substantial. With market leading positions in its core markets, a very healthy balance sheet and a low valuation of just above 10 times earnings Wells Fargo is a strong long-term Buy. Just like Warren Buffett said.
Disclosure: I am long WFC, BAC, C. I wrote this article myself, and it expresses my own opinions. I am not receiving compensation for it (other than from Seeking Alpha). I have no business relationship with any company whose stock is mentioned in this article.