Stocks, on average, appear to be fairly valued at the moment with risk premiums that are in line with growth expectations. Exceptions do exist both in sectors and with regard to individual stocks. The financial sector still seems undervalued as companies have not yet returned to their core earnings power with normalized provision expenses. The basic materials sector offers a few great bargains (for instance here and here) because commodity prices reflect fears about China's slowing growth. Potash Corp. (NYSE:POT) and Mosaic (NYSE:MOS) for instance got thrown off a cliff because a competitor firm announced it will leave the potash cartel, which could impact industry profitability. Uncertainty creates opportunity.
Thesis and causes of mis-pricings
Undervalued companies can be found in a variety of sectors but the reason for their mis-pricings often lies in short-term operational problems, fear-driven selling and an absence of confidence in the business model and future earnings. When a firm produces negative short-term results investors tend to lose confidence very quickly and write their long-term investment thesis off quite brutally. A classic example of representative bias is when investors assume that negative industry conditions or earnings will persist or a company has lost its competitive edge once and for all. Into the representative bias feed the availability and confirmation biases. The availability bias essentially stipulates that investors only consider the most recent information (which may be bad) and base their investment decision only on such short-term information. The confirmation bias then tempts investors to only pay attention to facts that are in harmony with their preconceived opinions. Investors who apply a contrarian strategy can often find great value when confidence plunges. One of those companies that were said to be dead is Alcatel-Lucent (ALU), a communication equipment manufacturer and core holding of mine for one and a half years.
Business model transformation still misunderstood
The investment thesis is contrarian in nature. Deep-cutting operational problems, restructurings or even business model transformations offer opportunity for investors who believe that stakeholders come together and find solutions to advance their common interests.
In June 2013, Michel Combes, CEO of Alcatel-Lucent, launched the Shift Plan, which laid out a transformational change in Alcatel-Lucent's business model. Instead of positioning itself as a telecoms generalist the company aims to become a specialist in IP Networking and Ultra-Broadband Access with a strengthened focus on its cloud business.
Alcatel's press release on October 1, 2013 summarized the key themes of the transformational move:
At the center of this work is Alcatel-Lucent's CloudBand™ solution -the industry's first open, multivendor NFV management platform enabling service providers to bring the benefits of the cloud to their own networks and business operations while offering cloud services with the security, reliability and quality enterprises and consumers expect from telecommunications networks.

In addition, Alcatel-Lucent is moving major parts of its portfolio to the cloud. By doing this heavy lifting, Alcatel-Lucent is both creating a path to NFV technology and giving service providers choices on which key network services to deploy to the cloud.
In a more specific press release on October 8, 2013 the company detailed its ambitions to reduce costs and adjust & streamline R&D investments to restore its competitiveness. Alcatel intends to do so by shaving Euro 1 billion off the cost structure by the end of 2015. Specifically, Alcatel plans the following cost control and redirection measures:
Reallocating R&D investment to next-generation technologies which should represent 85% of R&D spend in 2015, as opposed to 65% today
Reducing R&D spend in legacy technologies by 60%
Reducing administrative, sales and support functions to bring SG&A costs in line with industry standards
Alcatel also intends to cut approximately 10,000 jobs worldwide by the end of 2015. 4,100 jobs in Europe/Middle East/Africa, 3,800 jobs in Asia Pacific and 2,100 jobs in the Americas will be affected.
Scale and scope of the Shift Plan are fairly aggressive and underline management's commitment to turn Alcatel-Lucent around. A transformation to a cloud-based approach positions Alcatel-Lucent in one of the most attractive growth markets in the technology sector. The cloud computing market is expected to hit 3.25 times the 2010 market volume in 2015.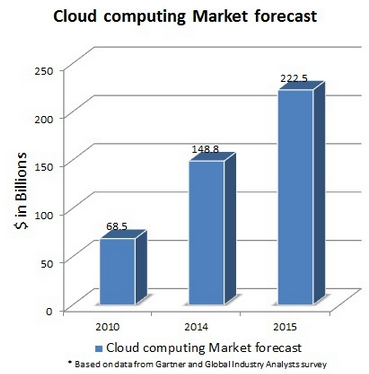 Alcatel-Lucent exhibits top-in-class innovation capabilities
The market still underestimates Alcatel's innovation track record and chances that the intended business transformation will be successful. Alcatel-Lucent is ranked by Thomson Reuters and MIT as one the most noteworthy innovators in the tech space. In 2012, Alcatel made it on Thomson Reuters' Top 100 Global Innovators list and on MIT Technology Review's 2012 Top 50 list of the "World's Most Innovative Companies." Alcatel's innovation record speaks volumes about its competitive edge and adaptability to changing industry conditions.
Catalysts
Huge value for Alcatel-Lucent comes from the Chinese mobile market. China's mobile data services market grows by 50% per year, which makes the country hugely attractive for network equipment makers. In September China Mobile picked Alcatel's lightRadio small-cell technology for China's high-speed mobile 4G broadband network, which will allow Alcatel-Lucent to access the lucrative Chinese mobile market. The total contract value of $3.2 billion is split over nine vendors and I estimate Alcatel's share of the total contract to be around $350 million.
Microsoft (NASDAQ:MSFT) recently purchased Nokia's (NYSE:NOK) device unit for $7.2 billion. I have previously written about Nokia stating that the company is still an attractive rebound play because of its large cash value per share post transaction. The question is whether Nokia will deploy cash to pay down debt, remunerate shareholders or pursue acquisitions. Alcatel with its year-long history of net losses and negative operating cash flows certainly lends itself as a target for acquisitions. Alcatel still sits on outstanding patent value that could be worth a few dollars a share to the right acquirer. Nokia's share price increase in the wake of Microsoft's acquisition has shown that confidence and value can return quickly to beaten down stocks. Alcatel could be no different.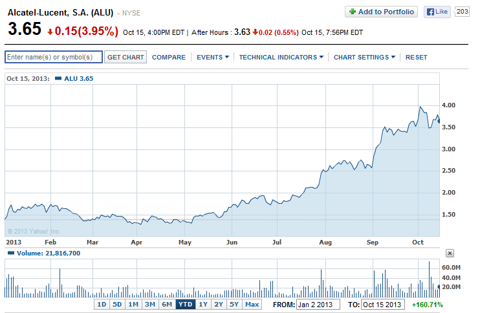 Summary
A transformational change in the business model towards an outperforming cloud segment, deep-cutting R&D spending adjustments, a consolidating industry and recently increased M&A activity in the sector could further increase momentum for Alcatel's shares. Other catalysts relate to Alcatel's recent participation in the roll-out of China Mobile's nation-wide 4G broadband network and possible follow-up contracts. Alcatel's contract win signals that the company is clearly up to its task and is still considered as a top-notch equipment supplier in the market place. Alcatel's operating losses and cash flows could make it an acquisition target for cash rich buyers who seek to consolidate market share or access Alcatel's intangible assets, which could be worth more than book value to the right acquirer. Major new contract wins or a buyout offer could seriously affect Alcatel's share price. Microsoft's Nokia transaction has shown that rapid share appreciation in beaten down stocks is possible: Nokia shares are up 73% since the transaction announcement in early September. Since I am awaiting further meaningful impulses to Alcatel's business I am going to hold on to my shares with a price target of $7 per share.
Disclosure: I am long NOK, ALU, POT, MOS. I wrote this article myself, and it expresses my own opinions. I am not receiving compensation for it (other than from Seeking Alpha). I have no business relationship with any company whose stock is mentioned in this article.