I'm bullish on Insight Enterprises, Inc. (NASDAQ:NSIT). I think there is substantial upside potential and limited downside potential. For fiscal 2015, I am forecasting revenues in the $5.14 billion to $6.3 billion range, which could mean 20% to 47% upside given the current price/sales valuation. I apply a valuation of 0.2 times sales; the current valuation is 0.16 times sales. CDW Corporation (NASDAQ:CDW), a peer company, is trading at 0.32 times sales.
The risks to my outlook are continued sluggish large enterprise expenditures (revenues below the conservative forecast), price/sales multiple contraction, and the share price declining to $16.50 or lower. The initial risk is about 15%, but could realistically decrease to about 5%.
When I look at the revenues forecasts and the realistic reward/risk ratio of 4:1 to 10:1, this investment is almost a "no-brainer."
Valuations
In this section, I will forecast revenues for Insight and CDW, a peer company and competitor. Insight turns out to have excellent investment potential.
For fiscal 2013, the model forecast revenues between $4.692 billion and $5.745 billion; trailing revenues suggest the model is accurate for fiscal 2013. For fiscal 2015, revenues are expected to be in the $5.14 billion to $6.3 billion range. Lastly, $5.77 billion to $7.13 billion is the fiscal 2018 forecasted revenues range.
The current market capitalization is $856.24 million and the TTM price/sales ratio is 0.2. Applying the 2015 revenues forecasts to the current price/sales ratio, I would get a 20% to 47% return on investment. The CAGR range would be 9.57% to 21.29%.
The revenue estimates are conservative estimates; the CAGRs depend on the valuation remaining the same and the revenues forecasts. A risk to the forecasts is large enterprise expenditure remaining sluggish.
Moving on to CDW's forecasts, $8.96 billion to $10.6 billion is the 2013 revenues forecast. The 2015 revenues forecast is $10.3 billion to $12.1 billion. Lastly, $11.54 billion to $13.64 billion is the 2018 revenues forecast. These also are conservative revenues forecasts.
CDW's current market capitalization is $3.28 billion and the TTM price/sales ratio is 0.3. Applying the 2015 revenues forecasts to the current price/sales ratio, I would get a -6% to 11% return on investment.
Based on the model's output, Insight should outperform CDW between now and the end of 2015 or early 2016. Digging a little deeper into the valuations, on an absolute basis, Insight's valuations are superb. On a time-series basis, the valuations look excellent.
Before I move into the portfolio section, readers note that Insight is a reseller, which means the profitability margins are low, but the firm is profitable.
Portfolio Management
In this section, I'll conduct some technical analysis of Insight, and I'll examine the return distribution of Insight. At the end is the investment conclusion.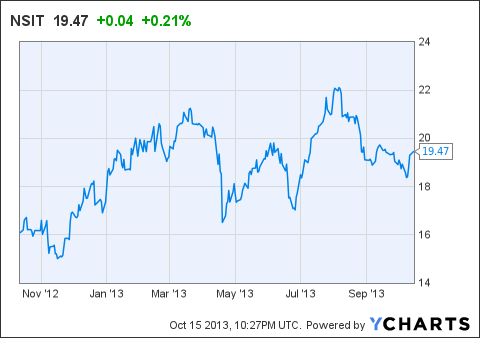 Insight is in a primary bull market but an intermediate term bear market, which makes this an excellent opportunity to accumulate shares. A trailing stop loss order could be started at $16.50. Using the current share price, that would mean an initial risk of 15.4% with a potential upside of 20% to 47%. Realistically, this investment could end up being a 5% risk to 20% to 47% reward investment.
In terms of the return distribution, it is about as good as I have ever seen. But, the kurtosis, or tail risk, is a high. The compound monthly return since March 2009 is just over 3%. The monthly standard deviation is 17%, and the skewness is positive.
Considering the valuations, forecasts, technicals and return-distribution statistics, I am bullish on Insight. That conclusion includes the current relatively sluggish large enterprise expenditure, which is a risk to the forecast.
Disclosure: I have no positions in any stocks mentioned, but may initiate a long position in NSIT over the next 72 hours. I wrote this article myself, and it expresses my own opinions. I am not receiving compensation for it (other than from Seeking Alpha). I have no business relationship with any company whose stock is mentioned in this article.